Is doctor a gazetted officer?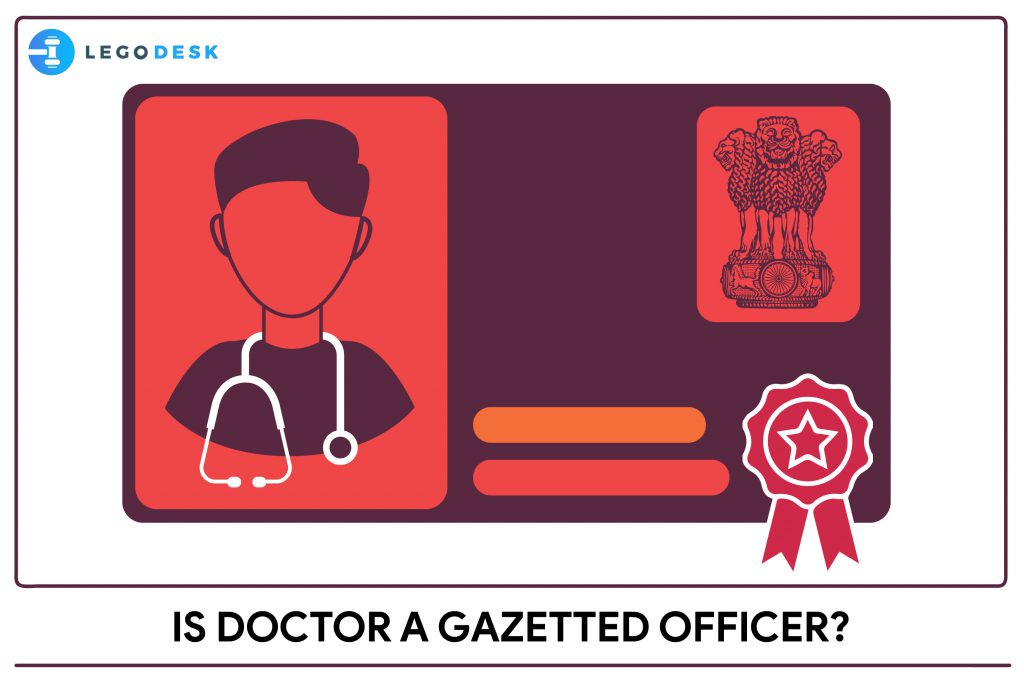 Attesting documents is a basic requirement for many documents for purposes like DSC, passport verification, applying for government jobs, etc. This attestation is done by a gazetted officer. Since, the official list is published in the Gazette of India, which people do not read or have access to at frequent intervals, so there is confusion about the same as to who can attest what documents.
Gazetted officers' list is not exhaustive, but the position is as it is an administrative position. The person acting as the gazetted officer is because of the appointment which is made to the government. And the person ceases to be one after the retirement of the person from that position.
ARE DOCTORS GAZETTED OFFICERS?
Public servants being appointed by the government directly by the president or by the State are referred to as gazetted officers. Such appointments are being made by either the exam or through direct appointments. Gazetted officers are those whose name is published. Article 309 of the Indian Constitution governs the recruitment and service conditions of these officers in the Union and the State.
Certification of a document as a true copy of the document., certificate copies, attesting photographs, etc. is the task of a gazetted officer which they do by putting a seal of their own name provided by the government. No gazetted officer can be forced to attest the documents. They verify and attest the documents, and such attestation is used for the purpose of acting as a valid witness. And all such officers are called as gazetted officers.
Now coming to who will be a gazetted doctor? As per the understanding above, gazetted doctors are those whose appointment is through the Gazette of India. All Doctors working in the same hospital may not be gazetted, officers. They give verification, general validation, etc. talking precisely they have the authority to issue a validation to technical details.
Read Also: Bank manager a gazetted officer?
One does not become a gazetted officer automatically after completing MBBS. One does not become a gazetted officer by merely being an MBBS graduate. MBBS graduates who are employed with the government, central or state or PSUs are gazetted, officers. Basically, government doctors are gazetted, officer. Doctors who are appointed contractually or not permanent employees, ad hoc doctors are not gazetted, officers
Giving an example of AIIMS hospital, which is fully under the government of India under the control of the Ministry of Health and Family welfare, all the faculties are non-gazetted, officers while the Director, Dean, Chief Medical Officer are gazetted, officers. The Union Public Service Commission and State Public service commission are responsible for appointing gazetted doctors. Positions in the medical field like Chief Medical Officer, Regional Medical Officer, Medical officers. Etc are all positions of gazetted officers.
A hospital being granted the autonomous status, i.e. they can recruit permanent doctors, but it is not necessary to follow the Public Service commission route, for such employees in an autonomous hospital, they fall under the category of non-gazetted officers.
Any person self-employed after graduation, i.e. working in their own clinics or employed with private hospitals are not regarded as gazetted officers. Pursuing post-graduation after MBBS degree.
CLASS OF GAZETTED DOCTORS
The government has classified its employees into 4 classes which are namely
Class I: They are referred to as the executive class and comprises of all the highest-ranked officials of the government both state and central. Officers like IAS, IPS, IRS, officers of armed forces are covered in this category. Doctors who are employed with govt, Central and state services are included in this category. They are the Gazetted officers who can attest nearly all documents. Postgraduate doctors, their recruitment is done directly by the central government without any exam, and thus they are underclass I of the gazetted officers.
Class II: This Category has both gazetted and non-gazetted officers. This category is sub-ordinate to class I. For example, Revenue officers, Principal of School, Circle inspector, Sub-divisional officers, etc. are covered under the gazetted category. Chief pharmacists are officers gazetted in nature covered under this class. MBBS graduate in state government employment falls under this category. And Junior Engineers in a government department, Excise Inspector have covered not a non-gazetted category. Senior pharmacists working with various health departments are non-gazetted officers.
Class III and Class IV: These Employees are generally non-gazetted in nature. They are either in non-supervisory/non-administrative roles or are multi-tasking manual workers like a peon, sweeper, etc. employed with the government. This category of employees is non-gazetted. Pharmacists, nurses, etc. are covered under this category of non-supervisory roles.
CONCLUSION
Doctors who are employed with the Government of India (whether State or Central) are regarded as gazetted officers whose signature and the stamp are valid for attestation and verification of the documents. Employees with the government are gazetted officers fit to attest documents.