Is Bank Manager a Gazetted Officer?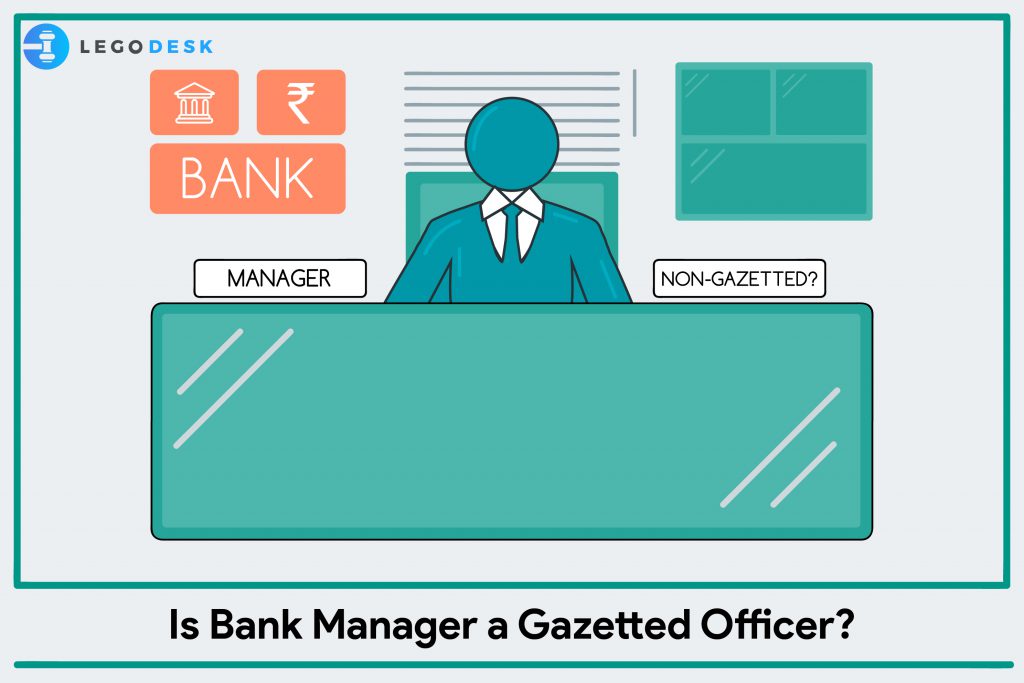 Bank managers are the person responsible for the functioning of a bank. Bank can consist of various categories, Public, Private, Nationalised, and MNC banks. Banks can be defined as a financial institutions that can accept deposits and make loans.
Now understanding, what is a government bank or public Bank, a government bank is one in which the stakeholding of government is a minimum of 51% and is run by the government.
WHO IS A GAZETTED OFFICER?
A gazetted officer is a classified public servant. The reason for using the word classified is not every government official is a gazetted officer, but only those authorized and whose name is published in The Gazette of India[1] as a Gazetted Officer. These officers have a name stamp of their own to sign the papers. Gazetted officers are assigned the task of attesting a document, i.e., verifying the credibility of the same. It is important to note that not every officer who has the power to attest, is a gazetted officer. The work of a Gazetted officer is to verify and certify the copy submitted to be the true copy.
The government has classified its employees into 4 classes which are namely
Class I: They are the Highest ranked government officials and in the Executive category. Officers like IAS, IPS, IRS are covered in this category. They are the Gazetted officers who can attest to nearly all documents.
Class II: This Category has both gazetted and non-gazetted officers. For example, Income Tax officers, Principals of schools, etc. are covered under the gazetted category. And Junior Engineers in a government department, Excise Inspector have covered not a non-gazetted category.
Class III and Class IV: These Employees are generally non-gazetted in nature. They are either in non-supervisory roles or are multi-tasking manual workers like a peon, sweeper, etc. this category of employees is non-gazetted.
Bank Managers are covered under the category of Non-gazetted officers and thus are not eligible to attest documents.
BANK MANAGERS: GAZETTED OFFICERS?
They are non-gazetted officers because their appointment is not made by the President or by the governors of the state. They are appointed by an agency or a company. Even in the case of government banking companies, the ownership of the government is not 100 percent.
The employees serving in any Nationalised bank or working in any PSU are categorized as non-gazetted officers. The employees of Nationalised banks are non-gazetted, but protocol ranks exist. However, they are eligible to attest to financial documents.
The difference between Public banks and Nationalised banks is that, Nationalised Banks are those which are nationalized under the Banking Companies (Acquisition and Transfer of Undertaking) Act, 1969. For example, SBI though a public bank is not a nationalized bank as it is governed by a separate SBI Act.
In India, there are 19 Nationalised Banks like Andhra Bank, Punjab National Bank, Syndicate Bank, Dena Bank, Indian Overseas Bank, Allahabad Bank, Bank of India, Bank of Baroda, Bank of Maharashtra, Canara Bank, Central Bank of India, Corporation Bank, Indian Bank, Oriental Bank of Commerce, Punjab and Sind Bank, UCO Bank, Union Bank of India, United Bank of India and Vijaya Bank[2]
WHAT DOCUMENTS CAN A BANK MANAGER ATTEST?
The bank manager of a Nationalised Bank though categorized as a non-gazetted officer, has the capability of attesting Financial Documents.
In the government Notification dated 11th December 2013,[3] issued by the Ministry of Communications and Information Technology, for the verification of credentials prior to issuance of Digital Signature Certificate, the documents which have to verify for proof of residence and proof of identity can be attested by a Bank Manager. The notification only mentioned bank Managers, making all Bank Managers eligible to attest the documents.
CONCLUSION
Bank managers are non-gazetted officers, and most of the documents are required to be attested by the gazetted officers. So, the number of documents a Bank Manager can attest is quite a few. Bank Managers of Nationalised banks are eligible to attest few documents like financial documents. All Bank Managers can attest to the Digital Signature Certificate prior to verification of the documents. Please note, nobody is bound to attest your documents, it is their discretion as there is no law in the picture to compel them.
[1] This is published by the Directorate of Printing, Department of Publication
[2] http://app.rbi.org.in/commonperson/english/scripts/banksinindia.aspx
[3] F.No. CCA/DC(T)/2013-98