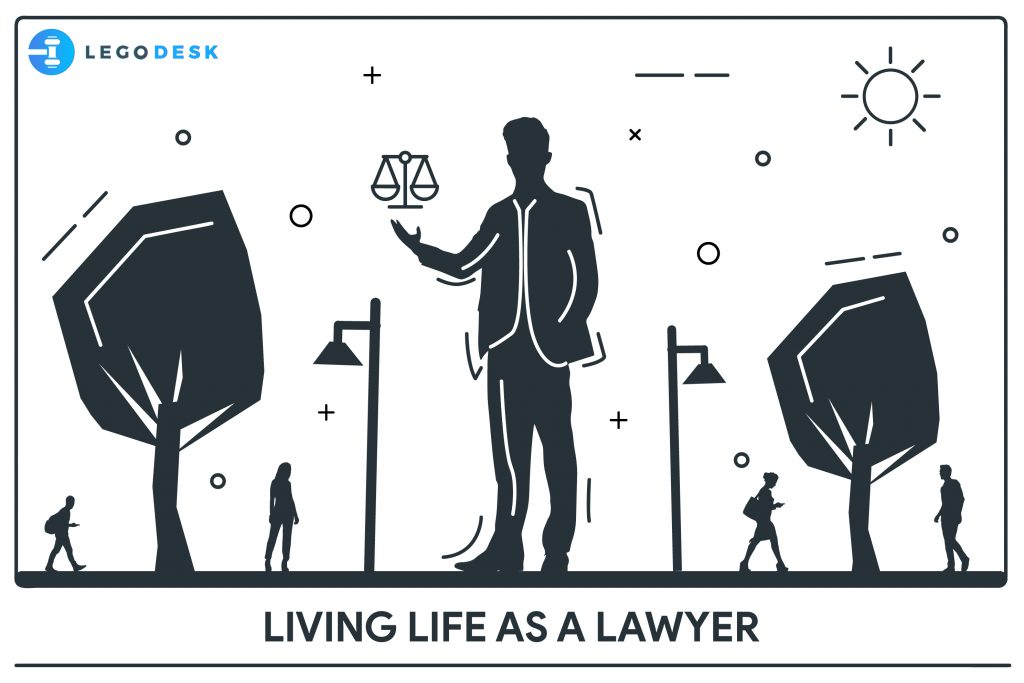 Living life as a Lawyer? While the demand for the legal profession is growing because the job looks challenging and high-paying, one often wonders how a lawyer spends his day. Even a lawyer might wonder, am I the only one living this life? Or do others also do this? How do they spend their day? A constant urge to discover the unexplored day of a lawyer has got this article.
LAWYER'S LIFE: IN SIMPLE WAY
Before knowing how a normal day of a lawyer's life goes, one must understand prima facie the nature of work that is done. To give some clarity, let us divide the professionals, into two categories, corporate and litigation. A corporate lawyer has a desk job with drafting agreements, negotiating with clients, deals for mergers and acquisitions, conducting a meeting for various purposes, etc. basically dealing with all commercial transactions. On similar lines, a practicing lawyer has both desk jobs and movable jobs with the job description of attending court hearings, preparing arguments, etc.
A typical day in the life of a lawyer will be starting early and ending late than others. In brief, the whole day goes on before a laptop, or reading documents or books, meeting clients, coordinating the day's work, meeting deadlines.
A professional day in the life of a lawyer starts in a law office where the phones are silent, clients are not present in the office, documents are arranged, there is no chaos, and no distraction is present in the office. This is the time where lawyers engage themselves in responding to last night's emails, plan out the day's to-do list and other forms of communications, and plan of the day including taking updates on deals or cases.
The amount of work which a person is expected to do depends upon your years of experience, and how big the place is where you are working, this is a factor responsible for deciding the amount of work vested on you. The more the experience, they are not involved in background work like conducting research or dealing with mere technicalities.
In the initial years, a lawyer is not directly the point of contact with the client, but they complete the work assigned by the senior associate who is the point of contact.  They have increased responsibility and are trying to develop a reputation in their specialty. Initial years might be tough because a person gets more work, less pay, and is under constant supervision. They constantly develop upon their skills of drafting, research, negotiating, communicating both written as well as oral. This takes up a major portion of their day.
A typical day starts with analyzing what the outstanding work is, what is the to-do list for today. So, when a person has decided what to do, the work begins with research or drafting or preparing for a meeting or setting forward to a meeting. If in a higher position, the work may involve guiding your juniors, putting a track, assessment of work.  A coffee break is the most sought one in the mid-day at around 11. Followed by continuing the work. A lunch break is often with co-workers and discussing the work or taking some leisure or discussing some landmark case or recent amendments.
Amongst all these, one takes time to read the newspaper, know about the recent amendments in statutes, etc. This is the time when a person hones his skills and increases knowledge. A lawyer always works to get better results and to increase the reputation of the firm.
Read Also – What are the kinds of legal services that attorneys provide?
DAY OF A CORPORATE LAWYER
The nature of the work of a corporate lawyer demands them to be always presentable and have skills like negotiation, not argumentation because the aim is to favor the clients. Research on various aspects of law must be up to date. Making a deal may sound easy but is very tiresome. It must be legally compliant, in favor of clients, leaving no grounds of conflict, and many more.
The compensation you have for long hours is to build contacts, work with smart people, and get recognition for your work. Other than closing a deal and preparing for it, a lawyer completes the task of reviewing records, drafting paperwork, attending phone calls, drafting important emails, planning to present the points, conducting research, and conducting and concluding business.
Efforts should also put to bring some smile on the face of the employee by maybe having a day out, organizing a pizza party, getting pastries for everyone, etc. Some extraordinary days may include a presentation by a fellow lawyer, or a presentation on understanding the clients, the law, and the firm better, conducting reviews.
A day often concludes with at least 2 coffee breaks to bring the spirit back, plan out the pending work, provide an update to the seniors, and if seniors then take the updates, arrange the desk and setting forward for any personal work.
DAY OF A PRACTICING LAWYER
For a practicing lawyer, a day may begin at the courtroom, preparing to argue the matter, or seeking an extension of date or a Passover. For such lawyers, professional and personal life must be clearly different because no courtroom runs on emotions.
This job has the flexibility of working hours because to file an important case you may have to stay back in the officer for 2 in the night and if not, you can leave by 6 in the evening. The work done is nearly similar, i.e. research, drafting, pleading, preparing case briefs, and arguments.
The day flow may be smooth depending upon the nature of work and the deadline. At times, a day passes correcting the errors before the filing of a case like preparing the index, correcting annexures, etc.
For a practicing lawyer, a day may begin at the courtroom, preparing to argue the matter, or seeking an extension of date or a Passover
ARE LAWYERS UNHAPPY WITH THEIR JOBS?
It is not practically possible for a person to work for long hours with no time left for themself. But the deadlines, court dates make taking a break a little bit difficult as the amount of time and effort for a case or a deal may vary significantly.
When a deal closes, or a case is in our favor, the happiness a professional gets is out of words to be described. So, a person in this field may not be unhappy with the job but may crave some time for himself.
SOME STEPS TO A HEALTHY LIFE
Due to the long working hours, there is a lot of stress if you are in the legal field. Time and dedication are required to close a deal or win a case in court. Amidst all these, one must not forget oneself and health. Taking a break to release stress and spending some time with family is equally important.
To maintain health, one must inculcate some physical activities in the routine be it walks, gym, yoga, dancing, etc. Striking a balance between mental and physical health is a challenge. Following the passion helps smile and be happy from the inside, and in the long run, proves effective.
CONCLUSION
Legal professionals are hardworking, dedicating, and they need to be active and enthusiastic about the work. Legal professionals are always prepared for the coming days with up-to-date information. They always strive to make a difference in the nation. While it is very important to outgrow oneself professionally but focusing on individual life is equally pertinent.