How to automate law firm accounting with Legodesk?
Revenue is essential for any business, including law firms.
Though law firms are client-centric, the unfair practice of financial accounting can profoundly impact the firm's morale. It's like money left open on the table.
"Right accounting is a continual process and not a destination." The most serious mistake a law firm could commit is not giving enough time for practicing proper bookkeeping. Law firms could end up with incorrect balance sheets, which could then mismatch their entries. Moreover, financial analysis and reporting are necessary for law firms to prosper. To all such challenges a law firm could face, Legodesk provides intelligent tools with adequate workflow customization.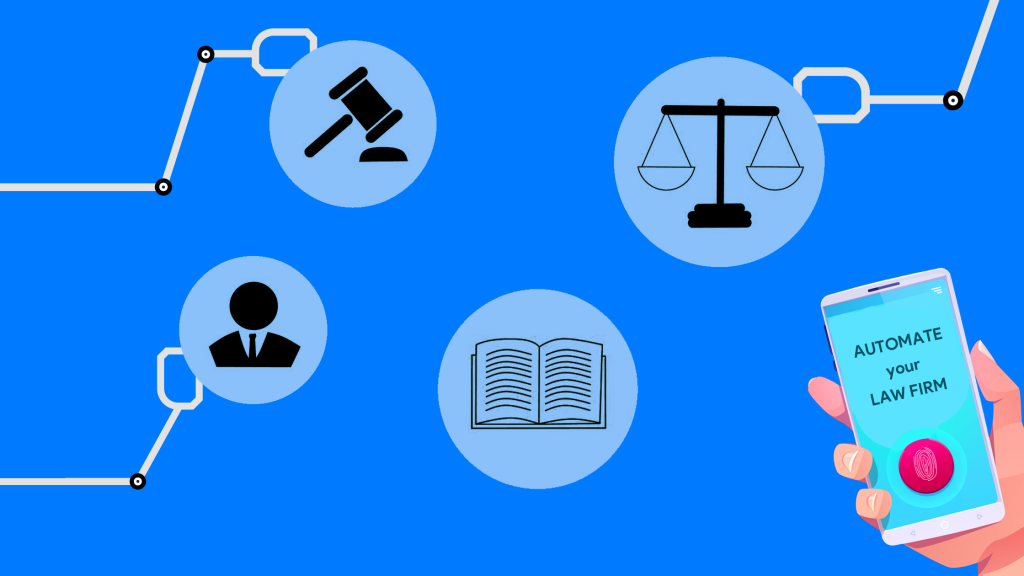 Simply put, Legodesk provides one of the best accounting tools to law firms and improves their productivity. The case management platform can be your law firm's bookkeeper with its trustworthy and accurate features.
Before we further discuss how Legodesk serves law firms, let's first know the major accounting problems the law firms could face.
Problems faced in law firm accounting
A law firm may face multiple business challenges that hinder streamlining operations. However, a firm would handle those challenges well — while leaving loopholes in its accounting department on cards. Here are some of the common accounting problems a law firm could face.
1. Trail balance accounting errors
This issue is one of the most common mistakes a firm would make. Name them human errors or any other, but this leaves your financial statement incomplete. Generally, the debit entries are on the left column, and the credit entries are on the right column and these all entries end up with the trial balance, which should be the same as the total account value. If accounting is proper, the debit entries should be equal to the credit entries. However, with massive data to compute, there could be potential flaws following against which could leave your record with harsh errors.
2. Client trust fund accounting issue
For some law firms that use client retainers for compensation, there are numerous regulations that they must follow to ensure compliance with the local rules. Trust fund accounting may also come into play when a law office holds client property or funds in trust.
Problems with trust accounting can arise for several reasons. Law firms should keep separate client funds, without commingling with other operational funds or law firm operating funds. To ensure this separation, lawyers need to maintain detailed accounting for each trust account. If this goes wrong, the firm would have to face legal problems from the judiciary.
3. Advanced client costs
Advanced client costs are those costs billed to the clients and paid to the attorney on their behalf and later reimbursed, deducting the firm's expenses. These operating revenues and costs need automation for transactions not to be delayed or left unattended. This is crucial to rectify financial errors.
Income commingling issues
Clients prefer various payment options, which most commonly include credit card payments. However, internally, credit card payments appear as a single collective transaction, which can be confusing. It complicates the billing and accounting systems. Thus, law firms should opt for integrated accounting and billing systems that are easily distributable.
Read Also – 4 Ways To Automate Your Legal Practice
How will Legodesk organize your accounting?
Outsourcing accounting software is never a bad idea to consider. Legodesk is one of the best platforms to get your firm's business financial accounting automated. This intelligent AI-based platform also connects lawyers with probable clientele and helps streamline end-to-end law firm management.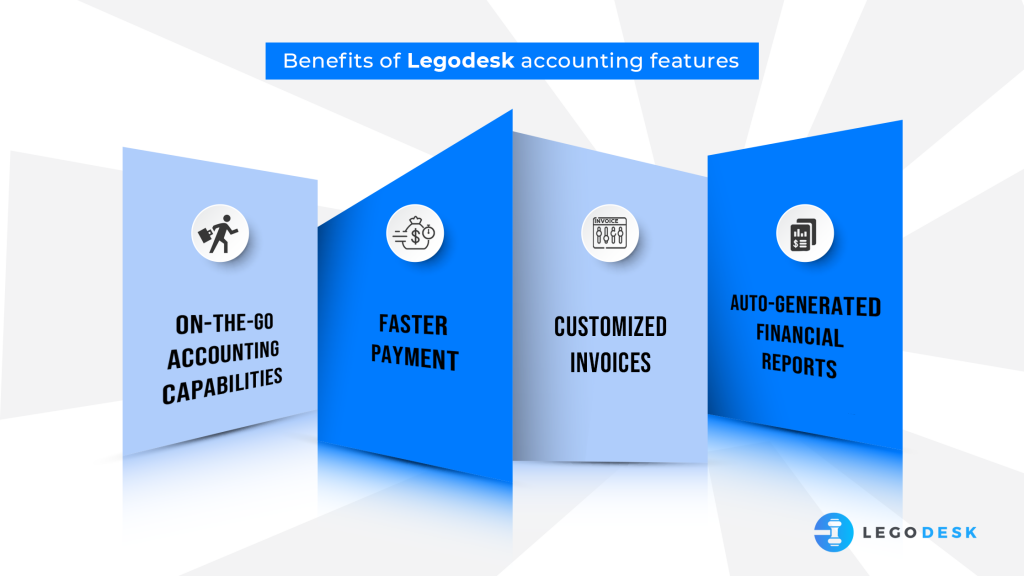 Let's now dive into accounting features provided by Legodesk that can equip your law firm:
1. Save time
It's impossible to buy time. Unless it's a large firm, the employees wear multiple hats to handle daily operations. Moreover, not employing any financial accounting software could burden the firm and cost more time. The Legodesk platform can save your firm's precious time regardless of the number of employees in your firm. Our clients have seen a 30% decrease in time spent on accounting after using Legodesk for more than three consecutive months. The automated invoice generator and the feature to customize your invoice can give your law firm the flexibility to differentiate your clients and the services offered.
2. Remote accounting
With this feature provided by Legodesk, your law firm can track every transaction segregated per your requirement. This feature by Legodesk would keep your financial transactions up to date and make each transaction easily trackable.
Moreover, automated accounting, with minimal manual entries, leaves no room for errors. With regular tracking of the transactions, a mismatch in the balance sheet and the trial balance can be easily traced back and be addressed.
3. No more income commingling issues
Unlike other industries, law firms are required to maintain income segregation to ensure a proper cash flow. As they have multiple sources of money being credited into their accounts, it can be complex to keep track of each invoice without using any machinery help. Legodesk can be your savior and help avoid such financial confusion. Integrated accounting and billing features in Legodesk can link your income with the invoices generated in the firm.
Read Also – Difference Between Billing and Invoice
Client trust funds are also segregated and are interlinked with the invoices, and are customized in such a way to be legally bound. And with the tracking system, which enables each client with an ID to give the complete details, including transaction report for automated client reimbursements leaving no delay in the process.
It's fine as a lawyer not to be fond of accounting. That's why we curated the platform-Legodesk- that can help you focus on doing what you do best. Use software like Legodesk to minimize your manual workload and automate most accounting tasks for better firm productivity with AI-based software by staying in compliance with your local law.