The rise of telehealth: A lesson to Indian judiciary
Indian judiciary is a justice administering machinery. No citizen should fall prey in the hands of injustice due to the ineffective functioning of the courts. The very essence of our constitution stands to preserve justice and equity in our country, all things considered. But the outbreak of covid-19 was a "look in the mirror" phase for our Indian judiciary.
The whole justice delivery system came to a halt and mismanagement observable. The fact that how much our courts are overburdened with loads of cases is not hidden to anyone. Consequently, the pandemic made it worse. It is not wrong to say, the judiciary almost paused.
Read Also – HIPAA compliance for companies – What it means
However, on the other hand, the rise of telehealth has excelled. People could avail of healthcare services from anywhere and anytime- through phone calls or multiple apps that made doctors available.
Aren't doctors and judges/advocates compared at the same level when it comes to saving peoples life?
The truth is, we need both the professionls working unrestrained and effectively.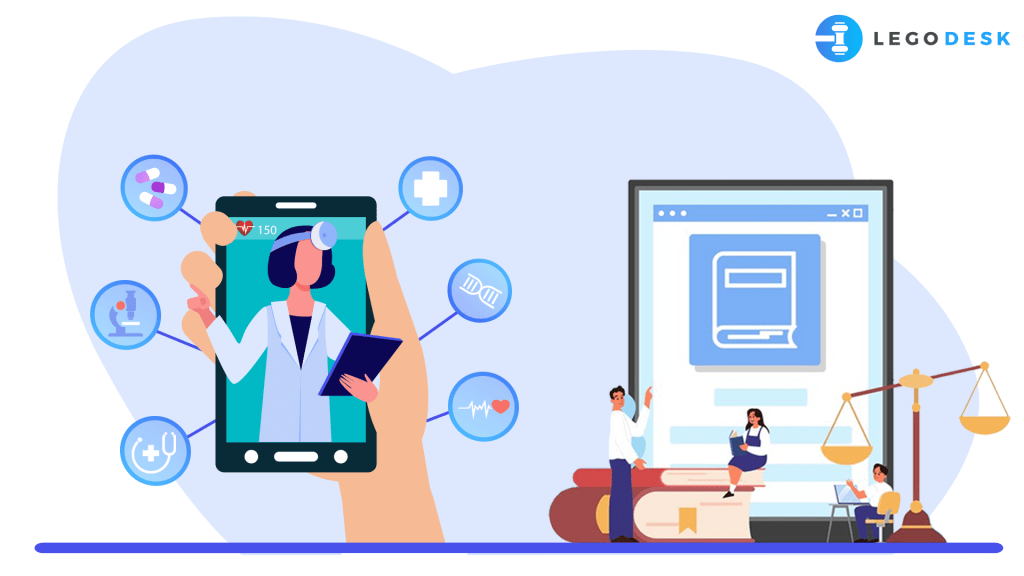 RISE OF TELEHEALTH
The telehealth sector existed even before the pandemic. But when suddenly people started staying back at homes and practice social distancing, the role of telehealth became even more prominent.
Technology has left no strata of our lives untouched. Innovations in the amalgamation of medical science and information technology are doing wonders.
People avail of healthcare services through their smartphones and computers- with the help of software applications, online portals, and websites. Furthermore, the hospitals and the clinics develop customized online platforms for their customers sitting in remotes areas or at distant places.
Telehealth made it easier for people to consult doctors online, avoid standing in queues, cut down on travel costs, which is especially beneficial for the people who travel from villages to big cities for healthcare.
Read Also – Tax Savings: 8 Excellent Ways to Save Tax in India
Also, telehealth can enable the exchange of knowledge and new inventions among health professionals via video technologies, presentations, meetings.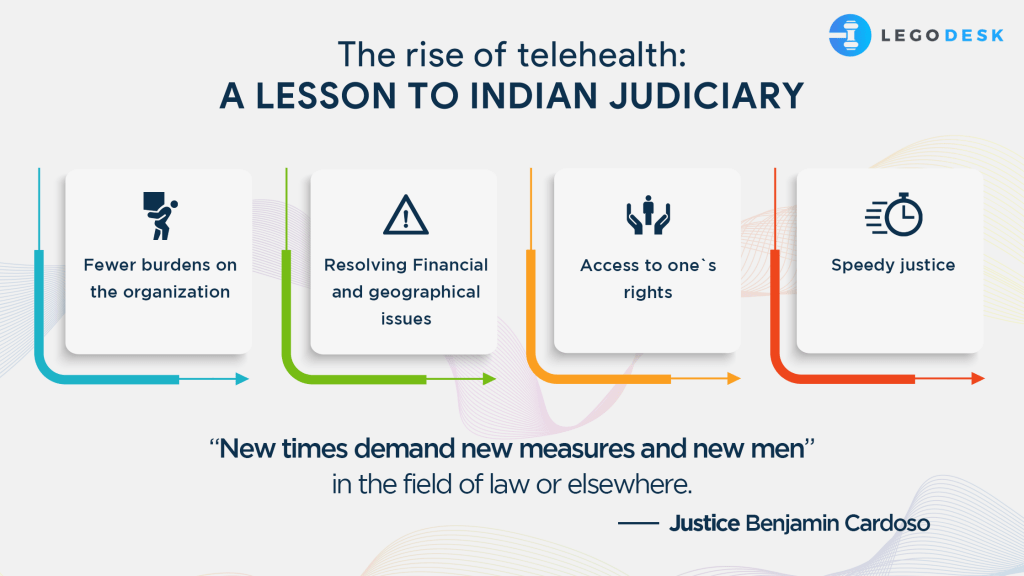 LESSONS TO INDIAN JUDICIARY
Crimes always happen; they will not cease to exist even when humans behind doors. Hence no amount of circumstance should stop people from banging the doors of courts. So what if people got quarantined or undergo national lockdown? Time and again situations occur when an individual fails to access the courtrooms, it`s not just about one pandemic.
Telehealth has provided an effective alternative and substitute for the physical form of healthcare. However, why can`t we expect the same from virtual courts instead of physical courtrooms?
We do have e-court services with options like CNR number, case status, court orders, cause list, and caveat search. Virtual courts offer services like e-Filing of plaints, payment of court fees, or fine online. However, for the adjudication of the matter, the litigant may have to appear in court in person or through his lawyer.
According to the report on the functioning of Virtual Courts and Digitisation of Justice Delivery, In Virtual Courts, Plaint and other documents like Vakalatnama, written submissions gets filed electronically; court fees can be paid electronically; evidence submitted digitally; arguments heard over videoconferencing; witnesses give their testimony remotely over videoconferencing and Judge decides the case online either presiding from the physical Courtroom or from some other place.
A copy of the Judgment then can be made available on the website of the Court or through some electronic means. Whereas, in Online Courts, the participants not in physical form simultaneously argument, and the evidence is presented to the Judge without the parties being together at the same time. The only difference between Virtual Courts and Online Courts is in the former hearing is synchronous and the latter involves an asynchronous form of interaction.
Read Also – Benefits of using a Virtual Office for Legal Startups in India
LEARNINGS DRAWN-
a. Fewer burdens on the organization-
Availing medical services via online portals/mode decreases overburdening of cases in the hospitals. In a similar manner, virtual court proceedings will allow the disposition of cases in a rather quick and efficient manner. Transferring one or more categories of cases from regular courts to virtual courts. Virtual courts in appellate cases and final hearings, cases where personal appearance is not mandatory. Establishing permanent virtual courts for appellate tribunals like NCLAT, TDSAT, IPAB, etc. Such efforts and reformatory actions will eliminate the burden over the shoulders of the Indian judiciary.
Read Also – Caveat Emptor: Meaning and Examples
b. Resolving Financial and geographical issues-
Telehealth services bridge the gap when it comes to people who are not financially well and/or situated in remote areas or in distant places. Similarly with the set up of virtual courts, not only parties but the lawyers too; do not have to travel long routes. Traveling cost and expenses made in court gets eliminated. People sitting across cities could access digital justice through videoconferencing.
c. Access to one`s rights-
Telehealth services provide access to the right to health to mass. In the same way, Virtual courts increase the accessibility of justice to more and more people. Courts can hear numerous cases in a day. Litigants do not have to travel back and forth. Lawyers can too argue their cases for more than one client a day and present before the court in any location of India. Virtual courts will provide a safer environment to the vulnerable victims, a protected space to star witlessness, and a suitable arena for women, children, and victims of abuse. Additionally, the physically disabled could also attend such proceedings.
Read Also – WOMAN! DON'T DEPEND ON YOUR HUSBAND'S EARNING
d. Speedy justice-
Telehealth services manifest social justice. They ensure our right to health towards as many people as possible. Along the same lines, virtual courts are just another tool to strengthen the justice delivery system. Justice delayed is justice denied; this is why the Indian judiciary always emphasis on speedy disposal of cases. In order to ensure speedy justice, the judicial system needs to consider various factors and develop strategies such as categorizing petty cases, complex cases, cases without non-mandatory physical appearance, and the adoption of a hybrid model.
Read Also – Judiciary in India – What are its Key Functions?
WAY FORWARD-
The telehealth sector has reflected booming effects because it was in practice for a long time. Virtual courts have their own loopholes but we cannot yet draw this conclusion for virtual courts. Only after actually putting the virtual courts to practice, the stakeholders through feedbacks can construe the cases best suited to this mechanism. There is a need for digital justice even after post covid. We cannot let our Indian judiciary still function in the archaic form. Information and technology have to consummate with the legal ecosystem. In the 19th Century, Justice Benjamin Cardoso said, "New times demand new measures and new men" in the field of law or elsewhere.