Tips for In-House Counsel to Accelerate Growth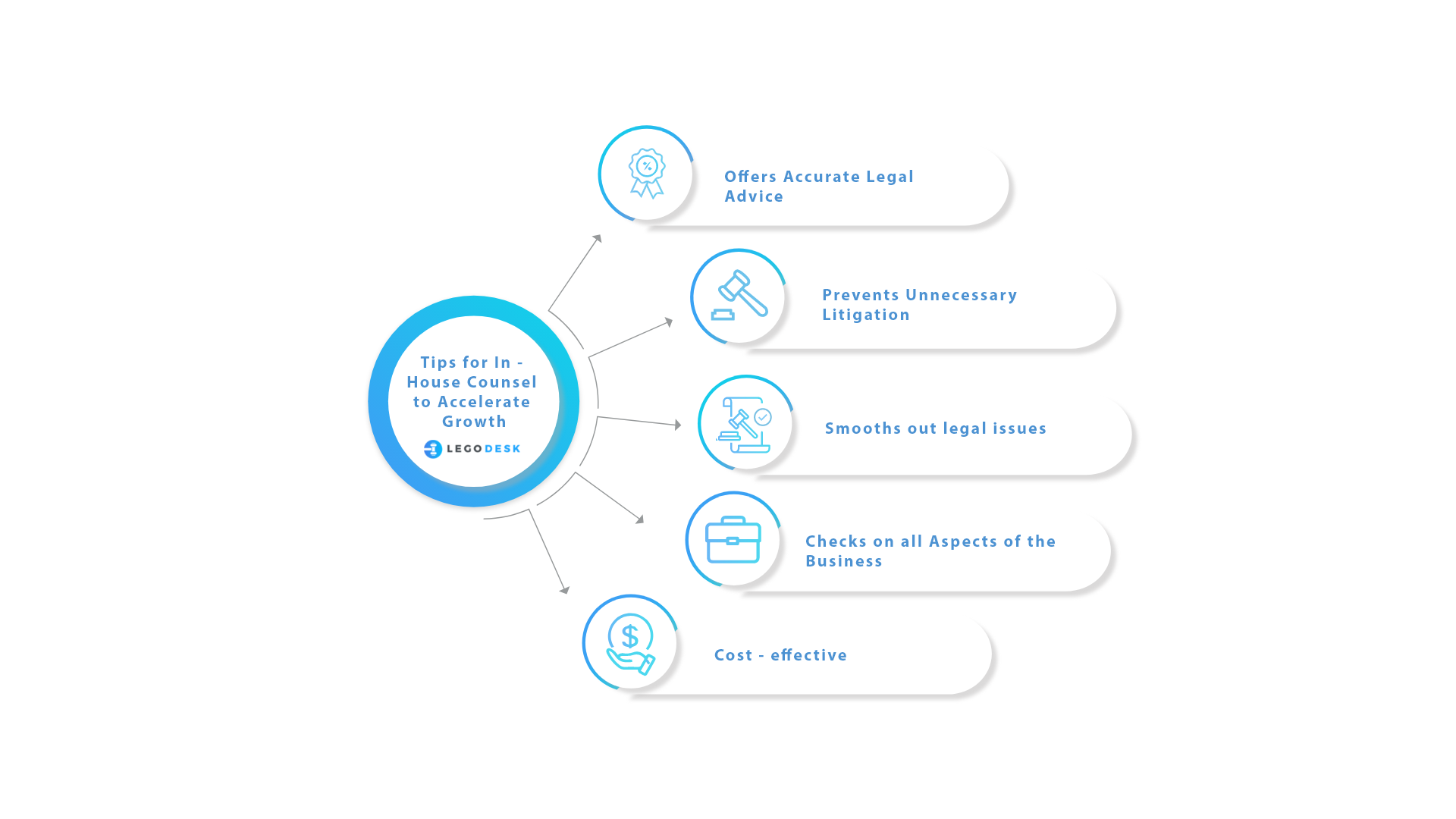 What is an In-House Counsel?
An emerging business or a law firm may have to encounter hurdles along its way. One such is the legal issues, which include contracts, employment issues, securities, mergers, and other like matters. An in-house counsel takes care of these complex legal issues and will act as the backbone of the business. In simple terms, a lawyer that works as an employee for a business or a company is an in-house counsel. They can be either part of a more extensive legal department or independent. The legal works may include drafting contracts, proofreading critical legal documents, and advising the legal aspects.
In addition to these legal works, they may also have to take part in executive-level decisions to deter the company's risks. Most of the in-house counsel lawyers are generalists. They have access to the company's core team. As they involve at all levels, they can foresee possible problems for the company and deter those hurdles.
Read Also – Some basic tips for choosing the right law firm
What does an In-House Counsel Offer?
In-house counsel lawyers focus more on the business side and risks along with it. They are part of all the meetings and decisions to be well aware of the business they are involved in. This, in turn, helps in getting an in-depth idea and working of the business.
Read Also – Everything You Need to Know About Becoming a Business Lawyer
Moreover, since they have only one client, the business will get undivided focus from the in-house lawyer. They have a close-knit connection with the business's management team, which makes them the best to deal with legal issues. Another advantage is that there won't be any conflict of interest as the in-house counsel not only looks out for the smooth running of the business but also impacts the internal matters of business decision-making. An in-house counsel facilitates the business in the following ways:
Offers Accurate Legal Advice
If a business uses lawyers from outside to handle the legal issues, they would not have a proper understanding of the business and the problem. Even if they are experienced, it would not be easy to provide legal advice suiting to the business or company's nature.
On the other hand, an in-house counsel is an integral part of the business with intimate knowledge of the business as they have interacted closely with all the departments. Hence, they could provide more accurate legal advice. It also avoids friction due to differences of opinion among employers while dealing with important matters.
Prevents Unnecessary Litigation
Well experienced and knowledgeable in-house counsel can even stop potential legal issues before they materialize into something worse. They can educate the decision-makers of the business and minimize legal matters, and prevent other crises. A nuanced understanding of the business helps them advise on proper management of the business from a legal perspective. The solutions provided by them early in the process adds benefit and are much easier than getting external legal advice.
Legal issues can emerge at any moment while running a business or a company. Therefore, it is crucial to have an in-house counsel who is always accessible. This can save valuable time, which you can use in focusing on the legal issues at hand rather than running behind finding a lawyer to represent the business or company. Right legal action at the earliest helps the business from further escalating to other issues.
Read Also – Highest Paying Fields of Law
Checks on all Aspects of the Business
An in-house counsel not only takes care of the legal issues in business. As mentioned above, a legal matter can have an impact on all other aspects of a business. Since in-house counsel involves various departments' decision-making, they can foresee these issues and give valuable advice. Engaging with finance, marketing, strategies, operations, and human resources puts them in a unique position to offer advice.
External law firms dealing with critical client matters related to business will be an expensive process. In-house counsel has a fixed cost provided by the business or company, but they are cost-effective when compared to external agencies. It also saves extra costs for travel and other necessary processes. The in-house counsel having an understanding of the business policies and strategies can make the job worthwhile.
Read Also – 6 Key Responsibilities of a General Counsel Attorney
Every business, large or small, is prone to legal issues. If it is not addressed properly, the business can be drastically affected, leading to paying huge amounts as compensation due to which the business would go on a loss. Therefore, an in-house lawyer is crucial for such legal matters to be dealt with with the utmost importance to protect the business and accelerate its growth.
Read Also – Why We Need More Women Lawyer In India?