Highest Paying Fields of Law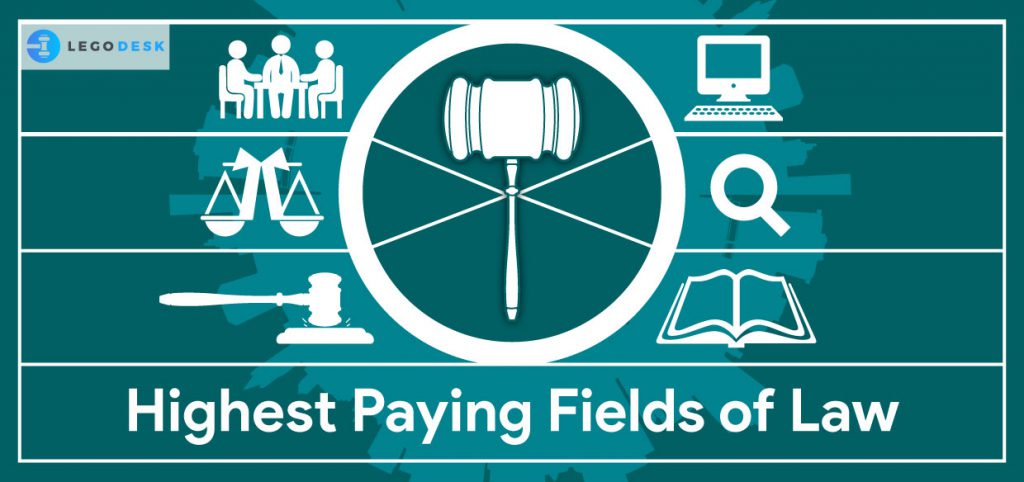 Law is a profession that would have an entire scale regarding salary levels. It offers a plethora of different specializations and jobs in the profession. India, as a country itself, has a fluctuating market with respect to jobs. Certain jobs are prone to saturation, such as certain departments in the Information Technology industry. Demand in employment, of course, increases where there is less workforce.
It would not be immoral or illogical for one to require their job or their field of profession to be well-paying. In fact, the incentive would drive one further to work well. The Indian demography in the legal profession would purport about ten to twenty lakh advocates, about a thousand law schools, and approximately five to ten lakh law students around the country. Keep in mind that most of these law students would be hunting for jobs after graduation.
It is by the penultimate or final years of a law student's life that they choose career-specific choice in subjects. These choices will determine the kind of job they would pursue. Not all would be well-paying jobs or fields of profession, but here is the list of top 6 Highest Paying Fields of Law:
1. Law Firms/Corporate Counsel
Of course, law firms would come to this list. Would it top this list is a question that would involve too many other factors? Law firms, in India and abroad, are mostly set up as a limited liability partnership or sole proprietorship, and it would be common to see firms suffixed with "LLP." The top firms such as Shardul Amarchand Mangaldas, Cyril Amarchand Mangaldas, Khaitan & Co., Nishith Desai Associates, etc. recruit graduates almost every year. The starting salary package they offer would be, on average, around twelve to fourteen lakhs per annum for a law graduate. Remuneration levels would be defined by a scale or gradation depending on the designation provided to the lawyer.
2. Litigation/Trial Advocates
A trial advocate provides litigation services to a client starting from the district level. Litigation could go all the way to even the Supreme Court. These advocates, licensed by the bar, represent their clients in courts of law. These representations could be as a defense in a criminal case, dispute resolution, or a civil matter as well. The drawback of this field is that you might have to start your career from scratch. Start from the learning ropes, as a disciple of a senior advocate and grow from there. These initial years might not grant you more than Rs. 10,000 to Rs. 20,000 per month as salary. But the more successful your practice grows, the higher the salary level will rise within a not-so-long span of time. It is a field in which your salary could rise exponentially with the level of experience and clientele.
3. Judicial Services/Civil Services
There are statewide judicial examinations conducted for the purpose of enrolling for employment as a judge. You can start your career as a Magistrate at a District level by following such a path. Further promotion to a judge in higher courts would require certain criteria to be met, such as certain years of experience and age. As a judge, this profession carries with it honor and prestige, as well as benefits and privileges to be enjoyed.
Judges enjoy other special privileges along with their salary. Most judges are provided health benefits, expense accounts, and contributions to retirement plans, made on their behalf. This increases the size of their compensation packages.
Judges in the Supreme Court are currently paid around Rs. 90,000 per month, while judges in the High Court would be paid ten thousand rupees less than that. Chief Justices in both the Supreme Court and the High Court would be paid ten thousand rupees more in salary than the other judges. However, District Judges would not find themselves paid more than a level between Rs. 15,000 to Rs. 25,000 per month.
4. Academia/Professor of Law
As any law aspirant would find, there is a surge in the number of law schools fighting for nationwide recognition. As the number of law schools increase, and also various courses are provided, there would be a growth in demand for professors. You would often find that professors recruited for certain subjects would not even be specializing in such. But whatever be the case, professors recruited by National Law Universities and top private law schools would be paid anywhere from Rs 50,000 to Rs. 1,00,000. Like litigation, this profession would pay depending on work experience and educational qualifications. Having a master's in law (LLM) and a doctorate (Ph.D.) would greatly increase your value for this job.
5. Specializations- Cyber Law, Banking Law, Intellectual Property Law, etc.
Certain areas in law have experienced vast development and growth. This growth would reflect directly in increased market demand for lawyers specializing in fields such as cyberlaw, tax law, intellectual property law, etc. Companies and even banks hire in-house counsels to certain departments, or teams to work on projects. Cyberlaw departments and Intellectual Property Law Firms would pay, on average, a starting salary package of Rs. 50,000 to Rs. 60,000 per month. In-house counsel bank jobs would pay graduates a starting salary of twelve lakhs per annum.
6. Judicial Clerkship
Also known as a law clerk, judicial clerks are lawyers or attorneys who provide research and clerical assistance to a judge. Such employment of clerkship is offered on a contractual basis. It would require one to have good legal research skills and should be able to assist a judge in making legal decisions. Such a job would let a graduate experience court work and how the judiciary works first-hand without having to be a judge. The starting salary can be attractive, wherein a Supreme Court judicial clerkship can earn one from Rs. 50,000 to Rs. 60,000 per month. A High Court judicial clerkship would provide one with a salary a notch less than the above one.
Conclusion
For this generation of fresh lawyers to come across a good salary would not be a hard find. Subtle experience rewards beneficially for a growing lawyer. Many areas of law are not yet saturated with the workforce and are still left to be exploited by the youth. The corporate world has had a significant impact on the legal profession. It continues to feed towards inflation and growth of capital, which trickles down into the pockets of all lawyers involved. The only point to take note of is to excel and develop in whichever profession or field of law you work in. Striving in such competition would guarantee exponential sums of income.