How to be a Successful In-House Counsel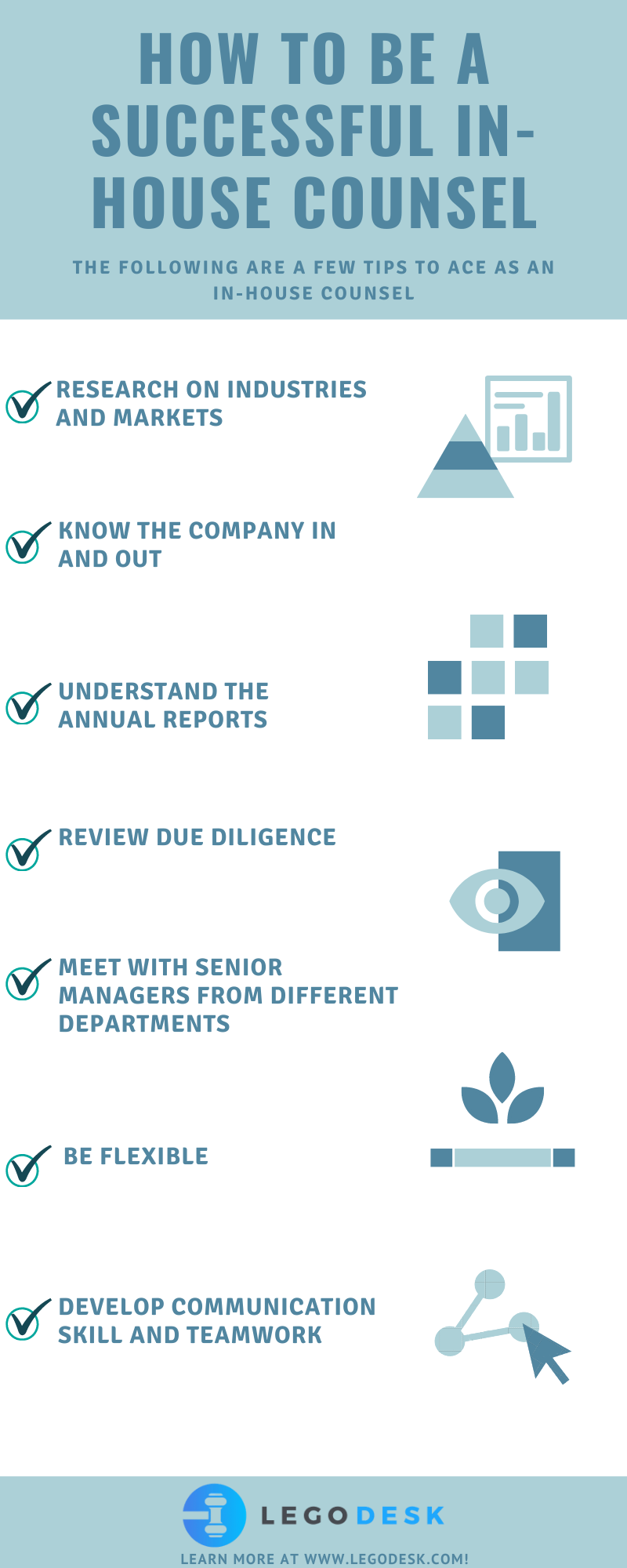 An In-house counsel is the backbone of a company. Starting from creating policies for the law firm to making decisions for the company, they play a vital role. They are required to manage outside counsel relationships and fill in the gap in the company's different legal problems. It could vary from employment, sexual harassment, human resources, contracts, etc.

Moreover, they need to minimize any risks the firm could fall into and educate the company's decision-makers accordingly. That's why they should get along with all the employers to earn trust. Also, it helps to understand the core issues that the company is facing. Therefore, an in-house counsel needs to have an exceptional skill set to thrive in a company. 
The following are a few tips to ace as an In-house Counsel
 Research on industries and markets  
An in-house counsel, before plowing through the company's contracts and policies. should find reliable information on the industries and markets that the company currently operates. Additionally, they need to check thoroughly about the leading competitors and how they operate.
In addition to this, peak into the industries' regulatory conditions and trends and markets in which the company plays to become a successful in-house lawyer. There could be a few critical legal and regulatory areas that will affect the company. Hence, getting a grasp of the current scenarios is crucial. It helps to identify the areas where expansion can happen in the next couple of years. This analysis will play an essential role while engaging in legal and other matters of the company. 
 Know the company in and out
Request an executive summary of the company's business plan and, most importantly, an organization chart. It is crucial to get a copy of an executive summary of the company's business plan. The business plan lays out everything that the company does, its goals, and objectives planned for the future.
The organizational chart lets an in house legal counsel know how the company was set up. Additionally, it explains the hierarchy of who reports to whom, the flow of information, and where the legal department fits in. An in-depth understanding of the company's business facilitates efficient workflow.
Understand the annual reports 
As an in-house counsel, having excellent clarity about the company's prime industries and markets, it is vital to dig a little deeper into how the company positions itself to the public. To understand how the company presents itself in disclosures to shareholders and the investment community, read and learn its annual reports to become a successful in house lawyer.  
All the paperwork that the company would require to present when it is involved in a significant transaction such as during an acquisition or private offering is due diligence. The documents should provide a clear and revised tour of the legal and operational infrastructure of the company. 
The company's due diligence should contain all items that the company has to present in any financing round and audit. Consequently, it needs to be seen as the go-to repository for information about legal and operational responsibilities, insurance certificates, etc. If the company you work for doesn't have one, create a virtual one. Additionally, as an in house counsel review the meeting minutes from the previous year of the board of directors and committee meetings. 
Meet with senior managers from different departments
As an in-house counsel, after getting to know how the company functions, make sure to set up meetings with the senior management from different teams. Listen to their concerns with utmost respect. Address these issues and find proper solutions. You must set up each meeting with the senior management with prior notice and after checking their schedule. This will help in developing knowledge about each team and improves credibility. 
As an in-house lawyer, keep your calendar as flexible as possible. Remember, an in-house counsel cannot predict when the next work comes. Therefore, do not get anxious when your day turns upside down. You should get used to the idea of working under pressure and steep deadlines. Even if an executive pulls you over to do something that just came in,  you need to take care of it. 
Develop Communication Skill and Teamwork
In-house counsel needs to typically spend most of the time with non-legal business partners of the company. However, as you are representing the company, your personality plays a crucial role in developing a partnership with other companies. 
An in-house legal counsel needs to have a skill set to get the critical information vital for your company. On the other hand, it is equally important to learn as to how to work as a team. To showcase this ability, you can highlight your pro bono work. It throws light on your ability to function under a variety of contexts.  
Conclusion
An in-house counsel must continuously work on developing their interpersonal skills and should build an environment based on trust. Taking control and reaching out to employers beyond your sector helps you grow and create a stable position in the company. To conclude, an in-house counsel should also take time out to the concerns of different stakeholders in the organization.