Five Events Solo and Small Law Firm
There is a lot of effort going into the legal industry today. And efficiency is the key for most solo lawyers and small law firms. With limited time and money, it is only a wise decision for all such solo lawyers and small law firms, to attend only the best legal conferences available.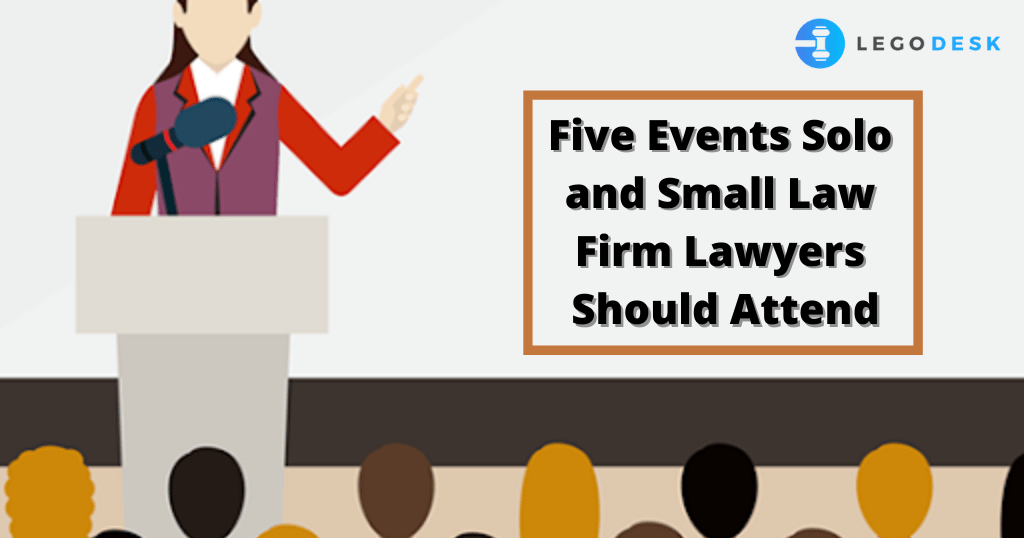 Various legal events happen all over the world every year. Choosing and attending one of these law events can be a challenging one. So here we select five of the best legal events that will help you to grow your business.
Read Also – A Successful Business Plan for Solo Law Firm
ABA Techshow
Technology is slowly becoming an integral part of law practice. Even in recent times, technology plays a vital role for lawyers. And this dependence on technology will only increase with time. Therefore ABA Techshow is one of the best legal events that a solo lawyer or a small law firm must attend.
ABA Techshow is one of the largest and industry-leading law conferences in the world. It brings thousands of lawyers every year from all over the world. An expo is also held along with the conference. The event generally takes place in Chicago every year. However, in 2021 a virtual event will take place due to the pandemic. The five days virtual event in 2021 begins on 8th March and will continue up to 12th March. Since it is a virtual event in 2021, you can attend this event from the comfort of your home.
According to its official website, a five-day pass for the conference and expo should cost between $25 and $295. However, if you want to attend the expo only, then it is free of cost. It is better, however, if you attend both the law conference and the expo.
ISBA Solo & Small Firm Conference
The Illinois State Bar Association's (ISBA) conference for solo and small law firms is one of the best legal events dedicated to solo lawyers and small firms. Unlike other legal conferences, this one solely focuses on small firms and solo lawyers. From how to be a good leader to hot-topic issues in important practice areas, this conference has it all. It also includes topics on the use of technology and marketing in the legal field.
Read Also – 5 Reasons Why Law Students Should Attend Conferences
The conference generally takes place for three days. In 2021 it is scheduled to be held from 3rd June to 5th June. The event will take place in French Lick Resort, located in French Lick, Indiana, USA. The pricing of the event is yet to be announced. Kindly keep a check on the official website for more information.
Missouri Bar Solo & Small Firm Conference
The Missouri Bar Solo & Small firm conference (MOSOLO) is the granddaddy of all legal conferences for solo lawyers and small firms. Starting way back in 1996, it is the pioneer of all law conferences dedicated towards solo lawyers and small firms.
The basic structure of the event to include fun with learning has remained the same over the years. However, small incremental changes are made every year to keep it fresh. Unlike many other legal events, this conference also encourages members to bring families or friends with them to enjoy a vacation.
Read Also – Some basic tips for choosing the right law firm
The conference invites participants from various fields including, business and corporate, family, ethics, juvenile, real estate, trust and estate planning, and general practice. The number of participants who attend this conference has increased significantly. In 1996 this event started with only 250 people. However, in 2019, this number has increased to over 700 people.
Read Also – Video Conferencing in Court Proceedings: SC Guidelines
As of date, the Missouri Bar is yet to announce the dates for the 2021 conference. The official dates will be available on the Missouri Bar website when announced.
LMA Annual Conference
The Legal Marketing Association (LMA) Annual Conference is another must-visit conference for all legal professionals. LMA brings together all types of industry specialists. As a solo lawyer or a small law firm, you must consider the business side of things along with all the litigations of your clients. Hence, this is one of the perfect marketing legal conferences that you can attend.
Each year this legal event offers an opportunity for around 1500+ lawyers and business professionals to participate in this event. They can connect with their peers to learn about some of the new challenges in the legal business side of things. The main focus of this conference is to be able to enable you to handle the business and marketing side of things. As a solo lawyer or a small law firm, you may not have a lot of employees, and attending such a conference surely helps.
Read Also – Guide to start a solo practice law firm in India
The LMA generally holds this annual conference sometime in March to April every year. However, in 2020 the pandemic delayed this event to October 2020. LMA is yet to announce the dates for the 2021 conference, which will be announced on its official website soon.
CodeX Future Law
Technology is changing the landscape of every industry, and the legal profession is no exception. Hence, the use of future technologies is the main focus of the CodeX Future Law Conference. The Stanford Center for Legal Informatics organizes this conference every year, with some of the prominent industry-leading people, who are shaping the future of law as its speakers.
Unlike any other legal event, this event is unique. It engages in cutting-edge technologies, with its applications in the legal field. Starting from the use of Artificial Intelligence to chatbots this conference has it all. The 2019 conference also included an optional section for The Stanford Journal of Blockchain Law and Policy, which is relatively new, and not many people know about it. Hence, you should definitely attend this conference, if you want to be on that bleeding edge of things related to law.
Read Also – Tips for lawyers to ace video conferencing
The Stanford Center for Legal Informatics will host the 2021 conference on 8th April 2021 at the Stanford Law School.
Conclusion
So, here are five of the best legal events that you can attend in 2021. There are a lot more conferences that you can visit, but here are the select five that are the best for you. Some of the other important events which you can visit include the Clio Cloud Conference, Lawyernomics, and The Summit.
If all goes according to your schedule, attending at least one of these legal conferences regularly, you will most likely get more out of them. By involved in various networking and educational programs, it will be a good investment in your profession.