Guide to start a solo practice law firm in India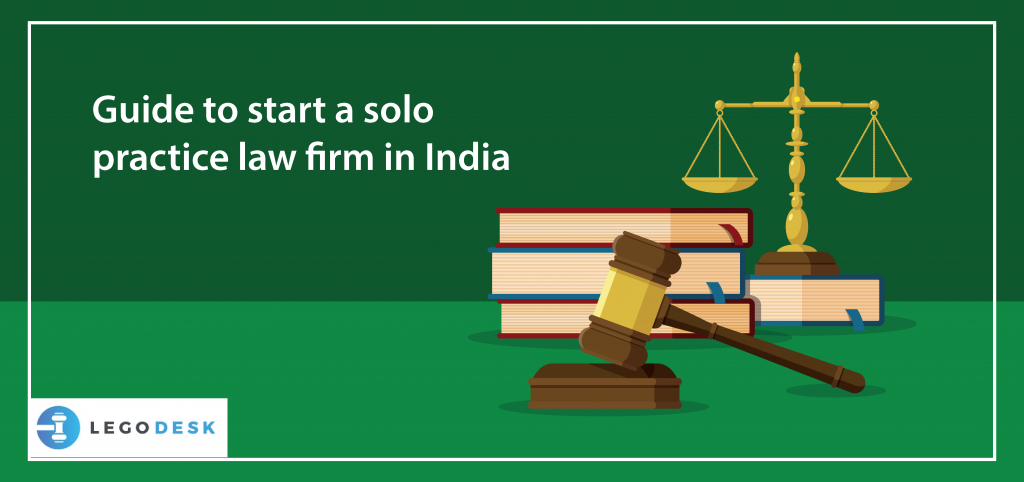 INTRODUCTION
A law firm may vary in size, shape, expertise, and the way it functions. An individual generally gets a variety of options to choose from. Every person graduating from a law college comes with a thousand dreams, one of which is starting a law firm as they prefer litigation as a career option. Establishing a successful career in practicing law is a tough challenge and remains a mere dream for many. In this article, how can a solo law firm be started will be discussed?
Read Also – Some basic tips for choosing the right law firm
WHAT IS A SOLO LAW FIRM?
As the name itself is indicative that it is a law firm run by a single lawyer. Then why call it a law firm when it can be called an individual practice? The reason is because of its registration as a business. The quality of services provided is better due to the high-quality expectational staff working for the case.
Running a law firm is different from working in one law firm or in-house legal counsel. You have the decision as to who will work for you, what cases will you take up, and other such important things in your control. You have the sole authority and responsibility for making this business work and run. You can have control over decisions like business expansions, taking up cases, time spent on cases.
Read Also – A Successful Business Plan for Solo Legal Practice
Less expensive than other law firm options available.
The flexibility of choosing the area of expertise
Control over making decisions
Easy to create and maintain
Business and the person are basically the same entity
You are your own boss
Make larger achievements in your name
High earnings than one can get in any law firm or in-house legal counsel and many more.
HOW CAN A PERSON START A SOLO LAW FIRM?
There are certain important pointers that should be kept in mind while deciding to start anything new. Many challenges will come your way. Because it is not the only law you will be dealing with; it is a business that will be run by you.
Money: This is the primary requirement because you need money for almost everything. It is starting from setting up a location for business, building contacts, arguing cases, to set up offices, to giving salaries, to every expense required to fight a case.
Decide upon the Expertise: Plan carefully what kind of expertise of law will you be dealing with. Or will you be providing all kinds of legal services sought by the clients, this should be clearly set and defined so that you know what you have to and not have to do.
Build a legal network: The Better legal network will help you strive in the market. And it will help increase the legal practice because it is important to get support from other places because this referral will help you get good cases.
Let us accept the fact that money comes with good cases, good cases come with experience, and experience comes by taking up cases, so this is a circle, wherein the center we can keep legal network and referrals, and all others are around the circumference.
Physical factors like geographical location: It is not possible to just have yourself registered as an entity, but you need to decide for a place for your office where you conduct business, work, hold client meetings, etc. this is important to be in a location which is primely located to get the geographical benefit.
Expansion decision: Be careful with any decision with respect to expansion, changing the arrangement of your law firm because it can make or break you. As beneficial a good company will be similar side-effects will be brought by a negative company. Since you are solely responsible and accountable for any of the decisions, be careful with every decision taken.
Staff with experience: You may start single, but ultimately must hire staff. Keep some staff who are experienced and having knowledge in the subject field. So that the workload is somewhat divided, and the task is organized.
Marketing strategies: This is the most important facet of any business. The strategies which can be followed have a well-designed website and logo. Market yourself on social media,
Write blogs that will gain you the market desirable, and other strategies similar will help to have control over the market.
Preparation for small hurdles: When anything big is aimed at, it is natural to face small hurdles. One of the primary hurdles is long working hours. Because of your research, you draft, you represent the case, you work for yourself, you attend the meetings, and you represent the clients.
Some of the other hurdles may include a crisis of money, a crisis of cases, a crisis of referrals, not being able to meet deadlines, losing some cases, and many more.
Price your work accordingly: You are dedicating your time and hard work in preparing for a case, but at a similar time, the competition outside your law firm is quite high, where there are experts providing the same work at a very low price than yours, so quote yourself accordingly. Also remember, to gain experience first and then target money, because good cases come with experience with which complimentary comes money.
CONCLUSION
The decision of starting a solo law firm is very brave, and one must be prepared accordingly. There are many advantages and so are associated with disadvantages. Being liable and accountable can be a disadvantage, as well. One piece of advice would never stop learning. Gain knowledge and gain experience, learn and earn and make a name for yourself, very remarkable.