Tips for lawyers to ace video conferencing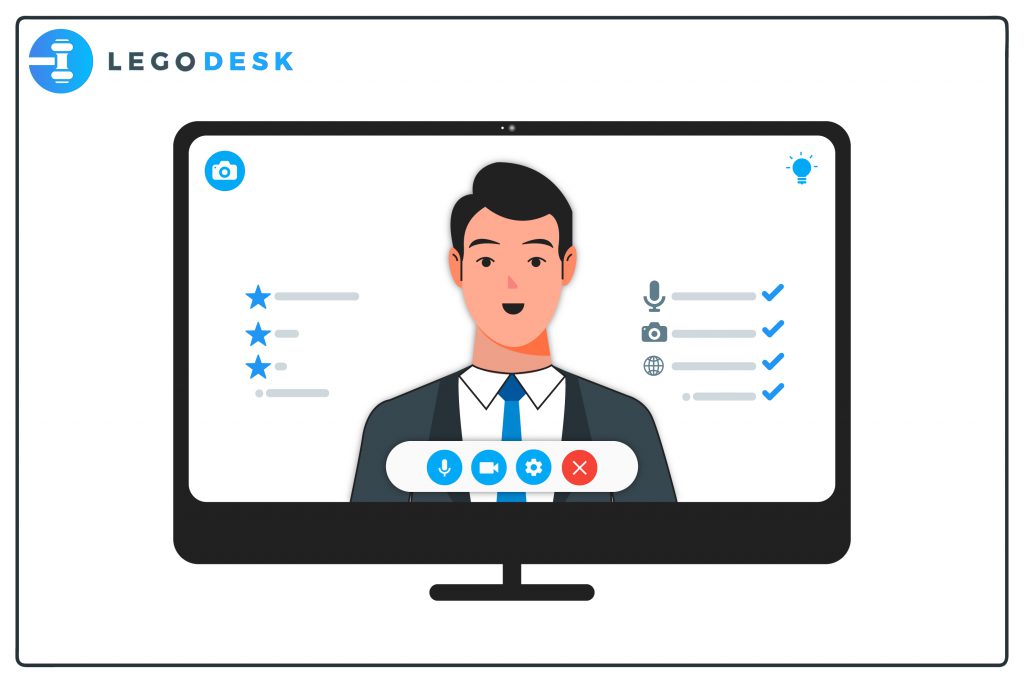 Introduction
Amidst the wake of the Coronavirus epidemic, the Supreme Court has directed to make use of video conferencing for lawyers to prevent delays in proceedings. The video conferencing options bolsters the productivity and efficiency of the lawyers. This way, legal professionals can engage with geographically dispersed clients and improve client satisfaction. Consequentially, they can seamlessly work with remote employees and other stakeholders.
The following are the do's and don'ts to take care of while engaging in a video conference:
Do's
1. Testing is the key –
It is essential to check all the equipment before starting the video conference. There is various test process to ensure that the connectivity app is properly connected to the cameras, speakers, and microphones. This, in turn, will ensure that the lawyer can see and hear the clients and vice-versa. Additionally, the lawyers have to be prepared for the video conference and should avoid delay on their part. The rules for staying on time remain the same, be in in-person or video conference.
2. Dress and Behave Professionally–
An effort to look presentable can go a long way with clients. Formal dress codes exude respect and dignity. Therefore, it is important to dress as if working for a legal firm. The work area has to be kept neat and tidy to avoid distraction. It is equally essential to welcome the clients with a warm greeting. Be aware of body language, and avoid slouching gait. If it's a video conference with a judge, stand up when he/she enters and leaves the courtroom.
3. Secure Legal Confidential Information–
Lawyers owe their clients fiduciary obligations. Hence, lawyers need to find a video conferencing platform with robust security measures so that clients sharing confidential and sensitive information feel secure. One way of ensuring security is by generating new codes for each meeting. Additionally, end-to-end encryption can help avoids potential hacks or a breach to an extent. Lawyers can also secure individual meetings by providing passwords to clients to join meetings with the control in their hand to whether to accept it or not after verification. Furthermore, lawyers can control screen shares, i.e. clients can display something on the screen only if they get the authorization from the lawyer.
4. Party App Integration–
Lawyers should avail themselves of video conferencing platforms providing provision for third-party app integration. It assists to import crucial legal documents and notes during the conference through software like Google Slides or PowerPoint. It bolsters interaction and client participation during a virtual meeting.
Read Also – What is the Lady Lawyers Dress Code?
5. Provide Practice Sessions–
Lawyers in a firm may not always be tech-savvy. Therefore, they can be provided with training sessions. They can be instructed on how to handle the platform, this makes the legal team look more professional. Besides, it also avoids unwanted clogging and glitches in the network connection. Hence, preparation is vital before integrating video conferences into daily task lists.   
6. Client Verification–
An Identification Document can be provided to the client before the online meeting if possible. Clients can be asked to show the original ID in order to get access to the video conference. This can prevent fraudulent measures by some parties.
Don'ts
1. Don't multitask-
Refrain from multitasking during a video conference. Lawyers could deviate from the meeting and get involved in other activities such as checking the phone, responding to another email, surfing, reading news, etc. Consequentially, everyone slides away from the discussion and it affects efficiency and productivity. A client can raise doubt and it can leave you gasping for a response if you were not listening. It might be treated as disrespect by the client weighing down the name of the entire legal team.
2. Refrain from using the device microphone-
Lawyers should be careful while using the device's microphone. It would not cancel out the background disturbances and noises compromising the sound quality. Therefore, preferably use built-in microphones and headphones. Additionally, mute the call if you are not speaking, it will help others to focus more and communicate. It aids in a smooth trail of discussions which improves the productivity of the firm.
Do not leave – Since lawyers are working from home, or even whole traveling a lot of distractions may occur. Avoid leaving the meeting to take care of those distractions, it is not professional to do so. If it's an urgent situation, notify your clients politely excuse yourself.
3. Avoid speaking over others–
Interruptions during input from lawyers and clients derail the meeting. Therefore, it is crucial for lawyers to let the clients share their views. Lawyers should wait for their turn to express their two cents on the topic. It facilitates proper client participation which in turn brings in more information.
Read Also – Five Events Solo and Small Law Firm Lawyers Should Attend
Conclusion
Even though video conferencing is the new norm, the basic etiquette remains the same as in any formal face-to-face meeting. By following some basic rules, the legal sector can achieve the most out of a video conference and simultaneously improve the client-lawyer relationship by staying connected ven during disastrous times. This way, lawyers can work from home seamlessly.