What is the Lady Lawyers Dress Code?
DRESS CODE OF A WOMEN LAWYER
As a woman, it is difficult enough to figure out how to dress without hearing other people's opinions on the matter. Unfortunately, people have a lot of opinions! Dressing as a lady lawyer is one of the most talked-about topics when it comes to the dress code for women lawyers in general, and it's worth discussing some of the dos and don'ts of the clothes women are wearing to their legal jobs.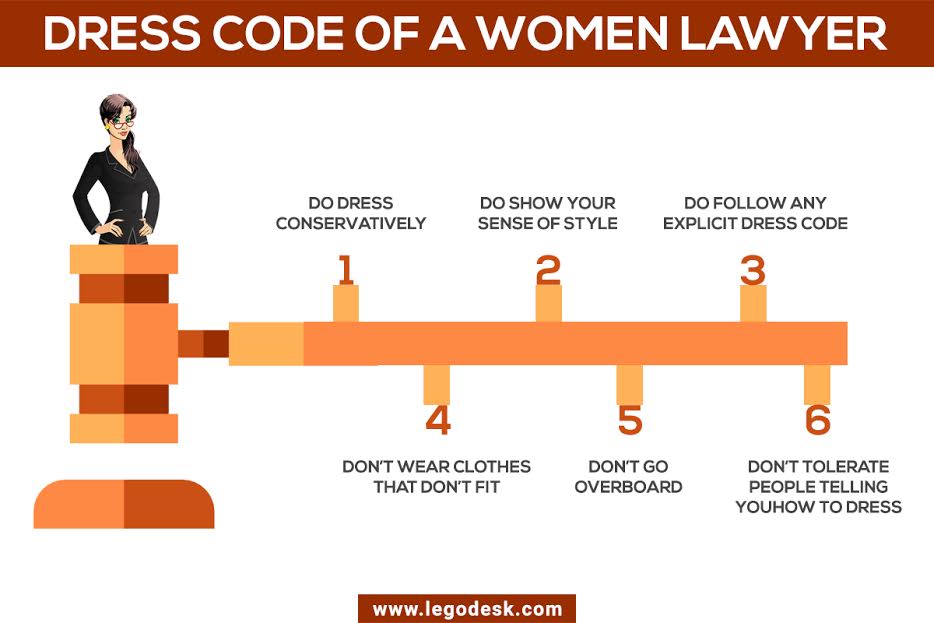 In the legal industry, appearances matter. The way you dress can help you command respect, inspire trust and convey a polished, professional image. Your wardrobe is a tool to win the trust of supervisors, clients, opposing counsel, and judges.
1. DO DRESS CONSERVATIVELY
Lady lawyers should make sure that their outfits cover them in such a way that their clothing does not distract from the point they are trying to make. Practising the law is all about using your brain, so your intelligence should be your most prominent feature. Pantsuits and skirt suits are safe options here, along with moderately comfortable shoes
2. DO SHOW YOUR SENSE OF STYLE
There is nothing wrong with weaving some of your own styles into your business wardrobe. Do you have a favourite colour? Wear that colour shirt under your suit jacket. Do you like sparkly things? Include one accessory, as long as it's not distracting. Just because you're in a stuffy courtroom doesn't mean that your style has to be stifled. Just remember the other people in the room should notice your intelligence before they notice what you wear.
3. DO FOLLOW ANY EXPLICIT DRESS CODE
Does your firm or court have a specific and explicit dress code? Don't even dream of not following it! That is the easiest way for you to go wrong with dressing like a lady lawyer. Dress codes are in place for a reason. Nothing says "unprofessional" like someone who blatantly disregards the dress code. If you want the freedom to start incorporating your own style into your wardrobe, start by making sure everything follows the dress code and build from there.
4. DON'T WEAR CLOTHES THAT DON'T FIT
While showing too much skin is definitely distracting, wearing ill-fitting clothes is also cause for alarm when it comes to wardrobe. One of the most important things to remember when choosing work clothing is to make sure you're buying what fits you—feeling good in your clothes is half the battle.
5. DON'T GO OVERBOARD
You are free to include your fashion sense into your wardrobe, but don't overdo it. Just because you like sequins doesn't mean it's appropriate to wear a bedazzled jacket in court. Find understated ways to show your personality, and you can't go wrong.
6. DON'T TOLERATE PEOPLE TELLING YOU HOW TO DRESS
Aside from a written wardrobe policy, you shouldn't have to tolerate others commenting on what you wear on a daily basis. This is a growing trend in the legal realm everyone from law school professors to judges seems to think they should have a say in what female lawyers wear to work.
7. ACCEPTABLE/UNACCEPTABLE CLOTHING
Acceptable clothing for women includes lightweight sweaters, including turtlenecks, crew, V-neck, and cardigans. Vests worn with short or long-sleeved shirts are also acceptable, as well as blouses knit tops and collared polo shirts. Acceptable pants include khakis, linen blends, silk, twills or corduroy and Capri pants that end close to the ankle. Acceptable shoes include thin to medium-sole leather shoes, loafers, pumps or any updated style with a low or stacked heel, open-toed or dress sandals.
Unacceptable clothing for women includes tight, sheer and low-cut clothing of any style, sweatshirts, T-shirts, denim of any type or color, spaghetti straps, open backs, midriff, tank tops, halter tops, stretch pants, stirrup pants, jogging or warm-up suits, jeans of any color or style, casual shorts, dress shorts, miniskirts and Capri pants that end close to the knee. Unacceptable shoes for women include athletic shoes, moccasins, flip-flops and platform heels.
When you're drafting your firm's dress code, it's important to consider your firm's culture, as well as your geographic location – is your firm in a metropolitan area or is it a rural firm? It can also help you out if you're new to the legal industry and need a few guidelines for a proper dress as you head out for job interviews or cross the threshold of your new firm for the first time.
Dressing as a female lawyer isn't always easy—there is a fine line that must be carefully balanced upon, like a tight rope. The most important thing to remember is that you should be able to keep your own sense of style while still following all the dress codes applicable to the courtroom. Don't let the myriad of voices bother you too much!