Document Management: Not Just a 'Record Keeping' Method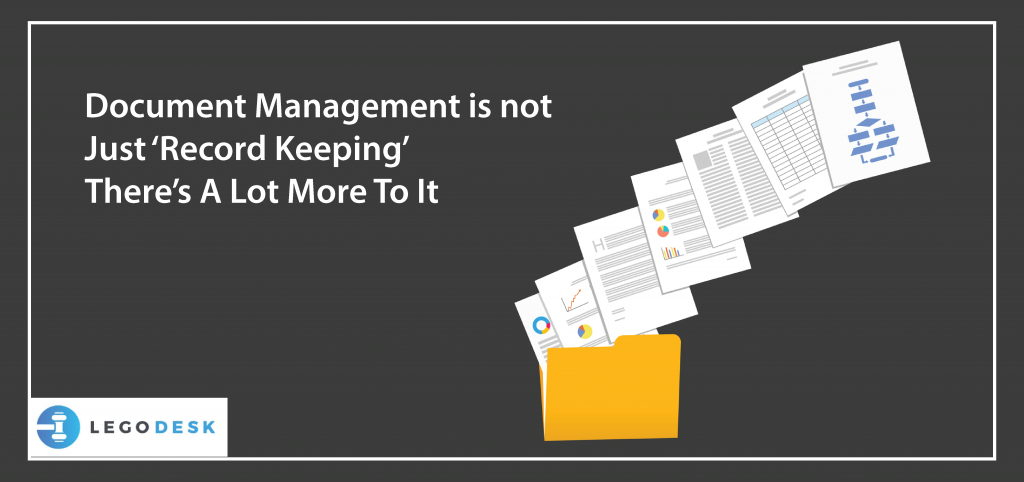 Document Management is the management of documents in a way that makes the business more efficient. A legal document management system can be useful to keep track, manage and store documents, resulting in less use of paper. Additionally, it makes work simpler as the history of all the documents can be tracked easily by a simple search option.
Document management is related to digital asset management and is the best option to increase efficiency. The earliest electronic document management systems managed a limited number of file formats, but now with advancements in technology, all types of file formats can be managed. Furthermore, Document management systems (DMS) provide lawyers with functions like storage, security, as well as indexing and retrieval capabilities.
Read Also – Legal Management Solutions
Document Management- more than just Record Keeping
It is a common perception that document management is just keeping documents in an organized way. But, it is way more than that. The benefits of using a document management system for document keeping include:
Less time for the same task: If it is easy to locate, update, and collaborate on legal documents with the help of a centralized system. Additionally, it reduces the time and cost required to accomplish tasks.
Better security: A DMS offers security options that allow an individual lawyer to set up files according to required security needs. A security feature, especially in the legal profession, is very important while dealing with confidential information regarding clients and also intellectual property.
Better Coordination: A centralized DMS stores all the documents in one place helps in connecting all the people working on the same project as the information can be shared easily leading to better teamwork for the accomplishment of a common goal.
Environment-friendly: Every organization is now trying to be paperless, and a DMS helps by keeping records in an electronic form. Keeping documents stacked in separate rooms is a thing of the past now.
Read Also – Everything about the Legal Document Management System
Selecting the right DMS
In order to have a full advantage and better document management experience, the right DMS needs to be chosen. It means considering the needs and preferences of the law firm as a whole. Some tips for selecting the right system for document management include:
Determining the specific needs:


One cannot buy the right thing unless the purpose to be satisfied is known. The assessment of an organization's specific requirements will help choose the right DMS. The system should be able to handle all sorts of organizational needs. Especially, it needs to have easier navigation and search option to look for relevant information in no time.

Look for a simpler User Interface:


The DMS should offer an easy to use user interface (UI) that the entire staff can navigate easily. If the user interface is not easy to understand, users are never going to prefer it over traditional methods. Therefore, it is advisable to look for a system that's simple to use just after some basic training.

Integration with existing systems:


The new document management system should integrate fully with the existing software systems. This way, lawyers don't need to switch between systems for daily tasks. Also, this will make the work easier by integrating all the tasks.

Manage Workflow:


The best document management system will also act as a workflow management system. And, keep the projects moving forward smoothly. A legal professional has multiple cases going on at a time. Naturally, a perfect system will aid in keeping all the documents as required and will ensure a smooth workflow.

Focus on Collaboration:


The employees in an organization need to access legal files simultaneously from different places. They need to track revisions and other changes made in detail. So an efficient document management system will ensure that all the documents are freely available for reference but with proper security.

Back up:


Every legal professional need to deal with a large amount of information, irrespective of the size of the business. Therefore, one should always choose a document management system that offers constant backups on secure servers. There should also be a recovery option whenever required.

Read Also – Key Benefits of Legal Case Management System
Conclusion
With the advent of technology, people now wish to reduce their paper-based work. Furthermore, they also want to access their important documents from anywhere and at any time. There used to be a time when offices used to be flooded with file cabinets. But today, a document management system that improves the accessibility of documents within the organization is replacing the traditional file keeping methods. Such systems have led to better productivity. Therefore, it will not be wrong to say that Document Management System is not Just for 'Record-Keeping' — There's A Lot More To It.
Read Also – Importance of online payment for law firms