How Legodesk can streamline the legal workflow of FinTech firms?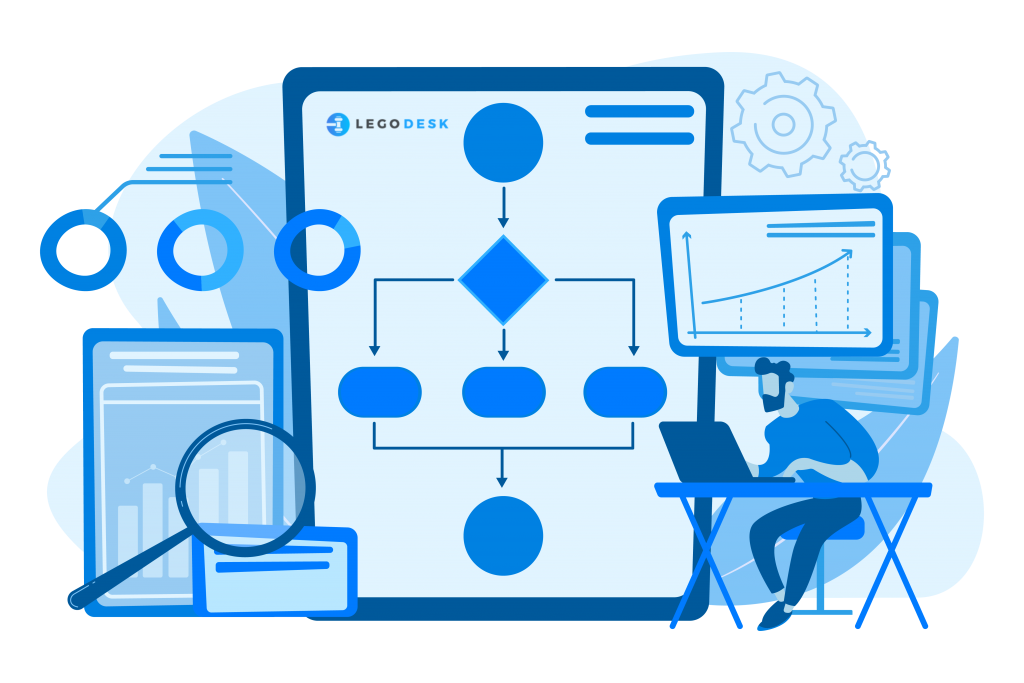 Legal technology is reshaping the FinTech industry and the way businesses engage with their clientele. Financial institutions are "the" early adopters of all new technology that enter the market, adopting and using the finest of them. Why? In order to reimagine and improve their operations, increase client acquisitions, and beat the competition.
In the financial sector, technology is a fundamental differentiator, and financial institutions can never ignore it. Whether it's to handle "old" clients and figure out what they want now, to gain new ones and figure out the best way to approach them, or to deal with legal issues, tech is crucial. Moreover, when it comes to obstacles like rules, government regulations, and ethics, digital solutions will always be important in the financial industry.
Legal departments in the banking industry, for example, may interfere in credit collection operations as well as protect the organization in various lawsuits and regulatory proceedings. Additionally, the loan recovery department collaborates closely with the team of lawyers and the department of operational resources to obtain the best possible outcome; which means sending a legal notice to lakhs of customers, following up with them, and if the amount is still unpaid, taking necessary actions.
Read Also – 4 Ways Technology is Transforming the Law
Furthermore, the legal department is also in charge of ensuring that the company's relations with clients, vendors, associates, employees, and the government are compliant. Everything must adhere to the legal guidelines.
With so many things to ensure and so many regulations and processes to follow, legal tech solutions like Legodesk are a must.
How Legodesk can help FinTech firms
Let's explore the below-mentioned features of Legodesk and how they can help streamline the legal workflow of FinTechs.
1. Case management
This is one of the most important features of dealing with legal cases. Legodesk's legal practice management software allows FinTechs to organize and manage data on a specific instance basis, making it accessible to all the parties- the legal team, the finance provider, and most importantly, the clients.
2. Collaboration
Legodesk provides a partner portal that will allow partner law firms to interact with your own legal team in an effective debt recovery process. Being on the same application will help both parties in being on the same page and developing legal strategies.
3. Document Management
To manage the case papers, Legodesk provides FinTech firms with a user-friendly thorough document management system on a single platform. They can create custom form templates for their firm, generate documents and legal notices, sign papers digitally, and manage everything based on their requirements.
4. Automation
FinTech firms can automate a major chunk of their labor with Legodesk and modern technology. This comprehensive legal automation software allows your firm to better serve existing clients while also recruiting new businesses. You may spend much less time on time-consuming but mundane jobs and more time on projects that demand your skills and knowledge, thanks to automation.
5. Online Dispute Resolution (ODR)
Legodesk aids FinTech organizations in settling issues with its online dispute resolution service. This software mimics the present dispute resolution process in an online environment, minimizing time, cost, and distance constraints. Consequently, the FinTech firms don't have to waste a lot of time in resolving disputes offline as now it is possible from anywhere at any time all thanks to Legodesk's ODR.
6. 24X7 Support
Legodesk provides 24×7 customer service support to ensure all your processes run like clockwork without any technical glitches.
Conclusion-
The bottom line is that using Legodesk for your FinTech firm has a number of benefits. Each piece of legal software has its own unique features. However, Legodesk is quickly becoming the best and most effective legal management software on the market. Moreover, it is cost-effective. While Legodesk has a unique advantage, it's important to remember that getting the most out of it requires some effort, adoption, and daily usage.
You don't invest in your customers if you haven't yet invested in Legodesk for your FinTech organization. It is here to fix all the workflow issues, and firms that haven't experienced it yet should definitely do so. We guarantee they will not be disappointed.