How law firms are adopting Legodesk?
Globally, technology continues to advance in every industry, including law firms. There was a time when technology meant just using computers and typewriters.
Technology innovations are often resisted by law firm partners who have their ways of doing things. It has been especially difficult for lawyers who didn't grow up with digital technologies. However, as clients (both corporates and individuals) start becoming tech-savvy, the law firm management workflow must adapt and progress.
For the success of your business, you need to understand automation. Firms split their tasks into various departments where synchronization plays a key role. Also, being client-centric, the information synchronization extends even to the clients. Time being a crucial aspect, failing to abide by the schedules because of poor integration with other tasks or miscommunication has become a common problem amongst law firms of all sizes.
Read Also – Legal Management Solutions
A one-tap solution to all these mistakes and misconceptions is to integrate your firm with legal management software. It could automate most of your work and provide real-time updates regarding resources, ROI, and efforts.
Why are law firms switching to Legodesk?
What would it be like if everyone at your law firm had better access to legal information, communication, and share knowledge and documents? Sounds impossible. But, it is not.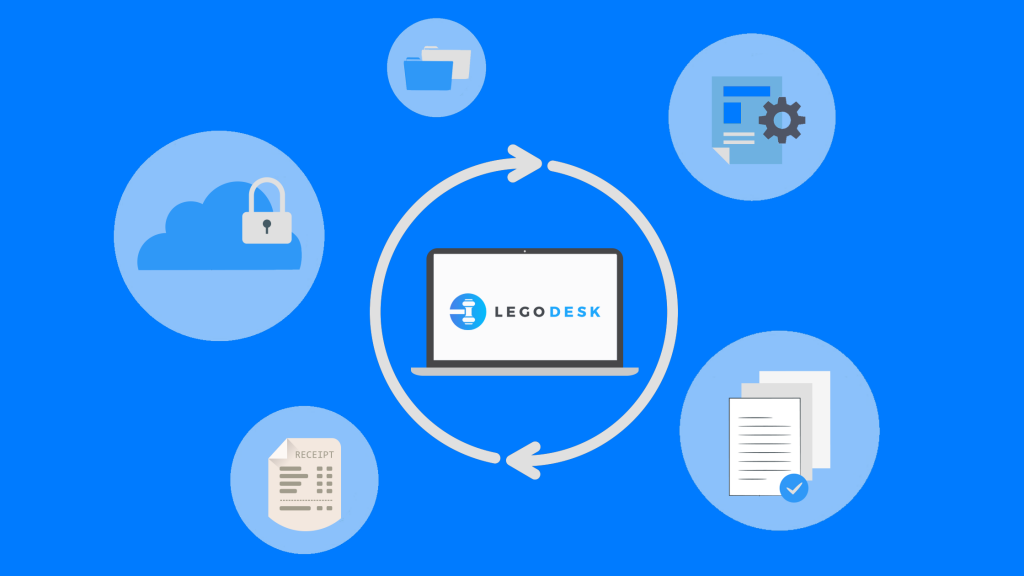 The truth is, a good legal case management solution can increase the efficiency of your firm and improve collaboration among its employees and clients.
And, that is the reason why more and more lawyers are adopting productivity platforms. And, Legodesk remains a top choice for them. Why? Let's talk about the holistic features offered by Legodesk-
1. Periodical updates
When you switch to legal case management software, it's important to keep in mind that laws and the related rules and procedures frequently change, and information can quickly become outdated. It would be best if you had a trusted resource like Legodesk to help you keep on top of these changes so you can anticipate and address your clients' needs. It's critical, therefore, that internal software updates are continually made to ensure you have the information and tools you need to be authoritative and reliable.
Read Also – 5 Crucial Implement Management Software In Your Legal Practice
2. Increased efficiency
With cloud-based legal case management platforms like Legodesk, it becomes easy to work remotely and stay updated in real-time. With automation, it becomes easier to track time and generate bills, ultimately increasing a law firm's efficiency and producing better results.
3. Risk-free
As a law firm, you deal with a lot of sensitive information. Naturally, storing them in your computer or email-provided drive can be risky. That's why lawyers trust Legodesk, which complies with GDPR compliance to ensure all your documents and information are secured. Moreover, with end-to-end encryption, Legodesk ensures all exchanged information remains elusive to third parties.
Read Also – How Legal Practice Management Software Help Law Firms
Are you switching for the first time?
If this is the first time your law firm is considering upgrading to legal software, you might have to consider many aspects to work on. To make things easier, here is your Legodesk guide.
A law firm has many available technology options, but this does not mean that it will benefit from every new technology it encounters. Please focus on the quality of benefits and how well they match your business needs. It is best to have a clear understanding of the problem and the solution to be solved. To determine whether a technical solution is a right solution, identify the existing weaknesses in your business. Once you have identified the problem, you will better understand if the technical solution could solve the business problem.
1. Research well
Initially, you can research your chosen software with no knowledge about the software and get your basics about it right. While doing so, you can also correlate it with your law firm's problems and understand them better. Document your observations and also make sure you include the tips mentioned below.
2. Understand the software
Not just from the legal perspective, you should also understand how the software works in the background. You can compare it with a simple example of purchasing a smartphone. You not only just look into the device's features, but also the operating system opted and the technology used. Similarly, it is necessary to look into the security and background support software used in the software.
3. Pros and cons
While pros and cons are also a part of understanding the software, it must be addressed solely for the firm's development. You should document all the advantages and disadvantages and make sure to finalize the best fit in terms of costing, security, and overall features.
4. Take a demo
Get a free personalized demo from the legal case management platform providers to get all your questions addressed and come to a conclusion. Like many other legal software solutions, Legodesk provides its clients a free demo.
5. SWOT analysis
Screening is the only way you can eliminate the software solutions you listed first. After screening the software you gathered, now you can conduct a strength, weakness, opportunity, and threat (SWOT) analysis to get a better understanding of your screened software. This analysis could now help you to get a wider picture of the software's risk more than anything else.
With a simple analytical example, you can understand the analysis even better.
Strength: How time-efficient and cost-efficient is the software?
Weakness: Complications in data migration from old software to new software.
Opportunity: How much revenue can this software increase in the firm?
Threat: Any chance to compromise data security?
5. Document all the findings
Once you sort everything as guided, document, all the observations to be presentable to the staff. You can include major observations like summaries and important aspects of the software, SWOT analysis, migration and implementation plan, a financial assessment that includes details about the return on investment.
6. Present your solution
Once all your documentation is ready, it's time for the presentation. Present to key decision-makers of the law firm. Explain to them your observations and your analysis. Also, stay open to receiving questions and feedback.
7. Get a custom software
If your firm accepts your suggestion, it's time to get forward with the software consultant. Contact your chosen service provider and customize a solution that suits your workflow. Of course, you might have to change a bit of your plan; stay prepared for that too.
You can get our Legodesk consultant to implement your plans as per your necessities and get workflow suggestions for better customization of your legal software.
Read Also – How to organize your files using Legodesk?
8. Plan for the technology transition and implementation
"Change is inevitable, and also it's the most difficult task for anyone to change. And considering an entire firm's working process to change it's nearly an impossible task. But, with prior planning and implementation, it's not a difficult task to accomplish. Here are some of the common questions in this regard-
1. How long and what will the migration period look like?
If you have to transfer your law firm's data to the new legal software, you need a supporting staff and a plan. Legodesk offers the easiest data migration service where your firm has nothing to work and worry about. A dedicated Legodesk consultant would take up the transferred business and get the work done. Considering all these, you must get to a realistic conclusion about the period of the migration.
2. How would you support your employees and clients to use the software?
If your firm has already been using any software and your employees are familiar with the workflows, the adoption period can be less. However, if they are new to the product and workflow automation software, it can be difficult to manage the firm's task transition. However, with proper training and adoption plans in place, law firms can manage. The key during the transition phase is to stay focused and boost employee morale so that they don't get discouraged. With this in mind, it's better to assign an employee as a guide to get everyone used to the software.
Read Also – Top 5 Features in a Legal Document Management
The modern legal consumer demands a higher form of involvement than even five years ago. That doesn't mean every law firm is going to make the shift overnight. It takes time, but you can give clients the experience they expect and get back more time in your day with small steps. If you want clients to see you as the expert able to find answers to their legal issues in the least amount of time, it's time to invest in the new Legodesk services.