How to organize your files using Legodesk?
The cornerstone of each law practice is its legal papers, which can range from client documents to operational bills. Good legal filing systems make it easy to discover and retrieve files. As a result, law firms can become more productive, efficient, and effective.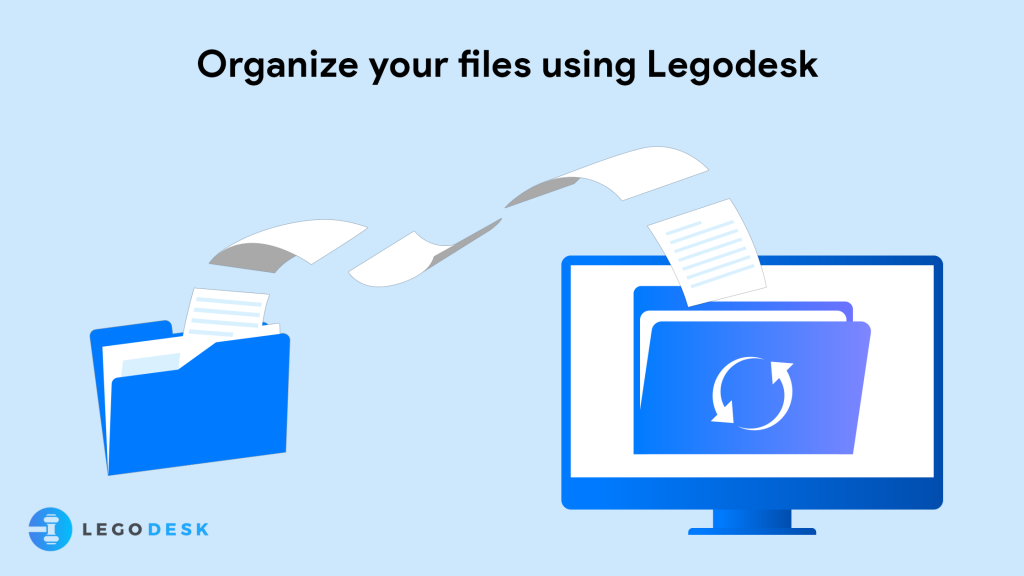 In this blog, we will answer a few critical questions like how can you build a reliable filing system? Or what makes a law firm filing system effective? And how might a paperless filing system benefit your practice?
How to manage paper files
Let's face it, as a legal firm, you have hundreds of important papers which have not been digitized yet. So, before starting the development of your legal filing system, consider the following to save yourself a lot of time and frustration.
Do a preliminary inventory of your present legal file system and go through all your data. If you know what kind of documents you are dealing with, it will be easy to establish a file system.
Have a proper plan in place for old files. Maybe some documents have expired or you can find them easily online. Old files should be discarded properly. Your jurisdiction's regulations for retaining files can help you determine if there are any old papers or files that you may responsibly get rid of if any. For example, in New York, lawyers must keep closed client files forever, unless the client or third party demands their restoration.
After considering these points, it is time to develop a file-retention policy for your company. Prepare a list of what needs to be preserved and for how long, along with instructions on how files will be disposed of when appropriate. If you can, get rid of unneeded files to free up space for what needs to be preserved.

Read Also – Everything about the Legal Document Management System
Determine your law office filing system
As soon as you're ready to start organizing your paper files, ask yourself and answer the following questions:
Do you have enough storage space?
Take a look at your workplace space, do you have enough room to store all papers and files? Physical space concerns might rapidly arise. What sort of cabinets or drawers do you need if you require extra furniture? Is it possible to reorganize your existing furnishings? Never forget to plan. A growing legal business will want more storage capacity to accommodate the papers and data that come with it.
How will you name your files?
Consider a file-naming scheme before you begin transferring your data from one location to the other. How you organize your files will affect how easily you can locate them. Not everyone needs to access files, so be aware of that. A file naming scheme should be easy to comprehend, consistent, and logical. Any abbreviations that only make sense to you will be skipped over.
Read Also – Importance of Document Management System for Lawyers
How will you identify files?
Then, decide on a strategy for identifying and labeling your files. Paper files may be organized more simply with clear identifiers (such as color-coded file labels) and growing files.
Could you go digital?
This is the easiest way to have a legal filing system. Not only this option is space-saving, but also allows you to define permissions and safeguard all the documents.
Moreover, a digital legal filing system could be a good option to consider. Documents on paper will simply take up more and more space, which will cost you a fortune. A lawyer's ability to work efficiently with paper files is diminishing as time goes on. If a pandemic or natural disaster occurs, papers can be lost. Furthermore, in the parlance of remote work, it is necessary to have a cloud-based document filing system in place.
Read Also – Legal Filing System: How to Organize Your Files in 2021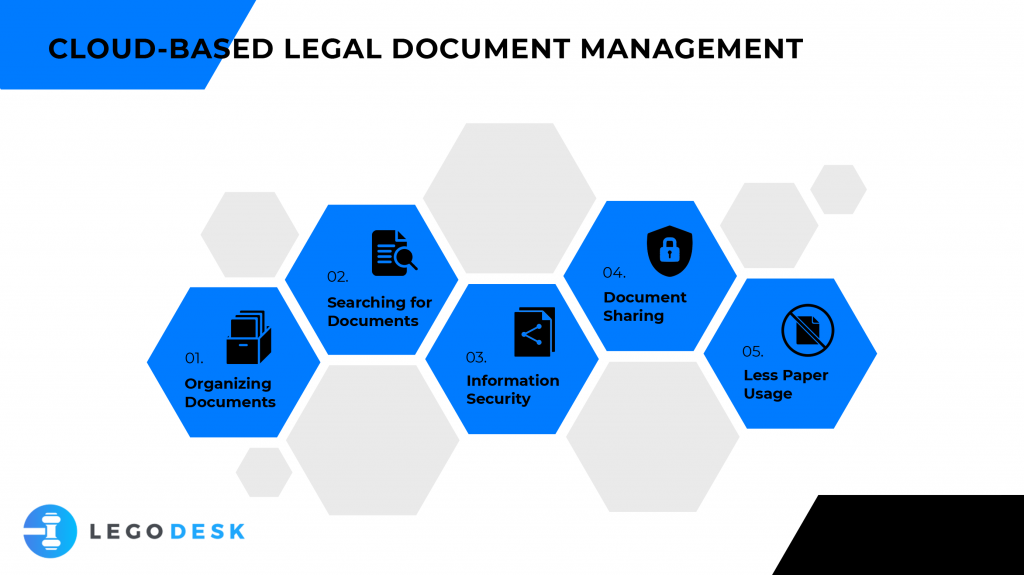 Why you should consider a cloud-based law office filing system
Cloud-based document management software is a great way to manage your documents. An online document management system like Legodesk allows you to store and organize documents and then view them securely from any location. In addition to limitless document storage (with automated file backup) and quick file retrieval (you can discover the file you need in seconds using a keyword search), adopting the cloud for your legal filing system will increase your firm's production and efficiency.
Your legal filing system can seem like a lot of effort at first, especially if you've never done it before. In the long run, however, a paperless legal office may save you time, money, and a lot of work.
There are several ways to improve the organization of your legal papers, even if your company is still utilizing a paper system. In the end, it's a short-term fix. Consider going paperless to prepare your law practice for success in today's legal market.
Read Also – Importance of Document Management System for Lawyers
Here are some reasons why:
Save time and increase time spent on billable work
Lawyers spend barely 2.5 hours a day on billable work, according to the Legal Trends Report for 2019. Lawyers have to spend a lot of time on administrative chores, such as going through paper files. But, with a cloud-based file system for your legal firm, the requirement to manually handle paper systems is much reduced. Naturally, allowing you and your staff more time to spend on billable work and create valuable relations that bring you, clients.
Work from anywhere, at any time
We've learned through the COVID-19 epidemic that working remotely as an attorney is always useful—and sometimes necessary. With Legodesk, documents can be accessed remotely with your legal office filing system in the cloud. A law firm can work efficiently from home or in the office using this platform. Additionally, a little more flexibility towards technology adoption may go a long way toward enhancing your quality of life and work-life balance.
No space and furniture issues
An important element of organizing paper files is figuring out where everything will go. Physical file management may be expensive and take up a lot of space. With Legodesk, your computer is all you need to save your legal documents in a cloud-based system, saving you money and space. Moreover, as the entire platform is on the cloud, you don't have to worry about backups or any physical damage to your device.
Transfer the benefits to your clients
Embracing a paperless office isn't only beneficial to you and your law firm. Your clients also benefit when you save time by obtaining legal papers digitally. Using a cloud-based document management solution in a courtroom may save you important time and offer you a competitive edge; which ultimately benefits your clients. It results in a better customer experience, and you have more time to build your business.
Read Also – Advantages of a Cloud-based Legal Document Management Software
Essential tools for organizing your files using Legodesk
It's not easy to maintain a law firm's file system, but the appropriate tools and technology may make the process easier, especially if you're going towards a paperless approach. Here are two things to keep in mind if you are adopting Legodesk:
A scanner is a device that scans documents. As a legal firm, you may desire to digitize your business's files and papers. Using an easy-to-use scanner, you can digitize documents seamlessly. This is essential to convert all your paper based documents into a cloud-storable format.
Searchable PDF software is available for download. You may search through legal documents electronically (instead of wasting time flipping through papers). Acrobat DC or Foxit PhantomPDF enables you to convert numerous files at once into PDFs that are easy to edit and print.
Conclusion
Your law firm's productivity and efficiency can be greatly enhanced by using a strong legal filing system. Lawyers that have adopted Legodesk for file and document management have observed a 30% increase in their billable hours. An orderly file system will enhance your legal firm's organization. It's your best bet—and sensible investment in your firm's future—to go digital with a paperless system. As soon as your firm's files are paperless, you may work from anywhere. It will be easier to find, retrieve and collaborate on legal papers.
Read Also – Why is data management important for lawyers?