Special Status for J&K from Legal Perspective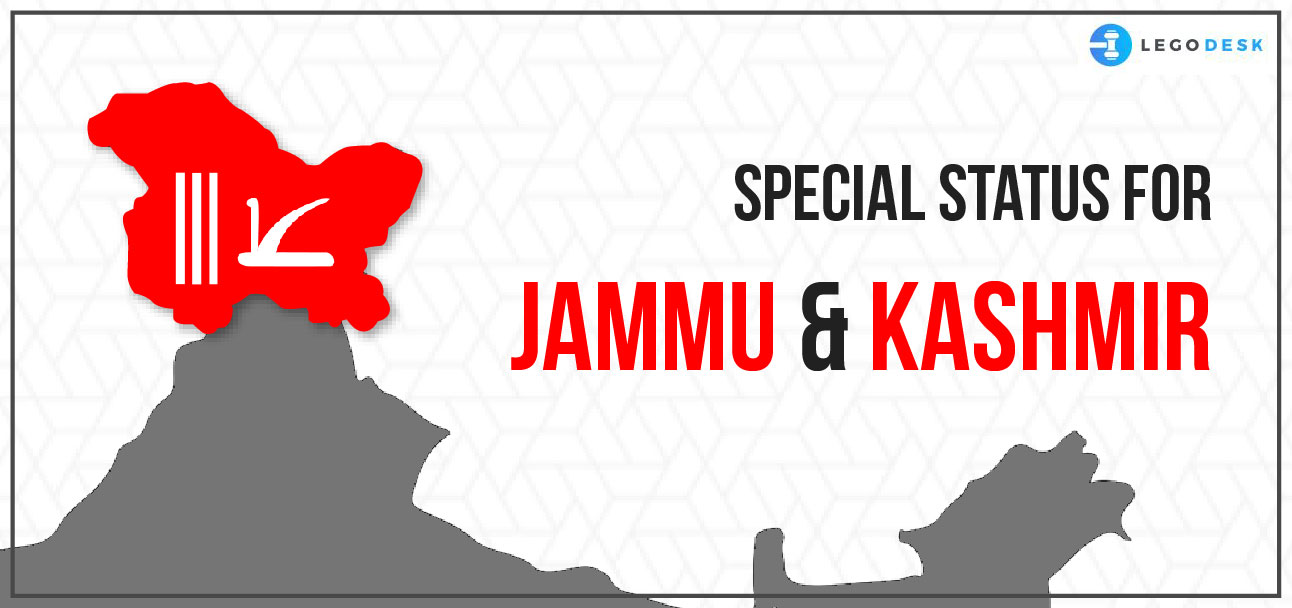 Special Status of Jammu and Kashmir
Jammu and Kashmir have been enumerated in the 1st schedule of the Indian Constitution as the 15th state and yet the rules for J& K is different. When we preach one nation and one law, it becomes difficult for the interpretation of Article 370 of the Indian Constitution which grants special status to the state of J&K. Other than J& K, ten other states are granted special status under Article 371. The argument for and against this special status granted to Jammu and Kashmir can be ethical, cultural, religious and legal.
In 1947, India achieved independence and Pakistan was formed. In that period British India had 562 princely states. The State of J&K was formed in 1846. J& K which was part of both India and Pakistan decided to act as an independent state and with this regard wanted both nations to execute Standstill Agreements. British India called for further discussions on the same. The standstill agreement articulated on 3rd June 1947 wanted to preserve the administrative arrangements of J& K and for them to remain unaltered up until new arrangements were formulated. However, due to the reluctance of Dominion of India to execute a standstill agreement only after negotiation but it couldn't be executed.
The Instrument of Accession was signed by India on urgent request of the Maharaja of J& K when Pakistan invaded J& K. On 26th October 1947, Jammu and Kashmir acceded to the Union of India. This instrument was challenged by Pakistan on numerous occasions but since both the nations entered in this instrument with their free will and consent, it is lawfully enforceable.
Article 257 of the Pakistani Constitution and Article 370 (originally which was 306-A, drafted by Gopalswami Ayyengar) of the Indian Constitution deals with the special status granted to J& K. Except for Defence, Central Finance, communications, and Foreign Affairs, are the only matters which are under the jurisdiction of Indian Constitution, As per the Instrument of Accession, J&K enjoys autonomy with respect to all other subject matters. The Constituent Assembly of the Union dissolved in 1957, it had given the option to the constituent assembly of J&k to decide upon the application or abrogation of Article 370 to the state. They decided for application and thus article 370 became unamendable. Though this article is titled as a temporary provision, it has become permanent enforcement. In October 2015, the High Court of Jammu and Kashmir has ruled that Article 370 cannot be "abrogated, repealed or even amended".
In the case of Puranlal Lakhanpal v. President of India, the Supreme Court refused to interpret the word 'modification given in Article 370 (1) in a narrow sense.
Article 370 in toto has three clauses, with 4 sub-clauses in the first clause. It doesn't have to depend on other provisions for its application. Article 370 (1) talks about the non-applicability of provisions of Article 238 to the State of J& K.
FEATURES OF ARTICLE 370
General provisions:
1. The state of J& K has its own constitution, giving its citizens dual citizenship.
2. Indian citizens other than the State of J& K cannot purchase land in J& K.
3. For Breaking the Constitution of J& K, governor's rule is applicable, and the Union has no power to act.
4. For the appointment of Governor, only elected chief minister's consultation is important. [Article 370 (1)(c)]
5. Fundamental Rights of the Indian Constitution [Article 19(1)(f) and Article 31(2)] is applicable to the citizens of J& K, however fundamental duties (Part IV) is not applicable. Right to Education is the only fundamental right which does not extend to J& K.
6. No detailed account of the amount flowing in the state and how it was used has to be provided to the government of India.
7. Any provision of the Indian Constitution can be applied to the state of J& K by President order and after concurrence with the state government. [Article 370 (1)(d)]
8. Provision of RTI is not applicable to J& K.
Emergency Provisions:
1. Only in case of war or external aggression, an emergency can be declared in the state by the Union.
2. Union of India cannot take any action or declare any financial emergency or emergency on reasons of danger or internal disturbance. This is only possible if in agreement with the state government.
3. President rule and governor's rule can be imposed on J& K for a maximum of six months.
Parliamentary provisions:
1. For J& K, Parliament of India has limited authority to make laws only for subjects under the Union and Concurrent list for subjects which fall under the purview of the Indian Constitution. [Article 370 (1)(b)]
2. The name and boundary of the territory of J& K can only be changed after the assent of state Legislature.
Article 370(2) talks about the matters which are not enlisted in the Instrument of Accession, in all such matters, the applicability of Indian Constitution has to be first agreed by the Government of J& K and then tabled before the State Constituent Assembly for approval thereon.
Conclusion
Jammu and Kashmir is a part of India. Article 370 gives the special status of Jammu and Kashmir and they enjoy special provisions due to the Instrument of Accession signed by Hari Singh. As per experts of the Constitution, this article should not be repealed or abolished. The provisions should be amended or extended to remaining states. But extending to other states will give a great power of autonomy giving a scope of development, but also a wider scope of misuse.