Blackmailed with photos? Here's how to deal with it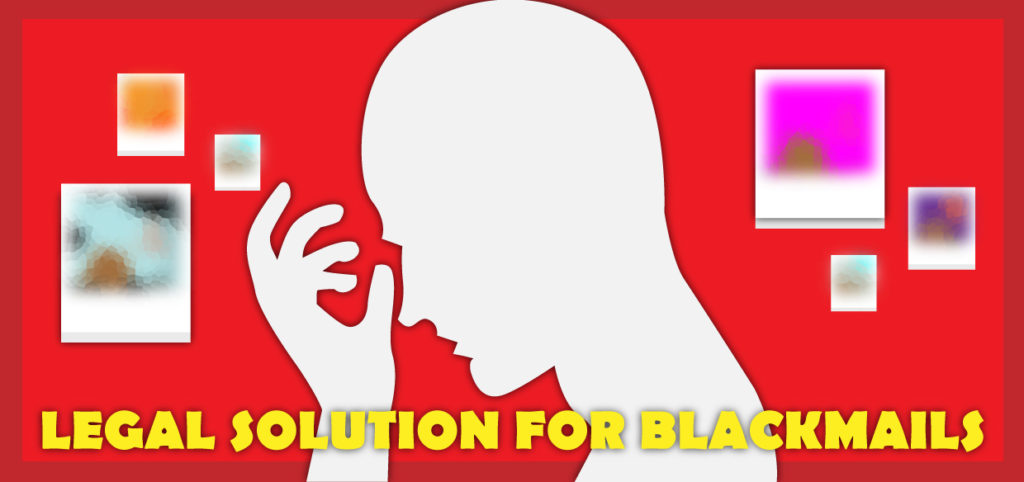 What is blackmail?
The word 'blackmail' is used loosely in society and at the same time, many are aware of what it means. Generally, it is an act of coercion that involves threatening to do something which one would prefer not to do if he/she was not pressurized. The pressure to do an act is intense because the perpetrator asks the victim to do something which he/she would refrain from doing. The perpetrator may blackmail the victim that he would share sensitive information which may include private chats, photos, videos or any other form of data. With technology, it is easy to change any image with the help of a good photo editor. The victim goes through intense psychological and emotional trauma and fails to act rationally in such situations, due to which his/her life may also be put at stake.
The remedy to blackmail
No person would happily share private photos on social media platforms such as Facebook, Twitter, Instagram, Snapchat where millions of users are active at the same time and data transmits from one corner of the world to another in seconds. But photos do get leaked, often as a ploy to take revenge from the person concerned. This might get used for pornographic purposes and completely shatter one's reputation in social life. What can be done in that case? What is the remedy?
Neutralize the threat: Try and neutralize the threat that the perpetrator is trying to make. For example, the perpetrator may blackmail you that he/she would leak your private photos to your best friend, then you must directly go to your best friend and tell him/her about your plight. It is an uncomfortable thing to do but surely it is one way of avoiding it.
Call the police: Dial 100 and tell the police officials about everything that happened. The police officials will take your address, phone number, and ask officials from the local police station near your house to meet you. The police will help in tracking down the perpetrator via special tracking devices so that nothing is leaked at all. However, the police may be insensitive and rude to you at times and may cause leakage of photos themselves during an investigation.
Usually, when the police get involved in this matter, the perpetrator and his/her family are summoned to the police station concerned. His phones and laptops are confiscated and he might be arrested too.
Blackmailing with photos can both be a civil offense and a criminal offense in India. A lawyer might help the victim by filing a civil case asking for an injunction from the court on the perpetrator. Once they are served with the notice, they might get a little worried and play on the defensive or might stop from ever doing such an act again. However, if the situation is serious then you, as the victim, must not refrain from filing a criminal case against the perpetrator since innumerable provisions protect you from the same.
Legal provisions which may protect you from blackmail—-
Section 66E of the Information Technology Act, 2000:- Violation of Privacy – This section penalizes the capturing or publishing of the image of a private area of any person without consent. Privacy was recently elevated to the status of fundamental rights under Article 21 of the Constitution of India. This just shows how important privacy is in all aspects of life.
SECTION 67 OF INFORMATION TECHNOLOGY ACT, 2000 – TRANSMITTING OBSCENE ELECTRONIC MATERIAL – According to this Section, anyone who uses any electronic means to publish any picture, video, audio, etc. which is capable of defaming a person morally will be considered as a crime and the person doing such an act will be punished with imprisonment which may extend to 5 years and with fine also.
SECTION 67A OF INFORMATION TECHNOLOGY ACT, 2000 – ELECTRONIC MATERIAL CONTAINING SEXUALLY EXPLICIT ACT – According to this Section whoever uses electronic means to publish or transmit any material which contains a sexually explicit act or conduct will be liable for imprisonment which may extend up to 7 years and also incur a fine.
SECTION 67B OF INFORMATION TECHNOLOGY ACT,2000 – CHILD PORNOGRAPHY – This Section penalizes the publishing of obscene electronic material involving persons below the age of 18 years i.e. minors. The POSCO act also has provisions to protect the minors in this regard.
Section 501 in The Indian Penal Code – Printing or engraving matter is known to be defamatory if it injures the reputation of that person in public. Whoever prints or engraves any matter, knowing or having a good reason to believe that such matter is defamatory of any person, shall be punished with simple imprisonment for a term which may extend to two years, or with fine, or with both.
Conclusion
Blackmailing is a serious offence, though not expressly defined under substantive laws in India. It needs to be reported quickly since the intensity of the same could get serious and have extreme consequences in store for the victim and for his near and dear ones.