First Female Judge in India – Story of Fathima Beevi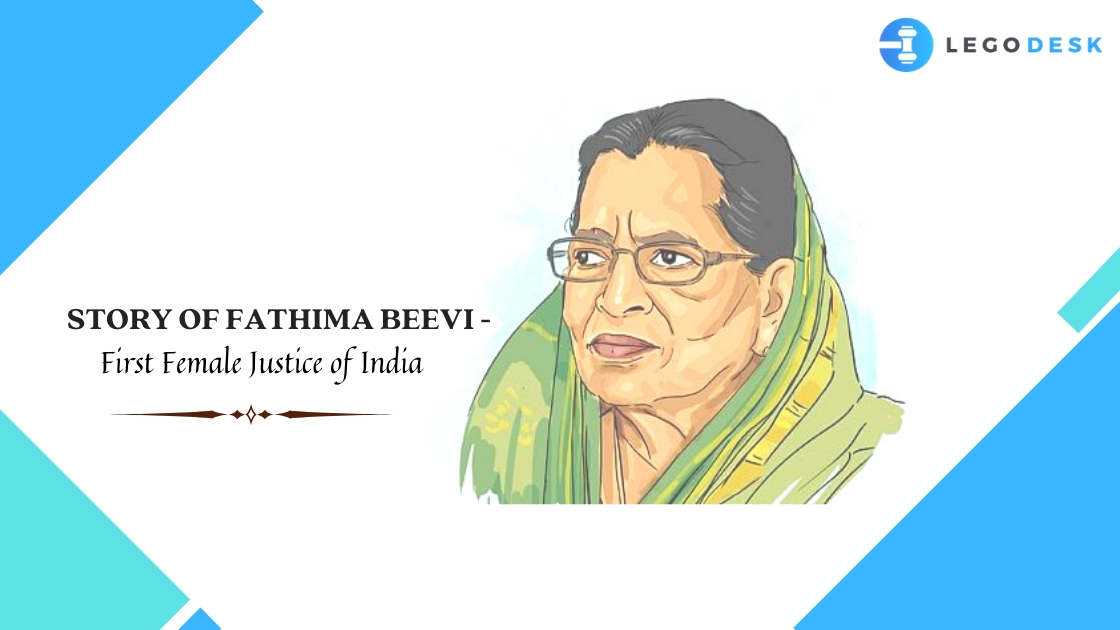 Fathima Beevi, a young girl from the district of Pathanamthitta, grew up to be the First Female Judge in India. In the Indian Judiciary, where female progression is not prominent,  Fathima Beevi was an influential exponent of women's rights and wanted to abolish the roots of patriarchy from the society. She believed that women should join the legal profession to reduce gender disparity in our society. They must play an active role in decision-making to bring the long-overdue changes in an immensely patriarchal Indian judicial system.
Read Also – District Courts In India
Fathima Beevi was born to Annaveettil Meerasahib and mother Khadeeja Beevi. They had six daughters and two sons. Out of the eight children, Fathima was the eldest. In a society where women were not given access to education, her parents encouraged the kids to pursue their education and career.
Initially, she completed her graduation with Bachelor of Science, later she completed her Law Degree from the prestigious Govt. Law College in Trivandrum, Kerala. She was inspired by Ms. Anna Chandy, who was the First Female Judge in India who happened to be from her hometown. She passed her law with a gold medal being one of the five women students in a class, upholding values taught by her parents. In 1950, she enrolled as an advocate in a district court at Kollam, the same year Honourable Supreme Court was established.
Read Also – Types of Courts in INDIA
Development of her Legal Career
After eight years of legal practice at Kollam District Court, she cleared the public exam to become a Munsif. In the year 1972, she rose to the rank of Chief Judicial Magistrate, later in 1974 got promoted as District Sessions Judge. In 1983 she was appointed as the High Court Judge of Kerala. Finally, in 1989 she was inducted as the First Female Judge in the Supreme Court, owing to her excellent caliber and expertise in the legal profession. Interestingly, India became the first country in Asia to have the first female Supreme Court judge. After her retirement, she served as a member of the National Human Rights Commission for four years. Additionally, she held the position of Governor of Tamil Nadu.
Read Also – How Judges of Indian Court are appointed?
Representation of women in higher Judiciary is quite nominal even to date. The country has only a little over 10% of women in the judicial field. Hence, Fathima Beevi proved her mettle and made history by becoming the First Female Judge of the Supreme Court of India at a time when women were not given an equal chance to be part of the Judiciary. She is an advocate of gender equality and has mentioned that there was a need to elevate the representation of women to judgeships. Beevi believes that one way of achieving this goal is through reservation policies. She has always been vocal about the unequal treatment women have to face in the Judiciary.
She has mentioned in an interview with The Week that "There are many women in the field now, both at the bar and on the bench. However, their participation is meager. Their representation is not equal to men. There is a historical reason also for that. Women took to the field late. It will take time for women to get equal representation in the Judiciary."
Eventful Period as a Governor
Fathima Beevi, after her retirement, was appointed by the then President of India, Shankar Dayal Sharma, as the Governor of Tamil Nadu. One of the significant decisions under such authority was to dismiss the mercy petitions put forwarded by the four condemned prisoners in the Rajiv Gandhi assassination case. In the year 2001, she invited AIADMK General Secretary Jayalalitha to take an oath as the chief minister. It created substantial public outcry as Jayalalitha was associated with a corruption case. Beevi has taken this decision after consultations with the other senior judges in the higher Judiciary, but due to political pressure, she had to resign.
Read Also – Here Is The Brief Explanation On Hierarchy of Courts in India
The journey to becoming the First Female Judge in India had its own hardships. Fathima Beevi, through her incredulous journey, permanently etched her name into the Indian Judiciary. She paved the way for women to pursue a career in the legal field in a male-dominated judiciary. Hence, Fathima Beevi will always be looked up to as a role model to tackle gender imbalance in the legal profession.
Read Also – 7 things to learn before hiring a criminal lawyer