Anti-bullying laws in INDIA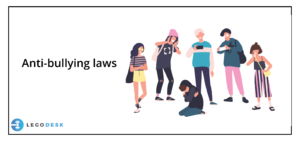 Bullying is a problem that begins at childhood and goes on until adulthood. According to a survey conducted by Microsoft about the global Youth found that surprisingly, 53% of children have been bullied in India in different ways.
In schools/college/jobs, dominant colleagues often target their weaker peers, to make fun of their disabilities, academic performance, body shaming. All this is done in the shadow of healthy interaction. However, this phenomenon has gone beyond just fun games and healthy interaction and has stretched to the extent of many fatalities such as mental disorder, or the victim committing suicide. Often the victims of bully carry the scars of that trauma throughout their lives. A child who is bullied often tends to question his capabilities, and this shatters their self-confidence at the very initial stage of his life. Parents in the case of children and the victim himself must be aware of the laws, to nip this problem in the bud. The government of India has come up with certain laws to curb this issue.
Read Also – Article about Bullying and Its Types and Meaning
The bar association of India defined bullying as "Systematically and chronically inflicting physical hurt or psychological distress on one or more students or employees."
1. Raghavan Committee Report
This report was released in 2007, comprising of various recommendations to control ragging and bullying in schools and colleges. This committee report categorized bullying as a serious abuse of human rights. On the lines of same, various laws and regulations have been issued to curb this menace. This committee also recommended that teachers and the principal must be held liable if any act of bullying takes place.
2. Bullying in schools
A) Appointment of committee
The Central Board of Secondary Education (CBSE) ordered the setting up of Anti-bullying committees in 2015, by issuing guidelines for the prevention of bullying and ragging in school. Various methods to curb this threat, recommended by the committee is warnings, suspension, rustication expulsion. This circular suggests that anti-bullying committees be set up in schools.
B) Counselors
This circular suggests that counselors be engaged in schools where students have complained of bullying. A trained counselor can better handle this peril and sensitive matters.
C) PTA Meetings
Family background has a lot of influence in the case of bullying. In the case where the child has complained about the instances of bullying in school, it is necessary if the parents of such child who is involved in bullying or is being bullied into going and speaking to the teacher and the parents of the other child at the first step. This can may a transformation in a child's school life and future.
Read Also – 3 Best Benefits of Working with Car Accident Lawyers
3. Ragging in college
A) UGC Circular
In 2009 an anti-ragging circular, "UGC Regulations on Curbing the Menace of Ragging in Higher Education Institutions, 2009" was issued and applied in all institutes of higher education. To address the brutal ragging faced by college students. There is an exhaustive definition given of ragging and also calls up for setting up an Anti-ragging Squads. This has lead to the regulation of ragging; however, the same cannot be completely curbed.
B) Provisions of IPC
Most college-going students who had been alleged to commit an act of ragging in juniors are over the age of 18 and are considered to be adults in the eyes of the law. Thus, the consequences of criminal acts committed by them would be governed by the Indian Penal Code. Broadly following are the relevant provisions of IPC under which they can be found guilty.
Section 323 to 326, causing hurt and grievous hurt and their respective punishments.
4. Cyberbullying
CBSE Circular also recognizes cyber-bullying as a form of bullying. It can be defined as the use of electronic communication to bully a person, typically by sending messages of an intimidating or threatening nature.[1]
Broadly, an act of cyberbullying sweeps following offenses. This list is inexhaustive.
Posting any humiliating content depicting the victim. Hacking the victim's account.
Sending obscene/vulgar messages.
Threatening to commit acts of violence.
Stalking by means of calls, messages, etc.
Threats of child pornography.
The Ryan Halligan Case of Vermont (2003) was the first case that dealt with the issue of cyberbullying in which the defendant was not held liable for cyberbullying the girl because of criminal law could not be applied in that matter.
In India, there is no specific legislation dealing with the same. However. There are certain provisions of the subsisting statues, which are applied in the case of Cyber Bullying.
Section 506 and 507 of the IPC which deal with criminal intimidation may be applicable in case of cyberbullying. Section 499 of the IPC deals with defamation, which may be used if the cyberbully threatens to publish humiliating content about the victim. An amendment to IPC includes stalking, sexual harassment, and harassment in general through electronic means in Sub-section 354 A of the IPC. Section 6E of IT Act deals with punishment for violation of privacy that may be applied to cases of cyberbullying.
Read Also – When is it Necessary to Hire a Motorcycle Accident Attorney?
CONCLUSION
In instances related to bullying and ragging related causalities, it is important as parents and guardians to keep in mind these laws and regulations, that can come to your rescue in case your child faces bully or ragging in school or college.