10 Things to Know Before Hiring a Lawyer
Lawyers differ in the way their respective firms are structured, ranging in size from single-attorney practices to large, multinational firms with thousands of attorneys on staff or small firms. The reason for hiring an attorney may not, however, be so apparent. A good attorney will provide vital assistance in almost every aspect of your business, from basic zoning compliance and copyright and trademark advice to formal business incorporation and lawsuits and liability.
The key points before hiring are: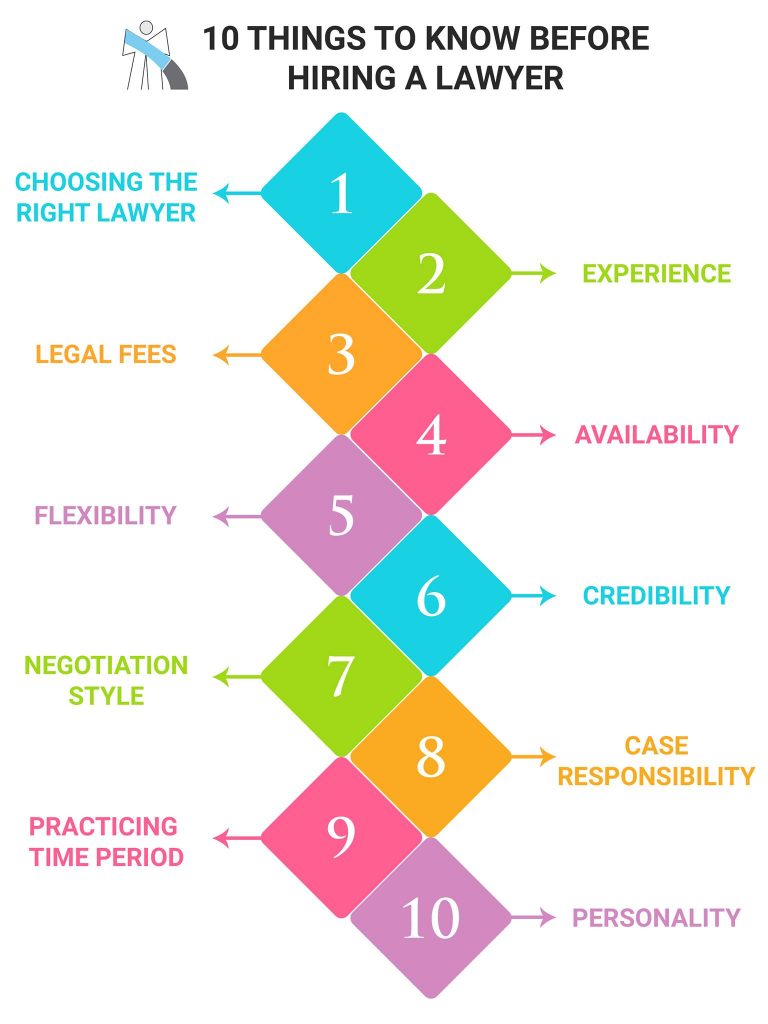 1.CHOOSING THE RIGHT LAWYER
There are a lot of lawyers out there, but how do you find one that best suits your needs? Hiring the right lawyer will make a drastic difference in the way a case is handled. A lawyer with limited experience can end up missing small details that could lead to serious problems.
You need to find one who works in the proper jurisdiction and need to find one who knows how to best handle your case best. Many lawyers specialize in one type of law or another. A specialist in family law won't be your best option if you need a bankruptcy lawyer.
Consider several lawyers before Hiring a Lawyer. It is important that you find someone who has the skills you need, who will be honest with you and who will work hard on your behalf.
Looking for legal counsel? Find the best lawyer with Legodesk. Sign Up Now!
2. EXPERIENCE
Every legal case varies. Therefore, it pays to search for a lawyer with the right kind of experience. It is vital to seek out a lawyer with the most experience related to your case. Not only will the lawyer have a thorough understanding of the law, but they will also have experience with the local court system.
However, new lawyers are generally woefully unprepared to actually represent clients. The most effective lawyers have many years of experience in representing clients in pre-litigation matters, a wide variety of creative settlements, both jury and bench trials at all levels, and both state and federal appeals.
3. LEGAL FEES
The legal process can be expensive. When you are seeking a lawyer, it is important to establish a price range that suits your needs. Compare the costs of flat-rate and hourly billing to determine which is best for you. Hourly rates are the most common type of fee. Depending on a lawyer's experience and location, an hourly rate can vary quite a bit. Cheaper might be better, but a more expensive and experienced lawyer could very well handle your case faster and better. Before hiring a Lawyer to keep in mind that if a lawyer can settle the case outside of court, you can save a substantial amount of money. A case that moves forward to the courtroom will cost more. Every case is different, which means costs vary.
4. AVAILABILITY
A lawyer that is focused on their clients will keep in touch and advise them about the different phases of the case. A lawyer who is generally unavailable or hard to reach is a waste of money. Many lawyers are notoriously difficult to reach. Sometimes emergency situations arise which require legal assistance immediately. Lawyers who understand this fact make themselves available 24/7/365 to their clients for such situations. Never hire a lawyer unless you are confident the lawyer will make you a priority and return all e-mails and telephone calls within 24 hours.
5. FLEXIBILITY
Flexibility is another important element. When working with a lawyer it is crucial to find out how flexible the lawyer is with your schedule. Can the lawyer accommodate your schedule needs? Are they willing to communicate via your preferred method of communication? A committed attorney will make certain that your schedule doesn't interfere with getting updates on your case.
A lawyer who has been personally and actively involved in the general subject matter involved in your case is a good indicator the lawyer is truly interested in your case.
6. CREDIBILITY
To find a lawyer you can trust, find out what people think about them. If a lawyer is well- respected by other lawyers, it is a good sign they are trustworthy. Check customer reviews of the lawyer to find out how other people felt about the process. Credibility is an important element in finding a good lawyer you can trust to handle your case correctly.
A lawyer's reputation is critical in many ways. Lawyers quickly develop reputations with their peers, their adversaries, the state bar, and the judges. A reputation for honesty, aggressive representation, and professionalism is indispensable to expediting a favourable resolution of a case. Lawyers with the best reputations are often called upon by other lawyers for advice and by the press to serve as legal commentators on high profile matters.
7. NEGOTIATION STYLE
Lawyers are human, just like you, which means they all possess their own personality traits. A blunt, aggressive lawyer may be ideal for a felony case in criminal court, but you may want a compassionate, likeable lawyer to handle your custody case. You also need an attorney who meshes well with your personality, as you will be spending a significant amount of time preparing your case together.
An initial consultation with a number of lawyers is a smart idea. You can interview each one and then make a decision based on who you think might represent you the best. It is also a great way to get an idea of which law offices and attorneys you are most comfortable working with before hiring a lawyer.
8. CASE RESPONSIBILITY
Who is going to be responsible for handling your documents and representing you in the courtroom? You might assume it is the lawyer you initially meet with, but the law firm may not work like that. The lawyer you first meet may pass his duties on to junior attorneys, paralegals, or even office secretaries.
To make sure you know who will be handling your case, come right out and ask. Don't assume; if anything, suggest you'd like to deal with one person, or a few people, throughout the case. Hiring a Lawyer like them is able to put your mind at ease and ensure that you work closely to resolve your case.
9. PRACTISING TIME PERIOD
A new lawyer may have a lot of youthful enthusiasm, but a lawyer with tenure is something you should consider. Based on the particulars of your case, you may need to search for a lawyer with a lot of experience handling cases similar to yours.
10. PERSONALITY
When you are looking for the right lawyer, it helps to find someone you are comfortable talking to in person. The personality of the lawyer can determine whether or not you feel comfortable with your case and the entire process before hiring a Lawyer. While you want a lawyer you know you can talk to comfortably, it also helps to watch their demeanour in court.
Looking for legal counsel? Find the best lawyer with Legodesk. Sign Up Now!