Women, No Need to Change Your Name on Passport After Marriage
Prime Minister Narendra Modi announced that women are free to retain their maiden names in their passports now after the marriage. PM Modi has just announced good news for the newly-married couples who were planning their summer breaks for overseas but is stuck up in the process of updating spouses' names on their passports.
The move means women who take their husband's name after marriage don't need to go through the long-winded process of changing it in their passports.
Stating that he wanted women to be at the center of the developmental schemes, Modi said his government is working in different ways to empower them through various schemes like Mudra and Ujjwala, among others.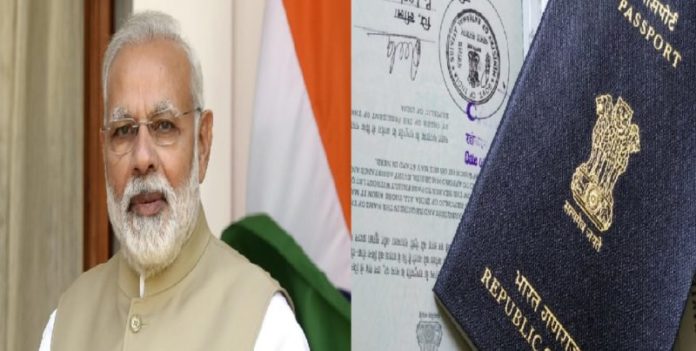 "From now onwards, women will not have to change their names in the passport after their marriage," Modi told a gathering of the Indian Merchants Chambers' ladies wing over a video conferencing.
However, Modi's statements left most commentators confused about whether he was announcing a new set of rules or merely reiterating existing laws. Women have routinely complained about rules that require them to provide details of a husband or father on their passports, saying it is sexist and demeaning. In November 2016, an inter-ministerial panel told the Ministry of External Affairs that passports need not have details of the holder's father, mother or spouse as such information is "irrelevant for immigration purposes either in India or abroad". The committee had recommended changing this rule, especially as it goes against international practice.
In June 2016, Minister for Women and Child Development Maneka Gandhi had asked the MEA to amend rules for issuing passports and not make father's name a mandatory requirement. Gandhi's request had come after a single mother, Priyanka Gupta, tried to get her daughter's passport issued without the child's father's name in it, after which she started a petition on change.org.
In May 2016, the Delhi High Court had ruled that it was not essential to mention the name of the father on a passport if the mother and child so desired.
"Now women won't have to give their divorce or marriage certificates while applying for a passport. It will be up to a woman on whether she would like to use her mother's or father's name."
NO DIVORCE OR MARRIAGE CERTIFICATE IS NEEDED
In his speech, Modi announced that women will not have to submit divorce or marriage certificates while applying for a passport.
"Married applicants would not be required to provide Annexure K or any marriage certificate," the notification said. "The passport application form does not require the applicant to provide the name of her/his spouse in case of separated or divorced persons. Such applicants for passports would not be required to provide even the divorce decree."
Hence, Modi's statement that the current government has simplified the passport rules and removed the mandatory rule about the submission of a marriage certificate or a divorce decree is true. This is not just for women but is equally applicable to men.
USE EITHER FATHER'S OR MOTHER'S NAME
The second half of the statement made by the Prime Minister was, "It'll be their discretion to use their father or mother's name in the passport."
"It is entirely up to the woman to choose between her mother's and her father's name in the passport. The statement had nothing to do with retaining her maiden name."
In fact, the PM's statement was about another change in the rules made in December 2016. The change was made to make it easy for single parents to obtain passports for their children. Unlike earlier, the passport application form now requires the applicant to provide the name of father or mother or legal guardian, i.e., only one parent and not both. This would enable single parents to apply for passports for their children and to also issue passports where the name of either the father or the mother is not required to be printed at the request of the applicant. Earlier, it was mandatory to mention both the father's and mother's name in the passport application. Again, this rule is not just for a woman, but for any single parent.
Prime Minister Narendra Modi; "When women have money, they feel empowered."