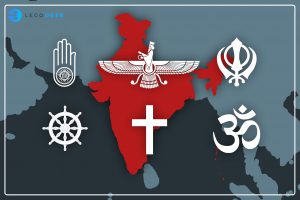 The grant of citizenship stems from the right of such grantee to be provided with a political title to signify that they are a political subject to such a state. However, each state decides how and in which cases such a title is to be granted. Hence, if an individual or a 'natural person' wishes to be a citizen of a state, then the relevant legislation must allow for the same.
In the context of the Constitution of India, the power of citizenship and rights that follow are provided within Part II, Articles 5 to 11. It enables the Parliament to possess such power to grant citizenship to its subjects. The relevant legislation which possesses such power is the Citizenship Act, 1955.
The Citizenship Act, which was enacted in the year 1955 embodies the power of the Parliament to enact such laws which grant Indian citizenship to any person.  This Act is not alien to amendments as there have been six amendments so far, i.e. in 1986, 1992, 2003, 2005, 2015 and the latest one in 2019. As a right granted through a political title, the Citizenship Act carries with it a vast amount of power over its subjects and ultimately is the law of the land to dictate the grant of such title.
Read Also: Do we have a Right to Suicide – Is Committing Suicide illegal
The Citizenship Act describes five ways in which citizenship can be obtained in India, and they are the following:
By birth in India
By Indian descent or origin, i.e. if you a person of Indian lineage
Through registration, i.e. through a prescribed legal format
By naturalisation, i.e. through residence in India for an extended period of time
By incorporation of territory of India
After the amendment in 1986, the right of citizenship by birth was restrictive to those born on or after July 1st 1987 only if one of their parents was an Indian citizen and after the amendment in 2004, it was required that both parents must be Indian citizens.
Section 2(1)(b) of the Citizenship Act provides the definition of an "illegal migrant". It is defined as a foreigner who has entered into India without a valid passport or required travel documents or any authority, or if they enter with a valid passport or authorisation but remain in India beyond the permitted period of time.
The Amendment Act in 2019 has added a proviso to this definition which mentions that any person belonging to Hindu, Sikh, Buddhist, Jain, Parsi or Christian community from Afghanistan, Bangladesh or Pakistan who entered into India on or before 31st December 2014 and who has been exempted by the Central Government or any law in India will not be treated as an "illegal migrant" for the purposes of the Act. Hence, these groups would be exempted from being categorised as illegal migrants and would become eligible to apply for citizenship.
Under the Third Schedule in the Citizenship Act 1955 which provides for the qualifications for such naturalisation also has a similar proviso added through the 2019 amendment. It provides citizenship through naturalisation the same group from these communities from the three above mentioned countries on the grounds that the aggregate period of residence or service of Government in India required shall be five years, replacing the earlier required eleven years by default.
The Amendment in 2019 also provides that an application can be made to the Central Government for grant of certificate of registration or certificate of naturalisation. However, it shall not apply to the tribal areas of Assam, Meghalaya, Mizoram or Tripura. This includes the Karbi Anglong (in Assam), Garo Hills (in Meghalaya), Chakma District (in Mizoram), and Tripura Tribal Areas District. It will also not apply to the states regulated by the "Inner Line" permit under the Bengal Eastern Frontier Regulations 1873. The states regulated by this permit are Arunachal Pradesh, Mizoram, and Nagaland.
In the Bill introduced by the Ministry of Home Affairs, the Statement of Object and Reasons mention that this amendment is for the benefit of those prosecuted as minorities in the three mentioned countries which have a state religion. It was, hence, supposedly made with the intent to provide citizenship to those religiously persecuted by these neighbouring countries.
The Act further amends the provisions on registration of Overseas Citizens of India (OCI) with the inclusion of Section 7D. Those who possess the OCI card are foreigners who are of Indian origin. OCI does not grant foreigner citizenship. It was introduced as a document because a person cannot have a second country's passport simultaneously with an Indian one, and such a document was demanded by the foreign diaspora of Indian origin. It is also not a substitute for a Visa. The original act provides grounds on which the government may cancel an OCI registration. Section 7D adds another ground for such cancellation which is on violation of any law notified by the Central Government. It is however not specified as to the nature of law which may attract this section. It further gives the OCI cardholder an opportunity of being heard to decide on whether such cancellation of registration shall be made or not.