Top 10 Legal Secretary Skills and Qualifications
Top 10 Legal Secretary Skills and Qualifications
The other name for legal secretaries is administrative assistants or legal assistants. In recent times the roles of legal secretaries have undergone a sea change. They do not just type documents or answer phone calls; they do a lot more than that. Jobs like selecting vendors, managing client relationships, and drafting legal documents, are part of the job for legal secretaries. However, despite the change in the work pattern of legal secretaries certain aspects of the job have still remained the same.
Read Also – How to File Articles of Organization for an LLC
Let us here have a look at some of the top 10 legal secretary skill and qualification that is required to become a successful legal secretarial profession: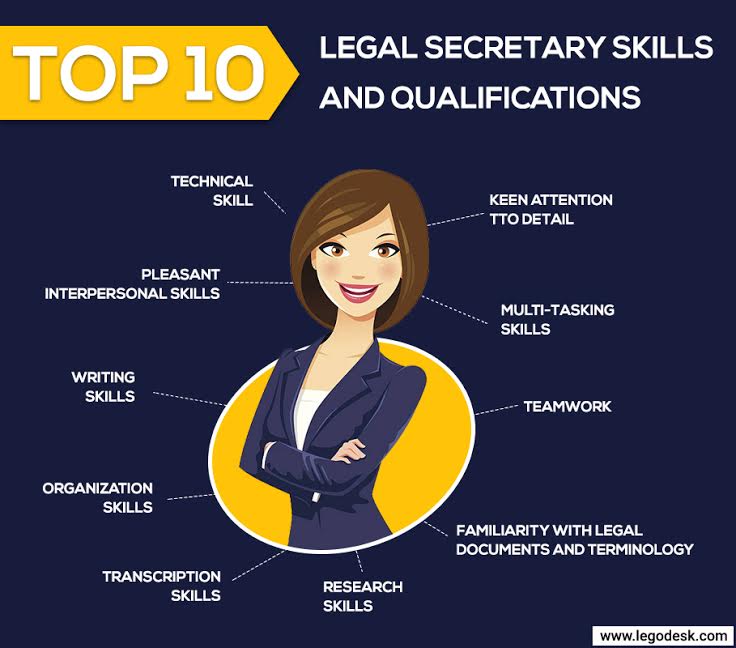 Technical Skills

: It is quite understandable that attorneys do not have the time to manage all the technical aspects of the law office. In fact, all sorts of documentation tasks on the computer are done by the legal secretaries. Hence, the technologies that legal secretaries should be able to handle with ease are:
Word processing

Spreadsheet

Presentation

Document Management

Time and Billing

Calendar and Docketing

Transcription

Desktop Publishing

Video Conferencing
Pleasant Interpersonal Skills

: On a day-to-day basis legal secretaries interact with attorneys, paralegals, staff, clients, opposing counsel, judicial personnel, vendors, and other third parties. Besides face-to-face communication, a lot of virtual communication is also involved on the part of a legal secretary. Hence, it is important that they have great and tactful interpersonal skills.


Read Also – Important subject for becoming Lawyer
Writing Skills

: Attorneys in most

cases have a tight schedule and they do not have the time to do all the writing all by themselves. It is the legal secretaries who do all the writing for them. Whether it is the drafting of routine correspondence or it is proofreading pleadings, briefs, and other documents, it is all the responsibility of the legal secretaries. Legal secretaries who have impeccable writing skills become indispensable to the attorneys.
Organization skills: It is the responsibility of the legal secretaries to manage and organize the legal work of an individual lawyer or a law firm. Legal secretaries maintain paper and electronic files, manage projects, track deadlines, schedule meetings, maintain the calendar, and so on.
Transcription Skills: Legal secretaries need to have a fast typing speed. The requirements generally vary from 50 to100 words per minute. Along with good typing speed, they must have great listening skills. They must be able to comprehend voice dictation files. When you want to get into the legal profession, keep in mind that you will require a strong sense of grammar, good vocabulary, and language skills. Besides, the legal secretaries need to have a piece of sound knowledge in word processing applications and transcription equipment.
Read Also – Tips For Becoming a Successful and Efficient Lawyer
Keen attention to detail: Every aspect of the legal profession demands attention. Legal secretaries must handle the day-to-day, minute aspects with ease. For which they need a high level of concentration. In fact, a small mistake could wreak havoc for a law firm.
Familiarity with Legal Documents and Terminology: There is a huge difference between secretarial jobs and legal secretarial jobs. This is because legal secretaries are conversant with all sorts of legal documents. They have a deep knowledge of legal intricacies and also have the proficiency to create and format pleadings, along with discovery and transaction documents.
Teamwork: Legal secretaries require great teamwork to be successful. They ought to have the acumen to work seamlessly with attorneys, paralegals, file clerks, vendors, and others. In fact, legal secretaries should know the best way to get the work done.
Multi-Tasking Skills: Legal secretaries today work for more than one person and more than one file at a time. Hence, it is imperative that they do all the tasks at hand perfectly. To accomplish that multitasking is an indispensable quality that legal secretaries need to have in the modern-day context.
Research Skills: Legal secretaries need to have great research skills. This is because they are involved in finding directions, gathering client information, researching the competitive market,

and tracking down witnesses at times.


Read Also – Skills Required to Become a Successful Lawyer
Last but not least, besides the skills and qualifications a legal secretary ought to have the zeal for their work combined with a sharp intuition and ability to take fast decisions.