Legal requirements before starting an online business
Online business a big part of our business market. The popularity of the online business is increasing day by day. Nowadays million people are involved with online business and more people are joining. Today's technology-based world has a great chance to develop its business market through online business. Any kind of businesses have some requirements. For this reason, to start an online business someone should maintain several legal requirements. Without these legal requirements or laws, you can not start your online business or ensure your security in your business.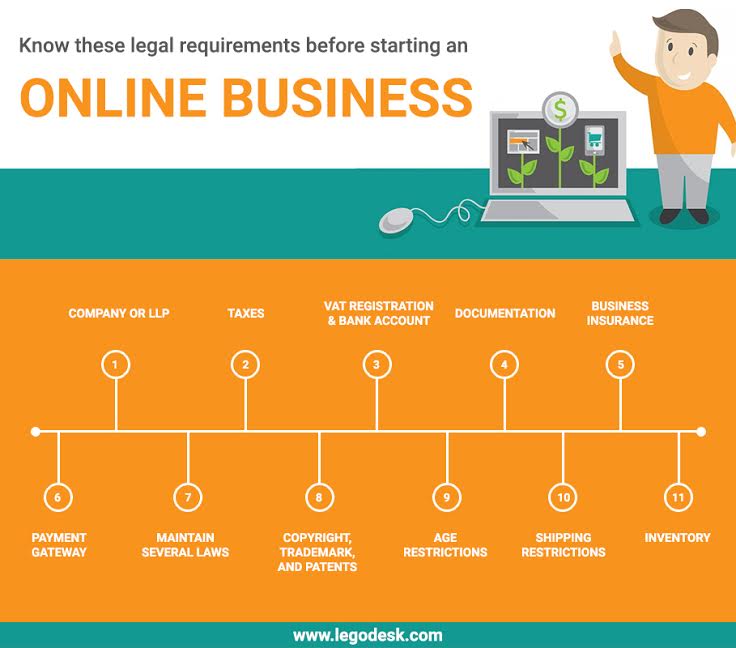 1.Company or LLP
First of all, having a private company or LLP is good for your online business. A company or LLP help you to deal with the VAT or tax-related elements. On the other hand, there is no limited liability protection in litigation. In this case, it is best to sell a company or LLP. A company or LLP is your identity in the marketplace. Moreover, without reputation or good performance, you can not get any business from online. If you have a company it is easy for you to get the businesses. To start a company, there are several things you must maintain. The company must have an appropriate name, registered office address, directors in every department, a minimum number of capitals, etc. When all the requirements are fully filled, the company functions as a registered company. The marketplaces like to deal with the companies. So it is the most valued legal requirement to start a company in order to start an online business.
2. Taxes
Another legal requirement an online businessman should keep in mind is the taxes. You have to bear in mind that every country or every state has different rules of taxes. It is generally suggested to have a text professional to research market for understanding the target market. You have to display information as local market accustomed of. For instance, in Australia, people generally accustomed to seeing all-inclusive prices in price tags.
3. Vat Registration and bank account
Vat registration is another important thing to start an online business. In the case of selling goods, you have to maintain the rules of the state's sale and tax department. One of the most important legal requirements is a bank account. When a private company or LLP is formed, it is easy to open a bank account using the name of the company. A bank account is needed in the e-commerce marketplace for payment gateway and many other things.
4. Documentation
Another legal requirement is the legal documentation and contacts of your business. It will help you to protect the business and also the promotions of your business. The documentation part may have the terms and condition, privacy policy, etc. It will also ensure your safety in the big marketplace. When a business sells in the marketplace the legal documents or seller's agreements are provided. It is very important to read the agreement properly before signing the agreement. Without knowing the agreement properly many problems can be created. For this reason, dealing through proper documents is essential for online business.
5. Business insurance
You will require business insurance to protect your business. Several options are a general liability, professional liability, product liability, commercial liability, and home-based insurance. Study those and find the best that suits you the best.
6. Payment gateway
Another legal requirement is a payment gateway. It is important for the customer's payment. The payment gateway offers to have a credit card, debit card, net banking, internet banking payments from multiple banks. However, one payment gateway is enough for one company to clear payment issues because one payment gateway accepts many forms of online payment. When one payment is received by the customer it is added to his/her bank account in one or two business days through the online payment gateway. If you want to sell any business, the marketplace would accept the payments through the payment gateway.
7. Maintain several laws
One the important legal requirement is maintained several laws like contract laws, e-commerce laws, etc. All online businessman and entrepreneurs must follow the proper techno laws before opening websites. To avoid the cyber-crimes the owners have to maintain the laws. You would not face any kind of technology violent problem if you maintain this legal requirement.
8. Copyright, trademark, and patents
It is very important to avoid the copyrights, trademarks or patents. Copyright protects the works of any author or owner. So it is must be avoided. Trademarks also must avoid because it contains a word or symbol of a company which is its identity. Several companies should have their own trademarks and copyright issues. So it is also a legal requirement.
9. Age restrictions
It requires you to follow the Children's Online Privacy Protection Act (COPPA) on your site. The COPPA has few rules, among them, the most important is not to collect information from a person aged under 13. Also, maintain age restriction policy to some restricted products.
10. Shipping Restrictions
All shipping companies maintain some shipping restrictions. Typically restricted products are the same in most companies. Just have a look at the trade commission's guide before shipping internationally. The common internationally restricted products are:
Aerosols

Air Bags

Alcoholic Beverages

Ammunition

Cigarettes

Dry Ice

Explosives

Fresh Fruits and Vegetables

Gasoline

Nail Polish

Perfumes (containing alcohol)

Poison.
Some products that are restricted internationally can be shipped domestically.
11. Inventory
Remind yourself to check your lease, deed or zoning codes if you are holding a substantial inventory. Sometimes there are some restrictions or prohibitions on running a business. So, zoning laws matter.
These kinds of legal requirements are essential for you to start an online business. Prepare for all these kinds of stuff to make your first step in online business.