7 Types of Lawyers That Make the Most Money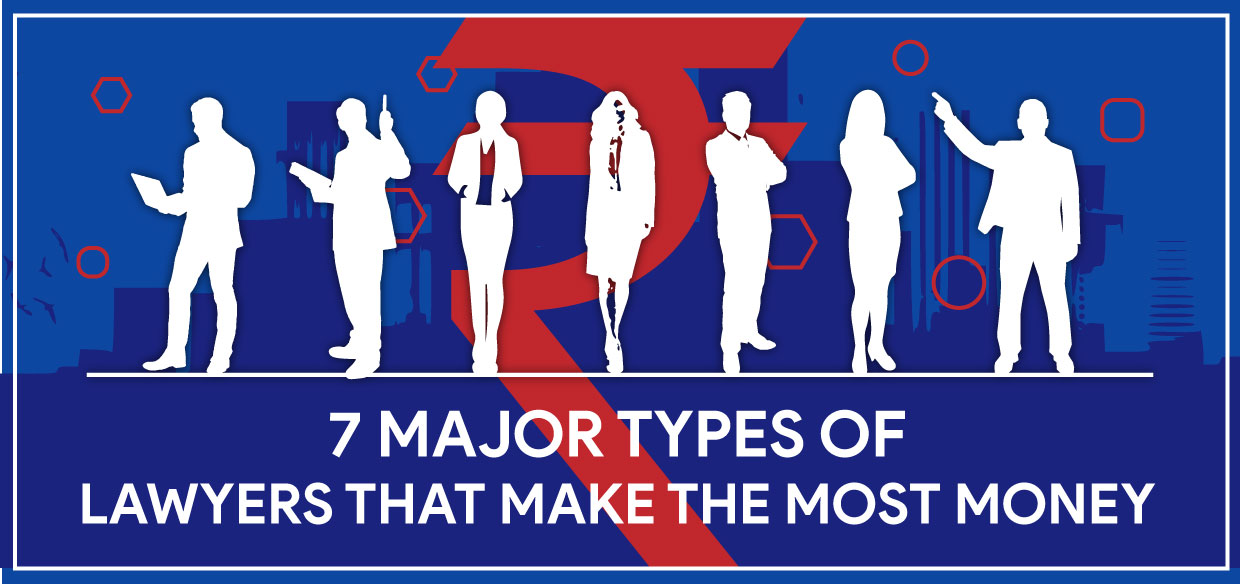 Law is one of the most lucrative career options, not just in India but in the entire world. The landscape of legal education has changed. Gone are those days when after getting an LL.B degree, law graduates started litigating or became judges. Yes, in today's time of modernization of legal education there are approximately 12 lakh registered advocates, around 950 law schools, and around 4-5 lakh law students across India. Every year, there are approximately 60,000 – 70,000 law graduates joining the legal profession.[1] The question they ask is, where can I get the most money? There are diverse areas within the broad subject of law, and we look at seven major types of lawyers that make the most money.
7 Major types of lawyers that make the most money
It is strange that some lawyers are extremely wealthy while some struggle to earn a decent living. The reason for such a gap is simple – Skill and Knowledge. Apart from these factors, unless a lawyer is unable to locate the right industry within the legal profession, it may become hard to understand the gap between the amounts of money one lawyer makes over others. Therefore, specializing in a specific field of law to an extent determines one's pay scale as a lawyer. With this in mind here are the seven types of lawyers that make the most money –
The role of a corporate lawyer provides clients with counsel on legal issues relating to different business transactions, which include the sale of businesses, acquisitions, and mergers. Their role is to draft a lot of contracts and browse through offers of big businesses and corporations. They also aid in creating new companies, sourcing venture capital, and other variety of major business transactions.
Tax lawyers mostly represent organizations when they are dealing with Central and State government agencies. They are responsible for their clients for preparing legal documents that involve liabilities and the development of plans that help in saving taxes. Tax attorneys must know when proposed changes to the tax laws are scheduled to take place.
A criminal lawyer must have a sharp knowledge of the penal system of India and must be very instinctive in making arguments. They must be able to think out of the box, organize their thoughts properly, and formulate strategies while arguing in the court of law. The best criminal lawyers are confident and know the law inside out. They know how to use precedents to influence the outcome of their cases from a legal perspective.
IP refers to Intellectual Property. Intellectual Property is a booming field in law, and it has a high earning potential because there are times when the cases on IP are hard to dissect and prove evidently. IP requires an in-depth study of the subjects of Patents, Trade Marks, Copyrights, Geographical Indications, and Designs. Among all these types of Intellectual Property Rights, drafting for patents can be quite challenging, and therefore, patent lawyers make a lot of money and are in high demand.
The advancement of technology is considered a blessing for some but for most, and it includes online injuries. By injuries, it is meant cybercrime. To resolve these issues, cyber law has emerged, which acts as a remedy. It contains criminal activities that are traditional in nature, such as theft, fraud, forgery, defamation, and mischief. All of these are offenses under the Indian Penal Code, 1860. Cyber lawyers are, therefore, on the rise because of the protection individuals and organizations require in cyberspace since most of the work now is done online. New age crimes in the cyber world are addressed by the Information Technology Act, 2000.
These types of lawyers mostly work in government organizations like the National Human Rights Commission (NHRC), State Human Rights Commissions, NGOs, Social Welfare departments, and International organizations such as Amnesty International and the Red Cross Society. They also give their valuable inputs informing governmental policies.
Read Also – Human Rights in Indian Constitution
A real estate lawyer helps their clients in a variety of ways regarding commercial and residential real estate. Real Estate lawyers mostly go to courts to argue on a contract of purchase or sale agreement, if it was violated, or when a tenant or landlord breaks the law. They are transactional lawyers and solely deal with the negotiation of real estate transactions and draft documents that surrounds these negotiations.
Read Also – Importance of Intellectual Property (IP) Rights
CONCLUSION –
Some people assume that a lawyer is a lawyer. They think all lawyers are the same and that any lawyer will be able to provide legal services of the highest kind. It is not so. The legal profession is wide and dynamic, and usually, the best ones excel in their field and get the big bucks. Earning high-end money is the result of years of hard work, patience, determination, discipline, and most importantly education of the highest level. Choosing the right field to practice as a lawyer is extremely important as every field does not give high returns. Working in top-notch law firms, which specialize in the areas of law mentioned above can also give high salaries to young law graduates.
[1] Anubhav Pandey, Top ten highest paying legal jobs in India?iPleaders(2017), https://blog.ipleaders.in/legal-jobs-india/ (last visited Jun 6, 2019).