Top Best 5 Law Firm Websites On The Internet
Importance of a law firm website:
While catching the attention of a random passerby or a group of people in public is relatively easy by utilizing a sudden attention-grabbing display. It is not that easy to do so to potential clients. However, a well-designed website does just that. A law firm website can be considered a summary of the firm's personality, with each aspect of the website reflecting upon the cordial aspects of the foundations and base values exhibited by the firm.
Read Also – Top 5 Legal Blogs for Lawyers
Paying attention to detail is a must. The seeming reputation of the firm can be boosted to professional levels by creating a striking website design. It will help mark your firm as an expert in the field, reflecting credibility and trustworthiness. To set yourself apart from your competitors, utilize this digital space to reflect your firm's unique approach and values.
Read Also – Types of Lawyers That Make The Most Money
The top five law firm websites: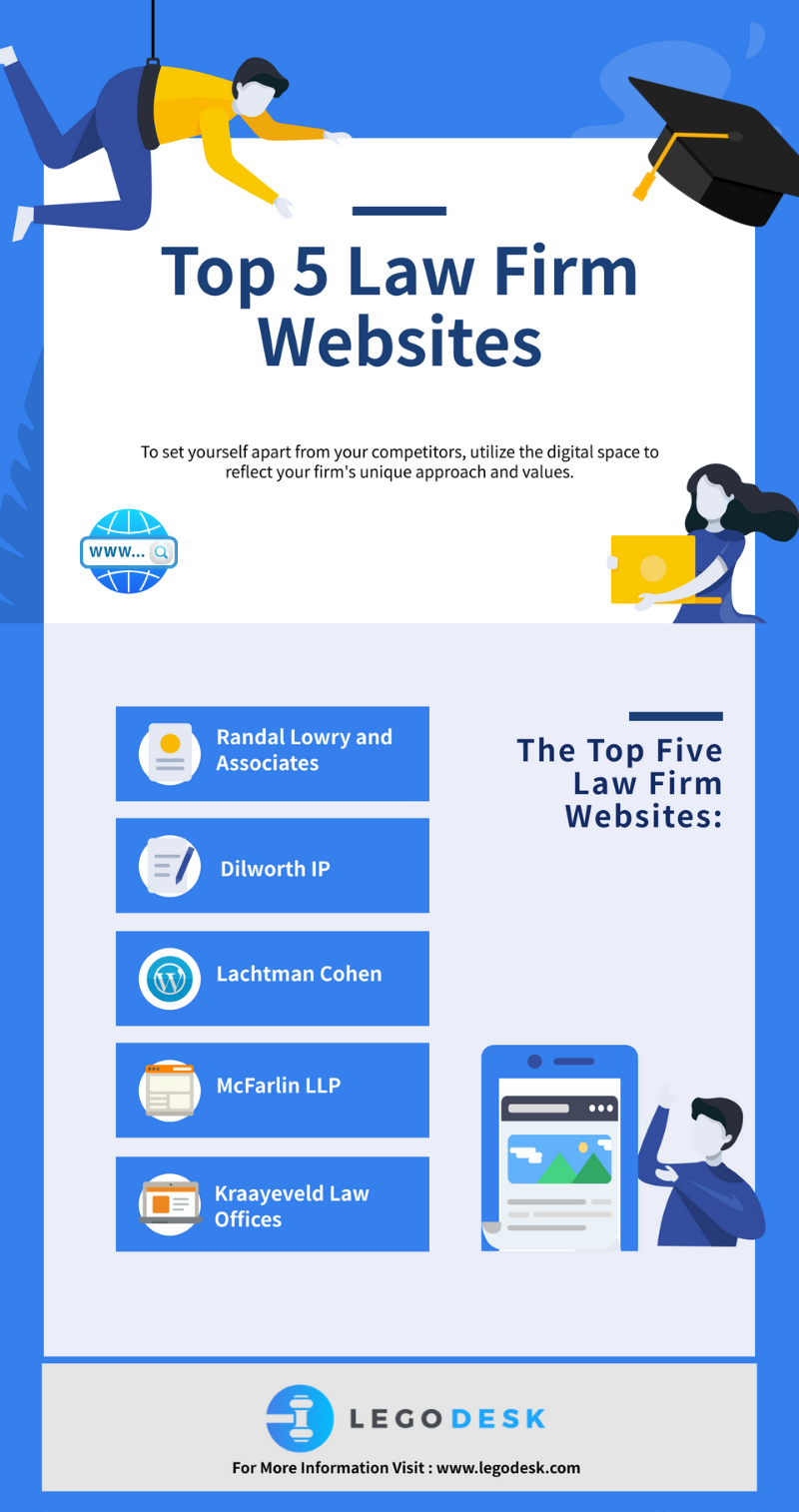 Randal Lowry & Associates is one of the most experienced and trusted family law firms. With over 44 years dedicated exclusively to family law, they have handled some of the most complex and significant cases in the field of family law. They are also well recognized as a leader in handling all types of domestic relations matters. Including high net worth divorces, closely-held businesses, division of retirements, and child custody issues.
Their law firm website features a prominent and menacing image of a tough-skinned rhinoceros on their main page. It stands as a visual representation of the firm. This single image projects Randal Lowry and Associates as a family law firm with tenacity. The typography of the law firm website is a mix of bold capital letters and cursive smaller case letters, which helps to divide the assortment of texts into main contents and sub contents. It goes well to show thoroughness as well as the firm's toughness. Along with the dominant visuals of the website, there is also a 'resources' portion that explains all the stages of a divorce and the services that the firm provides to ease through it.
Dilworth IP is intellectual property, and business law firm focused on serving technology-driven companies in patents, trademarks, licenses, and agreements. Clients count on the firm to respond quickly to concerns, draft sound patent applications and agreements, and provide legal advice that inspires them and gives them the freedom to innovate, develop, and manufacture with confidence. Their law firm website features an introductory video that sums up the vision and morals of the firm.
The site offers potential clients both a vision and a promise to maintain the client's trust. A "Recent News" banner on the front page draws the eye, and clicking leads to a frequently updated blog. The site has a "Biography" section that gives the client info about the firm's lawyers as well as other personnel to create a sense of transparency and credibility.
Lachtman Cohen P.C. is a sophisticated, full-service law firm representing a diverse range of clients of corporations, entrepreneurs, and individuals in business and real estate transactions and complex litigation. This firm has some gorgeous photography for the front page of their law firm website. There's a soaring building, a swooping bridge, a pristine waterway carved through mountains. It's a very visually appealing way for this real estate and business firm to present itself.
The firm has a lot of practice areas, but they keep the information in check thanks to a clean set of tiles that open to reveal a lengthier explanation of the area and which attorneys in the firm handle those matters. There's a blog as well, but that takes the reader to an external site that is an old-school, text-heavy blog. This provides a potential client with more info about the law firm. This law firm's website presents a large volume of information in an orderly manner. by using various visual elements such as tiles and tables. The site also features a "News and Resources" that keeps the client updated with important happenings in the field of law over the last few months.
McFarlin LLP provides premier, affordable legal services to a diverse clientele, including small- to mid-sized businesses and property owners. It is widely regarded as the preeminent foreclosure defense and mortgage litigation firm in California. McFarlin LLP's law firm website highlights that it serves both businesses and individuals. Its services range from class action defense to personal debt elimination.
The color scheme of the front page continues, with the bright blue representing the firm's core individual services and the bright green the business ones. It helps tie together what could otherwise feel like a disparate group of practice areas. When it comes to content marketing, McFarlin has gone above and beyond, with hundreds of entries stretching back several years. The content often focuses on things potential clients might be worrying about, such as bankruptcy or foreclosure.
Kraayeveld Law provides full-service and personalized legal representation for complex family law matters. The firm boasts its ability to fight tooth and nail for the client regarding matters of the homefront. They also feature a diverse range of court-approved mediators on the website itself. The law firm website is oddly welcoming despite the strong selection of words. The website provides a diverse range of information that keeps the client well informed.
Read Also – How To Increase Your Law Firm's Online Presence?
This component boosts transparency and gives the image of a reliable hand to lean on. Family law firms can be tough to market because no one wants to be seen as making light of such difficult issues. Kraayeveld neatly sidesteps this problem with a series of taglines that acknowledge divorce can be daunting. That custody battles can be complex, but that above all, the firm will help the client navigate those problems. The site has a call to action button "Start a Conversation Today" as well. The firm does a good deal of content marketing, with a blog that is updated weekly.