Top 10 Corporate Lawyers in India
All around the world, being a corporate lawyer is considered to be one of the most highly paid professions and Indian lawyers are no exception here. As a lawyer, if you are genuinely good at your job you may end up earning as much as a five-figure fee for a single appearance and other perks that may come along with the profession. Before we dive deep into the list of the Top 10 Corporate Lawyers in India, let's briefly understand a few things about Corporate Law.
Read Also – What are the biggest challenges facing corporate law firms today?
Corporate law (also known as business law or enterprise law or sometimes company law) is the body of law governing the rights, relations, and conduct of persons, companies, organizations, and businesses.
Corporate law encompasses all of the legal issues that corporations can face. Corporations are subject to numerous regulations they must follow in order to enjoy the tax and other benefits they receive.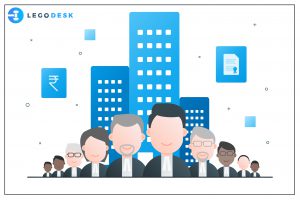 Who Practices Corporate Law?
A corporate lawyer is a lawyer who specializes in corporate law. The role of a corporate lawyer is to ensure the legality of commercial transactions, advising corporations on their legal rights and duties, including the duties and responsibilities of corporate officers. Basically, corporate lawyers help companies conduct business.
Lawyers in this area of practice have to understand and use a complex body of rules and regulations. For lawyers with great reading and reasoning skills, corporate law can be a challenging fit.
A corporate lawyer may represent a corporation throughout his entire career. They might see the corporation through many years of business. Lawyers who prefer a long-term client base might appreciate the long-term working relationships that can form with corporate leaders in this area of practice.
Read Also – Average Salary of a Corporate Lawyer in India
Top 10 Corporate Lawyers in India.
India's Top 10 Corporate Lawyers who made it big in this field include:
One of the founding partners of AZB & Partners, Bahram N. Vakil is amongst India's foremost restructuring, infrastructure, and project finance attorneys and has been acknowledged as a leading project finance lawyer by most international publications for over a decade. The World's Leading Lawyers for Business mentions that Bahram N. Vakil is a gregarious and hard-headed lawyer and clients value his "smart, reliable and practical advice".
Bahram's key practice areas are Infrastructure and Project Finance, Joint Ventures and M&A. Bahram has been on several governments constituted committees including the recent Viswanathan Committee on Bankruptcy law reform, and played a key role in drafting the Bankruptcy Code just passed by Parliament.
Read Also – Know About Difference Between Corporate and Commercial Law
Ajay Bahl is a senior partner at AZB & Partners at the Delhi office. Delhi-based Ajay Bahl, son of a doctor, is a rare amalgamation of a chartered accountant and a lawyer. He was persuaded by politician N.K.P. Salve to study law. Salve also recommended him to intern with Soli. After the internship, Ajay began practicing from his garage in Malcha Marg in Delhi. "Little did I know that 20 years down, Soli's daughter's and my paths would be joined," says Ajay who accepted Bahram's proposal to merge Ajay Bahl & Company with CZB to form AZB in 2004. "It was an instinct that we should get together," says Ajay.
He qualified as a chartered accountant in 1979 and as a lawyer in 1985. He has been associated with various important leading tax rulings, including a recent widely reported one, involving a US satellite company, in which the Indo-US double taxation avoidance agreement was analyzed in detail and distinguished from domestic law. Ajay's areas of expertise include Mergers & Acquisitions, Securities Regulations, Foreign Exchange related advisory work and Taxation including Taxation Litigation.
Read Also – Why do You Need to Hire Bankruptcy Lawyers?
Zia Mody (born 19 July 1956) is an Indian corporate lawyer and businesswoman. She is considered an authority on corporate merger and acquisition law, securities law, private equity, and project finance.
Zia is the daughter of Soli Sorabjee, a former Attorney General of India and a Bahá'í by religion.
Another founding partner of AZB & Partners, Zia is one of India's foremost corporate attorneys. She has been recognized for her contribution to the legal world, both nationally and internationally. She has worked with G.E., Tata Group, Reliance Industries, Aditya Birla Group, and the Vedanta Group. She also advises large private equity houses including KKR, Bain Capital, and Warburg Pincus. She was ranked #1 among the most powerful women entrepreneurs by Fortune India in 2018 and 2019. Shardul S. Shroff
Read Also – Why Indian lawyers must have knowledge of corporate finance?
Shardul Suresh Shroff is an Indian corporate lawyer. He is the executive chairman of the law firm Shardul Amarchand Mangaldas & Co. Prior to the split in the Amarchand & Mangaldas & Suresh A Shroff & Co, which was India's largest law firm, Shardul used to be the managing partner of the north India region of the firm headquartered in New Delhi.
He has held various prestigious positions in JJ Irani Committee to amend Companies Act, 1956, and Dr. Amit Mitra Committee for changing license policy for the privatization of radio in India by the Ministry of Information and Broadcasting along with in the M. Damodaran Committee for Corporate Governance.
Cyril Suresh Shroff is an Indian corporate lawyer. He is the Managing Partner of Cyril Amarchand Mangaldas and used to be the Managing Partner of Amarchand & Mangaldas & Suresh A Shroff & Co. After the death of Suresh Shroff, Cyril took control of the Mumbai operations of the Amarchand Mangaldas at the age of 35. Cyril has consistently advised on the most prominent business deals happening in post-liberalization India.
His prominent deals include the work done with Etihad Airways, Reliance Industries, Wipro, Diageo, Piramal Enterprises, Warburg Pincus, Essar Energy, Standard Chartered, BNP Paribas, etc. Cyril has also held a number of Directorships in various Indian Companies over the course of the years
Harish Salve is an Indian senior advocate who practices at the Supreme Court of India. He served as the Solicitor General of India from 1 November 1999 to 3 November 2002. He also fought the case of Kulbhushan Jadhav at the International Court of Justice (ICJ). On 16 Jan 2020, he was appointed as a Queen's Counsel for the courts of England and Wales.
Harish Salve argued the first Anti-Dumping case in the Supreme Court of India. He frequently represents large corporations like Mukesh Ambani's Reliance Industries Limited. Other clients include the Tata Group and ITC Limited, whom he has represented on various matters.
Salve represented Vodafone in its $2.5 billion tax dispute with the Indian government. He initially lost the case in the Bombay High Court,[9] but later won it at the Supreme Court after taking a temporary residence in London and relocating his office there to focus solely on the case.
Salve appeared for Bilkis Bano, a victim of the Gujarat Riots, at the behest of the National Human Rights Commission in 2003. In 2015, he also took up the high-profile case of actor Salman Khan.
Jyoti Sagar founded J. Sagar Associates (JSA) on November 1, 1991, as a solo law practice in New Delhi. The firm now has over 340 attorneys and has offices at Gurgaon, New Delhi, Mumbai, Bangalore, Chennai, Hyderabad, and Ahemdabad.
He also co-founded K&S Partners, a boutique practice in Intellectual Property Laws in 1994 and serves at its Managing Partner. K&S has offices at Gurgaon, Bangalore, Mumbai, Chennai, and Hyderabad. Experience in prosecution and protection of all forms of IP including patents, designs, trademarks, copyrights, and geographical indications.
As the founder of the firm, he has been a team leader on several significant assignments, providing both hands-on legal advice as well as overall strategic inputs. Further, he also has extensive experience in a wide range of practice areas including Corporate Commercial, Foreign Direct Investment, Joint Ventures, Mergers & Acquisitions, and Infrastructure Projects. Worked extensively on several policy issues and served on various committees of the Government of India and Chambers of Commerce.
Having practiced transactional and dispute resolution laws, for the last 37 years, Berjis Desai, upon reaching 60, retired as Managing Partner of JSA, a national law firm having more than 300 lawyers across seven locations in India. A Master of Law (starred first) from the University of Cambridge, Berjis is now an independent legal counsel engaged in Private Client Practice, that is, succession and estate planning for HNIs and promoter families through wills, trusts, and family arrangements; resolving family, testamentary and business disputes through mediation and confidential fast track arbitration; and regulatory aspects of offshore investments, residential status, and citizenship, insolvency and asset reconstruction advisory.
He is an independent director of leading listed and non-listed public companies in India including The Great Eastern Shipping Company Limited, Adani Enterprises Limited, Edelweiss Capital Limited, Praj Industries Limited, Himatsingka Seide Limited, Emcure Pharmaceuticals Limited and Man Infraconstruction Limited.
A former journalist, Berjis Desai is a part-time writer and columnist. His other interest includes breeding of thoroughbred horses and the study of comparative religion.
Sajan Poovayya is an advocate with an extensive constitutional, corporate and commercial law practice in the Supreme Court of India; and in various High Courts of the country. He was officiated as the Additional Advocate General for the State of Karnataka and was one of the youngest to occupy that position. Prior to this, he was the Managing Partner of Poovayya & Co., a full-service law firm with offices at Bengaluru, Chennai, Mumbai, and New Delhi.
He has also served as the Chairman of Karnataka State Council, and the Federation of Indian Chambers of Commerce and Industry (FICCI). He has also officiated as the India Co-Chair of the New York State Bar Association; Honorary Secretary of the India Section of the International Commission of Jurists; and Vice President of the Society of Indian Law Firms.
Rabindra Jhunjhunwala is a Partner and a senior member of the Corporate Law Practice in the Mumbai office. He started with the firm in its Kolkata office back in 1990 and co-founded the Mumbai office in 2001.
He heads the Firm's IBA, France desk and Germany desk initiatives. He also sits as an officer on the IBA Corporate and M&A Committee. He has been elected as vice president of the Bar Association of India. His practice spans a range of areas, including domestic and cross border M&A, PE investment, transaction documentation work and advises his clients regularly on all aspects of foreign investments (both inbound and outbound) and regulatory approvals. He has advised several multinationals and Indian companies on complex and big-ticket M&A transactions.
After the end of your Law School, you'll most likely look for a well-paying job. While that's a common approach, it is also noteworthy that the focus must be more on gaining knowledge and practical exposure in your initial years as a lawyer in order to figure out your core strengths. The legal field is highly competitive and it is essential to carve out a niche for yourself. Make sure to keep working hard and doing a good job and who knows you might just end up in the next list of the Top 10 Lawyers in India.