Salary of a lawyer : Litigation V. Corporate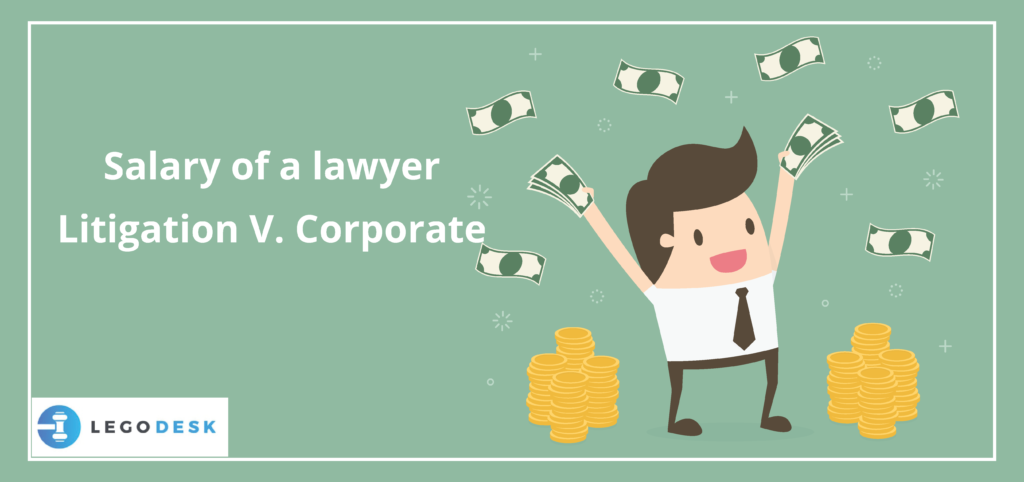 The Law field in today's time is one of the most respected, reputed, and always a field of much demand. Originally this field has certain areas like civil or criminal, but with the growth of globalization, complexities of business companies or organizations and industries have also increased tremendously, and ultimately this becomes the important reason for the growth of corporate lawyers. and nowadays there are usually two types of lawyers, Litigation, and Corporate, and today's generation is much involved corporate sector than Litigation, if you find the reason, then it is that today's generation's inclination is more on earning not fighting for justice for someone.
Litigation Lawyers
Litigation is a slow-growing process, you have to be calm for a specific time but after some years of experiences, you will earn a lot by fiving your very less time. For a lawyer who just started his career in litigation, carving out space for him/herself as a litigating lawyer can be pretty tough. This is largely due to the fact that for beginners, the earning is extremely low.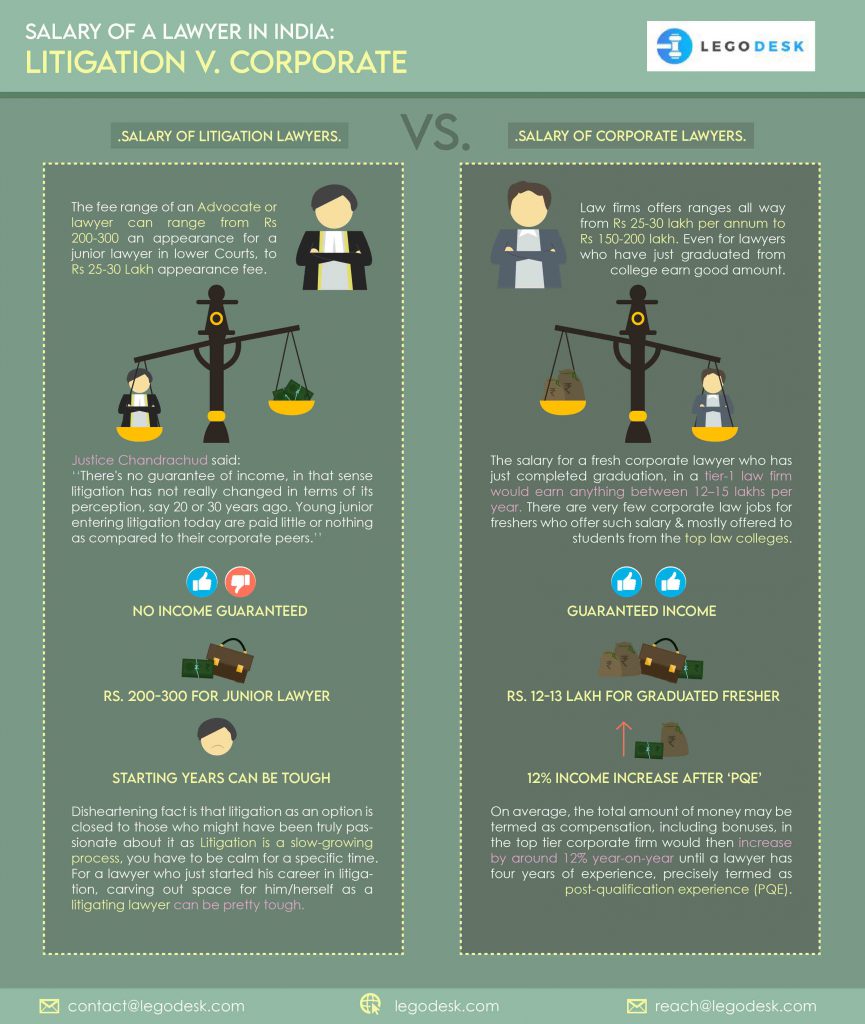 Salary of Litigation Lawyers in India
In the Madras High Court, the average salary you get under a senior is Rupees 7,000 -14,000 per month. In the Delhi High Court, it is Rupees 13,000 – 26,000 per month. same as other also in Gujrat or Allahabad HC or in Madhya Pradesh it is almost the same between 5000 – 14000 for junior Lawyers.
Usually, a lawyer doesn't get salaries, as all the lawyers are self-employed professionals, who can earn their living by charging fees according to the person and according to the case for an individual. The fee range of an Advocate or lawyer can range from Rs 200-300 an appearance for a junior lawyer in the lower Courts, to Rs 25-30 Lakh an appearance which was the reported fee charged by Ram Jethmalani, pr Harish Salve, etc, the senior-most Senior Counsel in India.
It is believed that litigation tends to pay (in monetary terms) in the long run. However, a recent survey conducted by Bar and Bench, a leading online legal publication, presented a slightly different picture. With regard to lawyers working in law firms, too, there's a wide disparity which depends on various of a factor like the area of practice, the city where the advocate is practiced, size and reputation of the firm and also depends upon the seniority of the lawyer. There is a number of lawyers working in small law firms in the country who earn as little as Rs 6000 – 12000 in a month, while their counterparts working in tier 1 firm like Khaitan & Co in the same city earns starting salaries which may even go up to Rs 1.10k- 1.20k per month.
Read Also: The Top Law Firms in India – The best of the best
Justice Chandrachud, while pointing out the financial struggle in litigation says that "In litigation today, even now, there are law firms who would typically brief the young lawyers who were well connected. These are some type of hard and tough realities which many young lawyers are facing nowadays. There's no guarantee of income, in that sense litigation has not really changed in terms of its perception, say 20 or 30 years ago. Young juniors entering litigation today are paid little or nothing as compared to their corporate peers.
What is most disheartening is that litigation as an option is closed to those who might have been truly passionate about it, and would have made great future counsel in our country, simply because it is not possible for them to continue on the meager salaries when they have spent significant sums for their education and have families to support. So, what we really then have is instead of a potential social activist lawyer or a human rights lawyer, we are increasing as a consequence of economic necessity we're converting them into, if I may call them, is just a corporate geek or glorified clerks."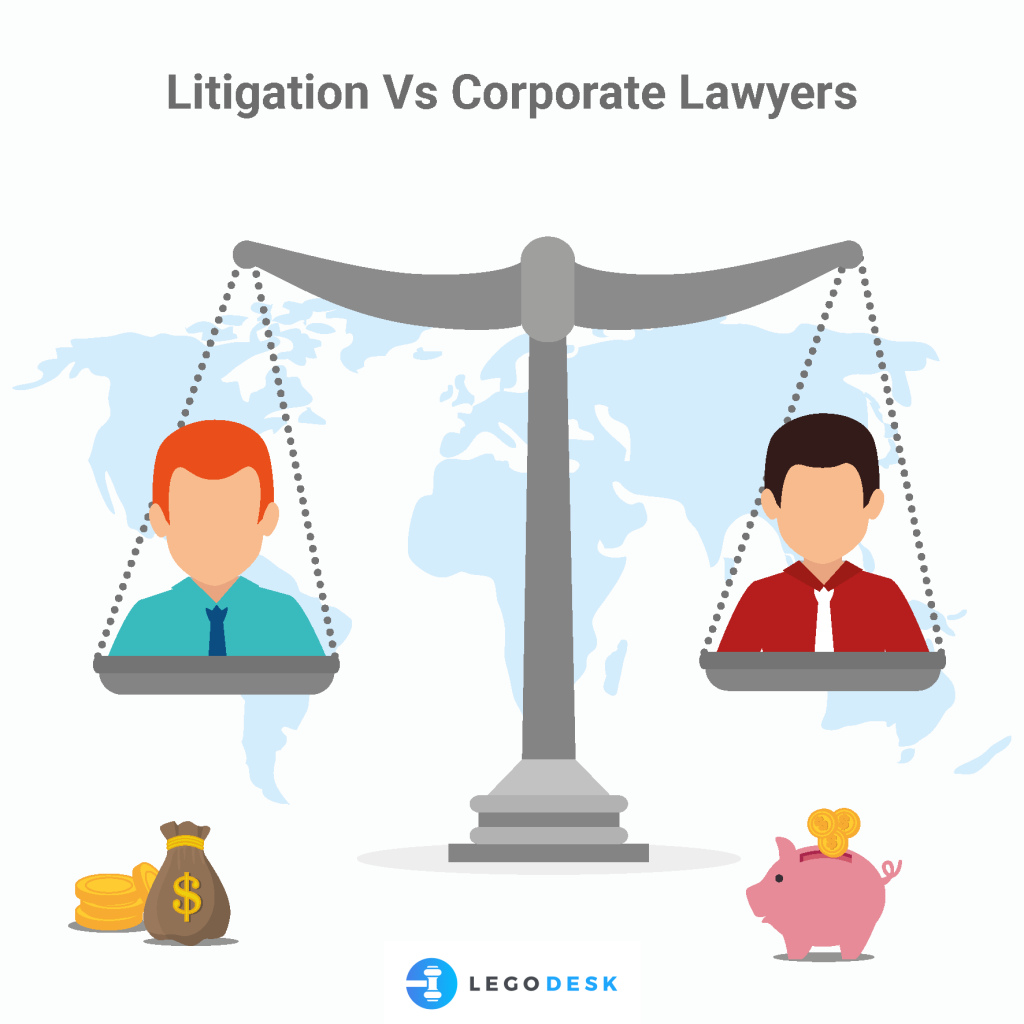 Salary of Corporate Lawyers in India
In India, the range of salary that the law firms offers ranges all the way from Rs 25-30 lakh per annum to Rs 150-200 lakh. Even for lawyers who have just graduated from college, there is a wide potential range from between Rs 5-10 lakh per year to Rs 18-20 lakh per year.
The salary for a fresh corporate lawyer who has just completed the graduation, in a tier-1 law firm would earn anything between 12–15 lakhs per year. However, there are very few corporate law jobs for freshers who offer such salary and mostly offered to students from the top law colleges and those who have interned with these firms before.
Many students working in corporate (full-service law firms) would ideally get a more realistic salary of anything between 5–12 lakhs per year.
In New Delhi only, the Corporate Lawyers earn an average of 60% more than the national average. These job titles also find higher than average salaries in Bangalore, Karnataka (45-47% more) and Mumbai, Maharashtra (3-5% more). The lowest salaries can be found in Chennai, Tamil Nadu (14-16% less), and Pune, Maharashtra (7.0-8% less).
According to an online survey conducted by legal industry website 'Legally India' in 2012, the lawyers with seven years of experience at leading corporate law firms could earn between Rs 22 – 25 lakh (about $40,000) and Rs 55 – 60 lakh (about $100,000) a year, but that there are large pay scale gaps and little transparency even within the same firm.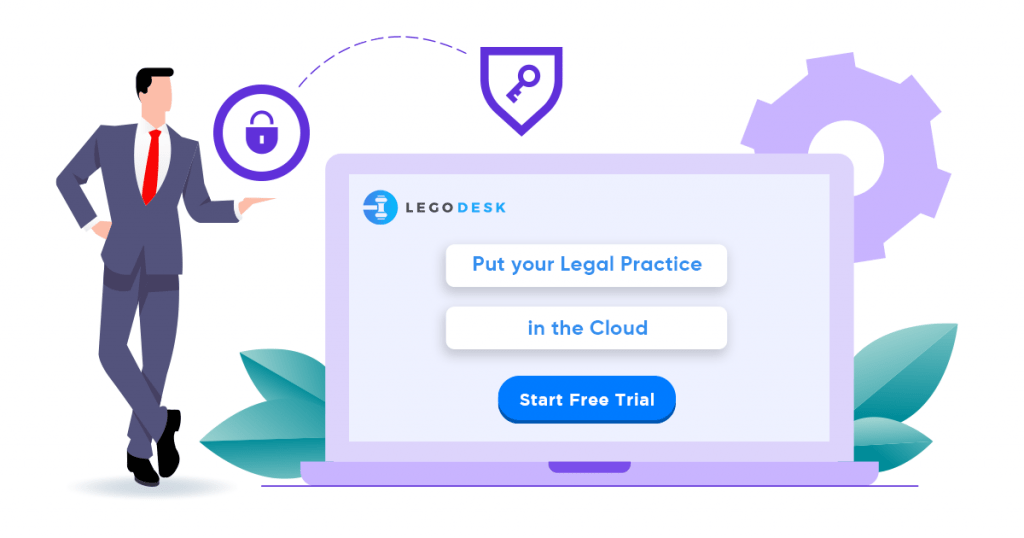 Some of the law firms such as the law firms in Mumbai and Delhi offices of Amarchand Mangaldas Suresh A Shroff and Co., J Sagar Associates (JSA), Khaitan and Co., Luthra and Luthra, S&R Associates and Trilegal, or of AZB and Partners in Mumbai pay a good salary to the lawyers who have just completed their graduation. The salary would start at a base salary package of around Rs.10 – 12 lakh per year, going up to between Rs 12 lakh and Rs 15 lakh per year.
On average, the total amount of money may be termed as compensation, including bonuses, in the top tier corporate firm would then increase by around 12% year-on-year until a lawyer has four years of experience, precisely termed as post-qualification experience (PQE).
Total compensation would increase by an average of around 20 – 21% each year by the 5th or 6th year of post-qualification experience across these firms, increasing yet again by more than 30 – 35% on average to seven years of post-qualification experience. For the very top performers at the six- to seven-year levels, the maximum total remuneration can even have increased by as much as 45 – 50% nowadays.
In case of the firms that are of the second tier, such as Argus Partners, AZB's Delhi office, Desai and Diwanji, Nishith Desai Associates and Wadia Ghandy, remuneration rises more steadily on average.
Normally, starting salary or remuneration, including bonuses, generally vary between Rs 10 lakh and Rs 12 lakh at these firms, but that then increases by around 16-18% every year until post qualification experience five- and six-year levels. At five-six years of PQE, the increments are almost 20% on average and into year seven, the rise is around 25% on average.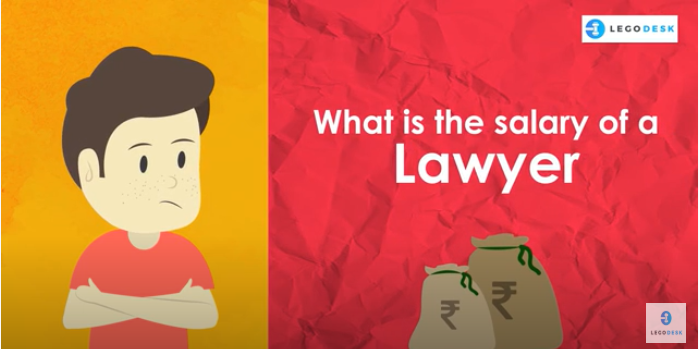 Conclusion –
So basically I end up with my personal opinion is that a Lawyer or Advocate on an average basis can earn 2- 4 Lakh per annum, but this actually depends upon their experiences and specialization. A the same time some lawyers in a country, who is charging Rs 5 lakh to 30 lakh per hearing, and that does not matter that their appearances are in district court or High Court or Supreme Court, but for some lawyers is still hard to maintain the nobility of their profession. As there are still some lawyers in litigation area who are fighting for their basic needs. while on the other side the corporate sector has an enormous pay list if you got recruitment in tier 1 or tier 2 firms.
---