Professional Liability Insurance for Lawyers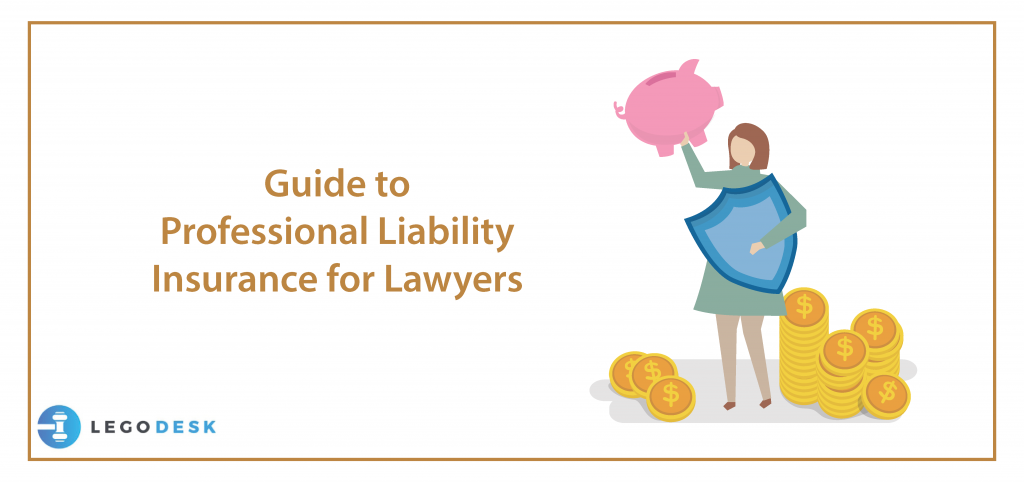 Introduction
Professional liability insurance for Lawyers is also known as professional indemnity insurance or errors and omissions insurance and is a type of insurance that is made to protect lawyers. It is a protection against the claim made by clients for negligence in services provided or advice given to them. Such type of insurance covers all the possible failures that might occur on the part of a professional in terms of financial loss incurred by the client due to error or omission in the services provided.
A General Liability Insurance covers events that can happen to any business owner, but Professional Liability Insurance for Lawyers addresses the unique lawsuits that a lawyer may face. The insurance will pay for defense expenses and damages incurred, which include amounts that the insured is legally required to pay because of a suit instituted against him or the like rendered against the insured.
Read Also – Contract of Indemnity
Importance of Liability Insurance for Lawyers
Any negligent act by the lawyer comes under Legal Malpractice. It happens when a lawyer fails to perform his duties according to acceptable standards and is not able to follow the prescribed code of ethical and professional conduct. Every client expects a certain outcome in his case, but not getting that desired outcome is not enough to claim malpractice. The lawyer must have acted in a negligent way in his approach or caused some kind of breach of the conditions of a contract to invoke malpractice by the client. In such a situation, Liability Insurance comes into the picture. The lawyer had a liability towards the client which he failed to fulfill, and the insurance covers the financial costs incurred due to that.
The legal malpractice insurance will aid in the payment of defense costs and indemnity payments incurred to resolve claims filed against the lawyer or the firm alleging certain acts, errors, or omissions made in the course of providing legal services. Following are the benefits of Professional Liability Insurance:
1. Financial Security
Financial loss from lawsuits can interrupt a lawyer's business, but if one has insurance, all such costs can be borne by the insurance company. All the defense costs such as attorney fees, court fees, cost of filing of documents, and other similar costs are covered in errors and omissions insurance. Such protection acts as a shield to meet legal consequences because of negligence claims.
2. Reduces burden
A lawyer with liability insurance can perform his job with greater confidence, thereby bringing effective results. There is always a tension in the mind of the lawyer that the expected outcome of the client will not be met and if he is held responsible for the negligence of any sort, then the client because of the services provided will be burdened with various claims. But professional indemnity insurance provides a helping hand in such a situation and manages the situation that a lawyer could not have foreseen.
3. The smooth running of Operations
Client claims will commonly occur as the services by lawyers deteriorate, making it easy for clients to become unhappy. Therefore, such claims arising due to error or omission may cause substantial financial loss and disruptions in your operations. Professional liability insurance aids in recovering the previous business position following all damages arising from pending legal procedures. During the course of legal proceedings, one might lose work and thereby the expected earnings. Dealing with legal issues takes an indefinite amount of time and affects business productivity. But professional liability insurance helps to save one in the case of a negligence claim.
4. More clients
When looking for a lawyer, some people, including government officials, prefer to use lawyers who have professional liability insurance. With globalization, law firms have started to deal with domestic as well as foreign clients. The concept of suing for professional negligence is not as new in foreign as it is in India. In fact, it is mandatory in many countries for legal professionals to maintain professional liability insurance right from the start. This, in return, has led to many foreign clients asking law firms representing them to take professional liability insurance. In the event of damages against a firm, it provides proof of the client's, lawyer's, or firm's ability to pay.
Conclusion
A lawyer should carry general business insurance to protect themselves from financial damages resulting from property damage or bodily injury. However, the most vital is that a lawyer has professional liability insurance. It protects them against claims brought against them due to negligence in dealing with clients. Therefore, if you are a legal professional, then you should have suitable professional liability insurance coverage. Client claims will commonly occur as the services by lawyers deteriorate, making it easy for clients to become unhappy.