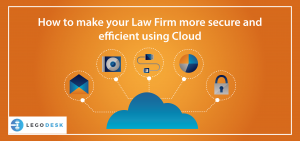 Introduction
In recent years, the cloud has gained popularity and has gone from a simple buzzword to one of the most used and dominant technological tools in a wide range of industries. It would not be wrong to say that cloud services bring in a whole new era of productivity by making it easier to share large files and by making working with people at different places easier. Cloud is very beneficial, in particular for law firms as it can bring a lot of changes for good in the traditional methods of practicing. However, because lawyers are governed by very strict data security laws and need to keep information regarding cases confidential, law firms need to be a little careful while choosing the right cloud-based application for storing their data.
Benefits of Cloud
Cloud computing is a concept that lawyers were not aware of much earlier. But with technological advances and in keeping up with the changes, the legal profession is ready to embrace Cloud because of the huge benefits it provides. Few benefits of using Cloud are-
Fewer file servers: A law firm is required to process a lot of information depending on the work, but with Cloud, there is no longer a need to invest upfront in infrastructure to set up file servers. This will help save a lot of paper and therefore is an environmentally friendly option.
Ease in accessing documents: Using Cloud, one is easily able to access necessary documents anytime and from anywhere while on the go, no more difficulty of carrying documents everywhere. Usually, more than one attorney in a law firm is working on a case, and they need to access the same documents; Cloud makes this possible without actual manual sharing of those documents. This increases productivity and leads to effective team collaboration making work easier.
Real-time data storage: Cloud also helps in preventing loss of data due to reasons like a computer crash as all the documents will be safely retained in the Cloud no matter what happens till something is permanently deleted from the records. Data is saved in real-time on the servers, so nothing ever disappears without a trace.
Simple setup: It is very easy to switch to using the Cloud. Lawyers don't have enough time for implementing new technologies or learning new things, but switching to the Cloud is fast and easy. All the lawyers in the law firm can easily adapt to using Cloud and access documents with a better, faster, and more secure option.
Make your Law Firm more secure and effective using Cloud
Cloud offers options that provide a more secure environment to law firms in keeping client's data safe and is ethical to use. Considering the present state of technology, it's common to use Cloud technology for flexibility, efficiency, and a lower cost. While the Cloud is becoming popular in the legal world, some lawyers are still unsure about placing sensitive client data on cloud-based programs. This is because of the risk of data access by persons who are not authorized by the law firm to use it. But there are Cloud-based programs available that offer full security cover and data encryption services; selecting the right provider is the major task.
When picking a cloud-based provider, a law firm should ensure that they choose the one with good security features that allow them to work the way they need and at the same time protect all the information in the required manner. Law firms are supposed to adhere to some mandatory confidentiality regulations and certain statutory compliance. If a law firm uploads client information into a cloud-based service that does not meet all the requirements, it will result in a violation of current laws and can cause damage to the client. Therefore, to make your law firm more secure, use a Cloud service that protects and organizes the data in a way that is better than physical records. Law firms can personally interact with the provider and customize the services accordingly.
For law firms, Cloud-based software provides features that the firm itself couldn't otherwise provide. Exporting or transferring all existing data can be done automatically and effortlessly, which makes work simpler. There are no compatibility issues of Cloud with other software used internally, so there is no compromise with the efficiency as well. Also, most security breaches occur due to human error, and the effective use of technology is the only option to eliminate such risks. Every law firm should use cloud-based legal practice management for better services which leads to higher client satisfaction.
Conclusion
Cloud helps a lawyer to use an online data storage system to store and back up the entire client-related confidential information; provided the lawyer takes necessary steps and due care to ensure that confidentiality is maintained. The benefits of using Cloud for lawyers are undeniable, and therefore, it is suggested that all lawyers should turn to use Cloud for their day to day work for a better experience.