9 tips to build a career as an Intellectual Property Lawyer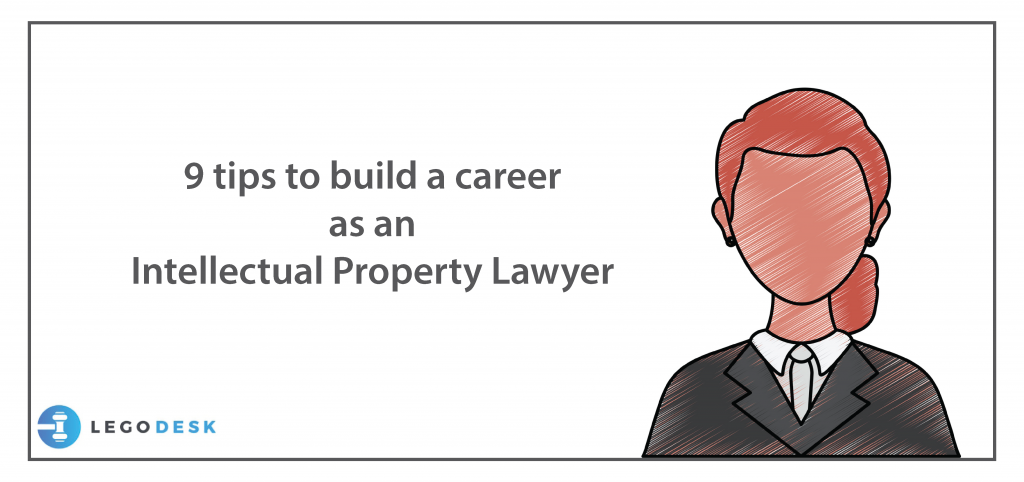 INTRODUCTION
After choosing law as a career option was a tough call, but even tougher stands for the decision of area of expertise. This will be a decision affecting your entire life. IPR (Intellectual Property Rights) deals with new innovations and ideas. It deals with ownership and access to ideas, products, tangible or intangible. Patents, copyrights, trademarks, unfair competition, trade secret law, designs, etc. are covered under this branch of law. The area of the subject is vast, and as the number of innovations is constantly increasing in number, the requirement of an IP lawyer is also increasing. In this article, what it requires to have a well-established career in IPR will be discussed.
Read Also – An Introduction to Intellectual Property Laws
WORK DONE BY AN IPR LAWYER
Before deciding to have a career as an IPR expert, it is pertinent to understand the nature of work undertaken, which is:
Securing copyright, patent, a trademark for the invention
Fight for the violation of any legal right infringement related to IPR
Licensing
Develop strategies to protect inventions
Drafting and negotiation, etc.
TIPS TO BUILD A CAREER AS AN IPR EXPERT
KNOW THE LAW AND UNDERSTAND ITS IMPLICATIONS
Every law is not the same or similar, so before choosing the field know what the demand of the law is, what the position of law is with respect to trademark, copyright, geographical indication, patent, position in other countries, etc. It may so happen that you have to deal with various aspects of law, not only Intellectual property law, so be geared up for it well. Have a blend of expertise so that you do not lag behind.
HAVE RELEVANT QUALIFICATION
Once you have made up your mind to be a master of IPR, then look for the relevant qualifications which give you an edge over others. Having a Law degree is a prima facie requirement, but is not always sufficient, because it is a general LL.B. So, what a person interested in the IPR sector can do it, seek specialization like Diploma, or certificate courses in the field or pursue LL.M in the field. Though an LL. B degree is the only mandatory requirement, however, to create a fine understanding of the subject, a course whether online or offline should be preferred.
RESEARCH AND PUBLICATIONS
Research and publications related to IPR will give your CV a push as you are seeking expertise in this field. Research and publications usually require a high level of dedication and help gather immense knowledge about the subject. It opens the doors to find loopholes and analyze critically. Being a lawyer, the two skills of research and critical analysis is very crucial.
WITH QUALIFICATION, HAVE KNOWLEDGE
If you have the degree in your hand, but zero knowledge, it yields to no good ultimately. So have the degree alongside what is the worth of your specialization. Stay updated with the recent landmark cases, recent amendments in the statute. This will help you be currently updated with the position of law.
Law is no different than any profession when it comes to human resource management. So, like other professionals, a legal profession enthusiast in IPR should also brand himself/herself as one. There are various ways of marketing oneself, which may include attending conferences, getting clients through sources at the start, marking a significant presence in online social media platforms, getting associated with a top-tier law firm.
GAIN EXPERIENCE; TAKE UP INTERNSHIPS
Internships are part of the curriculum of many institutions. This is done for the person to understand his area of interest and gain practical experience in working for the same. Practical knowledge will help you understand the working and the real requirements of the field, turn out to be advantageous in the future. This will help you get preference when you are seeking a job opportunity. A candidate having experience in IPR will any day be given more preference rather than a fresher to the field. So, internships help you grow.
Skills and aptitude are important to create an outstanding impact on the clients and competitors as well. Relevant skills drafting, research, and good orator skills are a few of the basic requirements while finding the best of skills for yourself. For example, when a patent is filed, it may be in various fields like software, science, medicine, etc. So, having knowledge about every field can help you understand the invention better, which in turn will help you get the grant for the patentability of the product.
Since they also engage themselves in protecting and advising on the exploitation of IPRs commercially, the skill of negotiation and management is vital.
Be it any field or area of law; networking is essential to survive in the field. Networking will help you meet more people interested in the same field of expertise. This will help you foster your relationship and also stay updated about the happenings in the arena.
9. DEVELOP THE INTEREST IN THE FIELD
Since you have already chosen the same as a career option, develop a strategy always to stay updated and let your interest strive in the field, do not get bored of the nature of work and lose your focus, then you are losing from yourself and from others in the competition automatically. If you want to change your area of expertise, do it before it is too late for it.
CONCLUSION
Building a career as an IPR lawyer will certainly require some extra effort and hard work to gain knowledge and experience in the field. Once the basic step is done, then the career escalates, and you may sit, take up cases, showcase the knowledge, and enjoy your growth. The scope of having an enriching career in this field is quite high, so start from the early stage.