5 Legal Technology Solutions NBFCs Need
NBFCs are non-banking companies that carry the business of a financial institution. The rapid growth in technology is palpable globally, and it is also making lives easier and simpler for everyone. Technology has revolutionized legal proceedings and legal matters to a large extent. Besides productivity tools, legal technology solutions has been helping NBFCs with their workflow and ordinary people with legal matters.
5 Legal Technology Solutions for NBFCs
Technology is also freeing up the time of lawyers and making legal aid easily accessible to people. NBFCs must use technology to their advantage and apply it in the collection, customer onboarding, lead generation, loan disbursement, and underwriting. NBFCs can analyze their workflow by listing every process in every department. Once the analysis is done, the next step is looking for opportunities to improve.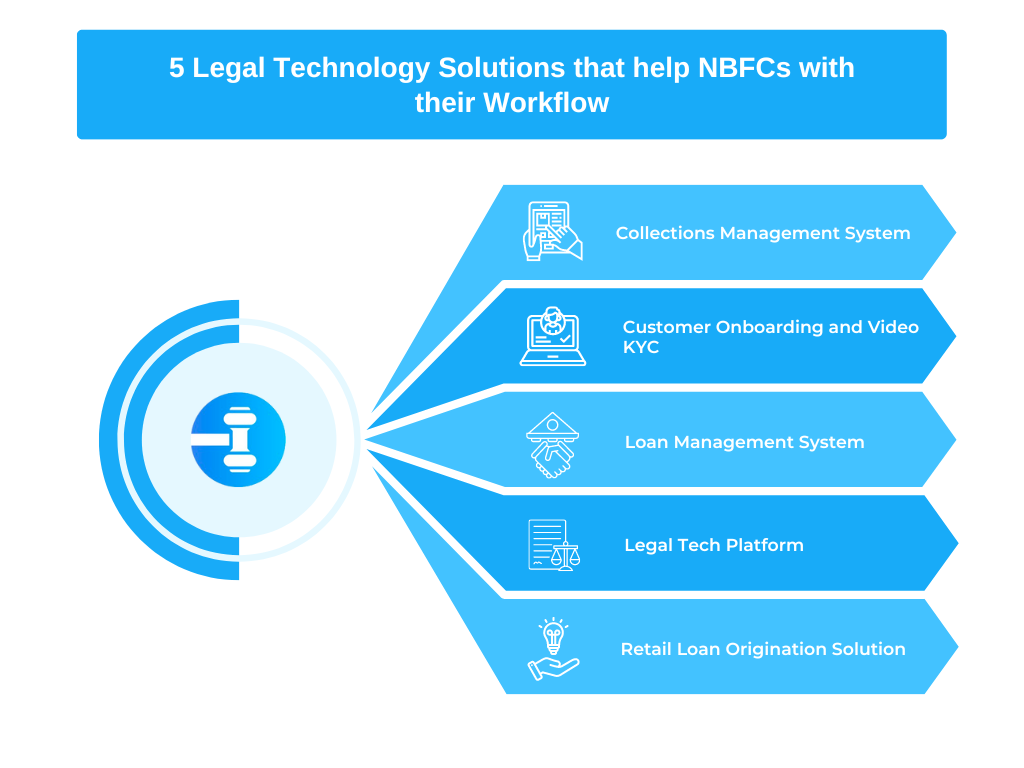 Several loan programs have been brought in by the Central Banks globally to neutralize the effects caused by the pandemic. Since the economies are slowly getting back on track, it is believed the key segments that will help in the growth of the NBFCs will be gold, home, personal, and work loans.
Customers now ask for 24×7 interactions and prefer personalized services which makes it imperative for NBFCs to have legal technology solutions that are competitive enough to help them with their workflow.
The top 5 legal technology solutions that can make a difference to the workflow of the NBFCs are:
1. Collections Management System
A Collection Management System allows NBFCs to take follow-up action against difficult cases. It acts as a solution for complex case management. The Collection Management System provides advanced routing and escalation capabilities, enables rule management if there is a breach, and has a real-time and interactive interface for the interactions between agents and customers.
Each NBFC can customize its loan collection depending on what suits them the best. NBFCs have outperformed the banks in credit deployment. They have taken advantage of the inability of the banks to customize rigid policies and rapidly scale operations.
2. Customer Onboarding and Video KYC
An onboarding solution coupled with a video KYC solution reduces the time for opening an account. Customers can say goodbye to physical documents, and it enables NBFCs to go digital. Customer onboarding and Video KYC improve customer experience and satisfaction. It takes just three minutes of the customer's time, enabling NBFCs to onboard more customers.
Offline KYC created a lot of obstacles, especially in rural areas where the documentation costs and onboarding costs made it difficult for these NBFCs to expand their base. In online KYC, real-time liveness checks are performed, there is audio-video interaction online, and face and ID matching. All this will help to detect if there is any fraud.
This video-based identification process of the customer is seamless and regulated by the Reserve Bank of India (RBI).
3. Loan Management System
A Loan Management System is a good legal technology solution tool for NBFCs. It has a built-in accounting engine that helps with event-based accounting. The Loan Management System helps NBFCs manage their daily servicing of loans and the disbursement of loans. Once the loans have been disbursed, the associated data moves from loan origination to the loan management system. They can be deferments, foreclosure, interest accrual, receipts and payments, and rescheduling after the disbursement.
The tech-delivered loan management system improves customer service and productivity, and it is the need of the hour in today's changing financial times. Lenders want fast, reliable, and secure loan management that will enable them to perform all the key processes. An efficient loan management system helps NBFCs to enhance their activity, competency, efficiency, and transparency in giving solutions.
The loan management software is safe to use and has many secure parameters to make it safe and reliable for financial transactions. All security parameters like the PAN, Aadhar card, and verification must be done before getting the loan. The chances of human error are less, and it increases productivity.
4. Low Code Platform
A healthy low-code platform will help NBFCs deliver a perfect customer experience, design and develop applications and processes, and increase operational effectiveness and efficiency. This is a smart choice of platform for any user and provides a developmental environment for the NBFCs. It helps NBFCs boost their profitability. A low code platform guides in solving everyday businesses using their apps, and they allow companies to develop quickly.
A commonw code platform features:
A form builder that will help design forms where drag and drop functions will be easy to use.
A basic structure for rapid mobile app development.
A monitoring tool for business activity with a dashboard that provides performance reports.
A robotic process automation that will help automate mundane tasks and integrate with the rest of the tools easily.
A rule engine that will quickly help to set up the business rules and logic.
5. Retail Loan Origination Solution
NBFCs require solutions to automate all their loan products, ranging from application processing, disbursal, pre-screening, and underwriting. An efficient Retail Loan Origination solution will help to keep up with the evolving regulatory requirements needed by the NBFCs. It will help to speed up the application processing and reduce the cost per application. The NBFCs will also be able to keep up with the changing regulatory requirements.
The Retail Loan Origination Software that is available in the market has real-time dashboards to track processes, pipelines, and production workflows. They provide an excellent customer-oriented service without any manual interference, be it simplified loan disbursement for all loan types ranging from credit cards and personal loans for borrowers.
They have identity verification, fraud management, and IP-based device filters for applications which are reliable to track fraud and help in processing quicker loan approvals.
Wrapping it Up
New-age technologies play a huge role in helping NBFCs stay competitive in the expanding market, enabling them to overcome existing challenges, and expand their customer base. Though NBFCs cater to low-income groups and small businesses, they must still adopt some legal technology solutions to create and deliver innovative products and services to their customers and clients.
Investing in these technologies is good for NBFCs to analyze their post-pandemic strategies since the focus has shifted to digital. It will help them stay competitive in the market irrespective of what the future will be.