Top 15 Law Firms of the World
The legal field is expanding gradually with each successive day, therefore it is very pertinent to distinguish the best from the rest of the firms spread across the globe. Given below are the top 15 firms with an unparalleled reputation in the legal fraternity: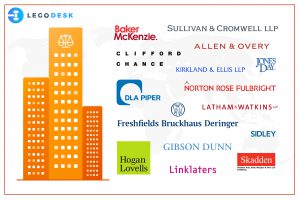 Baker and McKenzie is an international firm founded by Russell Baker and John McKenzie in 1949 and is headquartered in Chicago with offices spanning across every continent, with 77 offices accommodating more than 12,000 employees. Baker and McKenzie is a multifaceted firm but is mostly specialized in its cross-border works and in tax practice. The firm's expertise also includes capital markets, antitrust, international commercial, and trade, employment, intellectual property, M&A, real estate, restructuring, tax, etc.
In the framework of their Corporate Social Responsibility, they were the first firm in the world to align their global strategy with the U.N. Sustainable Development Goals and one of the first firms to adopt equal pay, to introduce an ethnicity staff network in Australia and in June 2019, they were the first global law firm to employ 40:40:20 gender diversity objectives. The firm has an Associate Training Program, which helps the associates in gaining an insight into the firm's global work. One of the notable cases dealt with by them includes that of Marriott, which is one of the world's largest hotel groups in which they helped the client to manage a casino hotel in Madrid for the very first time for a period of 20 years. 
Skadden, Arps, Slate, Meagher and Flom
Skadden is one of the first law firms in the world to report $1 billion in annual revenue and therefore can be regarded as one among the most profitable and well-known law firms in the world. The firm was established by Marshall Skadden, Les Arps and John Slate on an April Fools' Day and now has an array of practice areas including corporate finance, real estate, white-collar defence, and commercial, securities, and products liability litigation groups, among countless others with its forte in M&A and has 22 offices and employees around 1,700 attorneys across the globe.
The major deals that brought Skadden to the limelight are the takeover of RJR Nabisco in 1989, U.S Steel-Marathon Oil, preventing the bankruptcy of SunEdison, one of the world's largest renewable energy developers, and they also presented Twenty-First Century Fox in its $71.3 billion acquisition by the Walt Disney Company. Another striking quality of the firm is its pro-bono work. The associates must meet 149.6 pro bono hours in order to be entitled to a bonus.
Latham is a pioneer law firm that was established in the year 1934 and is an all-star across practice areas varying from corporate transactions, environmental law, finance matters, litigation, to tax services. Latham is affiliated to Magic Circle and the elite U.S. heritage firms with an army of more than 2,600 attorneys in 29 offices across the world. One of the notable cases is the U.S. v. Oracle Corp, in which they represented Oracle and successfully aided them in acquiring PeopleSoft.
The founding fathers of the firm are Dana Latham, who was interestingly, the former commissioner of the IRS, along with Paul Watkins. The firm offers extensive training programs for their juniors and helps in developing their own practical lawyering skills and is also the best firm for Working Mothers as they provide Twenty-six weeks of paid leave for expecting mothers; additionally, the nursing mothers who travel for business can take advantage of breastmilk shipping and also provide surrogacy reimbursement and financial assistance for adoptions and fertility treatments.
Allen & Overy is a legal firm serving multinational clients, which is prominent as it part of the U.K.'s Magic Circle and is also well established in the jurisdiction of USA locating at New York and Washington D.C. It is one of the largest law firms and has offices and partners across 30 countries accommodating more than 2,000 lawyers worldwide. It was established by George Allen and Thomas Overy in 1930, and they offer to their client's legal advice ranging from asset management and litigation, M&A, tax to international arbitration with its expertise in cross border disputes. To name a handful, the firm came to limelight with providing assistance to 21st Century Fox in its procurement by the Walt Disney Company, and they have a performance review initiative through which they can analyse the performance and development of the associates through real-time feedback.
Sidney Austin is a pioneer legal firm providing high-value services to its diverse clients from Fortune 500 companies to start-ups and is widespread across 20 offices comprising of more than 2,000 lawyers. It is prominently known for its Supreme Court and Appellate practice, and the firm's practice area stretches from Banking and Financial Services, I.P. Litigation, Labour, Immigration, to Healthcare. One of the striking features is that the firm consists of former officials from governmental agencies in China, U.S., and E.U.
In order to help in putting the world back together with a little at a time, they have a solid pro bono program that provides free legal assistance to immigrants seeking asylum, disabled veterans, and victims of domestic abuse in developing nations. They also contribute to charity giving prominence to gender diversity. Another interesting fact is that Michelle Obama met Barack Obama while working at Sidley as an associate.
More than 130 years after the founding of the firm by Algernon Sydney Sullivan and William Nelson, the firm has been expanding around the globe, spanning over nine countries comprising of 13 offices. They became noticeable by aiding the spear headers in financing for the Panama Canal and in the formation of U.S. Steel. M&A, Project Finance, Securities/Capital Markets, and Banking and Financial Services come under the ambit of the firm with a speciality in securities litigation and white-collar defence.
The firm has a robust career plan for its associates, with the main focus on developing their skills and experience by providing career counselling sessions. Recently, they opened a Moot Courtroom in their office in New York with the aim of preparing their associates for upcoming trials. S&C is dedicated to pro bono work, and they have devoted over 62,000 hours for their 400 pro bono clients.
It is an international law firm tracing its roots back to 1909, which was founded in Chicago by Weymouth Kirkland, and in 1915, Howard Ellis came on board. The prime areas of practice included I.P., Restructuring, Litigation, and Private Equity. It can be counted as one among the world's highest-grossing law firms with $360 crores in revenue with more than 2,500 members. Their notable clients include Facebook, General Motors, Nike, Intel, Vista Equity Partners, Blackstone, and Bain Capital among others. They are well equipped in dealing with transactional practice and also function as a private equity powerhouse consisting of more than 450 private equity firms among the firms' client list. They have been in the limelight recently due to their Wellbeing Program, which efficiently works with lawyers addressing their mental health and substance abuse.
Clifford Chance LLP is part of Magic Circle' firms and is a merger between Clifford Turner and Coward Chance with a corporate and finance firm respectively in1987. It is a multinational law firm that was at the forefront of globalization of law firms and is headquartered in London, United Kingdom. Their practice areas include insurance, construction, capital market, employment, tax, and real estate, with more than 6,500 employees. It is one of the first firms which commenced outsourcing venture as part of which, a knowledge centre in India, was set up in 2007.
The firm is inclusive and fair when it comes to promotion, pay, training, etc., which can be traced from its various policies by ensuring that individuals are selected and promoted on the basis of their work abilities and merits. They also give importance to pro bono work with a focus on providing it for 100,000 people annually and also support NGOs and do charity work.
Roots of Jones Day stretch back to Cleveland in 1893 and was founded by Judge Edwin Blandin and William Lowe Rice. Jones can be best explained an international law firm with the best and competent litigation team across the world with 43 offices in 19 countries which is spread over across five continents with its base in U.S. Their booming practices consists of international law, I.P., labor and employment, securities, appellate litigation among others.
By assisting organizations such as Kids in Need of Defense, the Innocence Project, they took over and helped in healthcare, veterans' affairs, and the plight of refugee families seeking asylum in the United States and by also tackling issues of human trafficking. The lawyers provide 100,000 hours of pro bono service. One of the notable cases is where Jones Day on behalf of Idenix Pharmaceuticals LLC, won the largest patent infringement decision in U.S. history to date.
DLA Piper can be termed as one of the ginormous law firms in the world both by headcount and revenue in the world, with approximately 4,200 lawyers in over 90 offices around the globe. They have an array of practice areas from finance, asset management, construction issues, real estate litigation to their newly introduced areas of artificial intelligence, fintech, and other practices in data protection, privacy with which it has its finger on the pulse of the new age business world. They are also involved in local and cross-border work.
Another feature is their Global Mobility program, through which lawyers can work in another location for six months and expand their global outlook. They have been in the news recently as they represented Lantern Entertainment in the launch of Spyglass Media Group, and they also advised the Port Authority of New York and New Jersey with relation to the redevelopment of the World Trade Centre site in Lower Manhattan.
Founded in the year 2010, Hogan Lovells is a merger of D.C.'s Hogan & Hartson and London's Lovells. It has grown exponentially to become a truly global law firm with 44 offices across 30 countries. The firm is well known mainly for its practices in corporate, finance, global regulatory, I.P., litigation, and arbitration. Major clients of the firm include Apple, Google, Ford Motor Co., IBM, Chase, and Bank of America – Merrill Lynch etc. Hogan Lovells came to limelight when they advised Walmart on purchase of a 77% stake in Flipkart. The firm also specialises in healthcare practice.
Freshfields Bruckhaus Deringer
Freshfields, or FBD has been in the legal game from the last 250 years and now has 27 international offices spanning across Asia, Europe, the Middle East and North America. It represents national and multinational corporations, financial institutions and governments. Freshfields is also the oldest member of the Magic Circle' British firms. They work mainly in finance, dispute resolution, real estate, tax, and intellectual property and are still at the top of their game in the U.K.
Bank of England was their first client and still continues to be so, and it is also first among a few international European firms to have been established in Asia. Their notable works include advising Starbucks Corporation on its $7.15bn global coffee alliance with Nestlé S.A and representing Volkswagen Group in the resolution of its criminal and regulatory investigations in the U.S.
Gibson, Dunn & Crutcher is a mega legal firm with more than 1,350 attorneys across ten countries with 20 offices and is mostly famous for their litigation and trial work as well as M&A, real estate, private equity, among others. It had its genesis in 1890 and was founded by John Bicknell and Walter Trask and was later joined by Judge James Gibson.
A speciality of the firm is that the associates can have their own practice groups and their own cases. A most notable case is where they advised Marriott International, Inc. in their acquisition of Starwood Hotels & Resorts Worldwide. Gibson Dunn also represented PepsiCo in its award-winning $3.2 billion acquisition of SodaStream International.
Magic Circle corporate firm Linklaters was established in the year 1838 and is predominantly a U.K. firm but has also made its imprints in the U.S. They have over 2800 lawyers across 30 offices spanning 20 countries. They have an all-star across practice areas ranging from antitrust, banking, capital markets, corporate/M&A, energy and infrastructure/project finance, dispute resolution, investigations and white-collar crime, restructuring and insolvency, and tax among others. Their main goal is "helping partners and directors gain a deeper understanding of different people's perspectives and experiences, and create a culture of inclusion at the firm." They have advised Vodafone on its bond offering, representing the second-largest U.S. high-grade bond to price in the year 2018, which brought the firm to the limelight.
The legacy of Norton Rose Fulbright can be traced back to the 1700s. It was founded by attorney Robert Charsley and later Leon Jaworski and R.C. Fulbright combined to form megafirm Norton Rose Fulbright with currently over 1,000 lawyers based in the U.S. and another 3,000 around the globe. They also merged with Chadbourne & Parke recently.
The firm has offices across six continents and is particularly well known for its energy practice. They are the only law firm to partner with a Formula One team, the McLaren Honda racing team, and provides world-class services to financial corporations. They have the hallmark of being the global legal advisor to the automotive conglomerate McLaren Technology Group and their practice areas involves antitrust, environmental law, M&A, tax and contract law among others.