Top 5 Advantages and Disadvantages of Section 498A IPC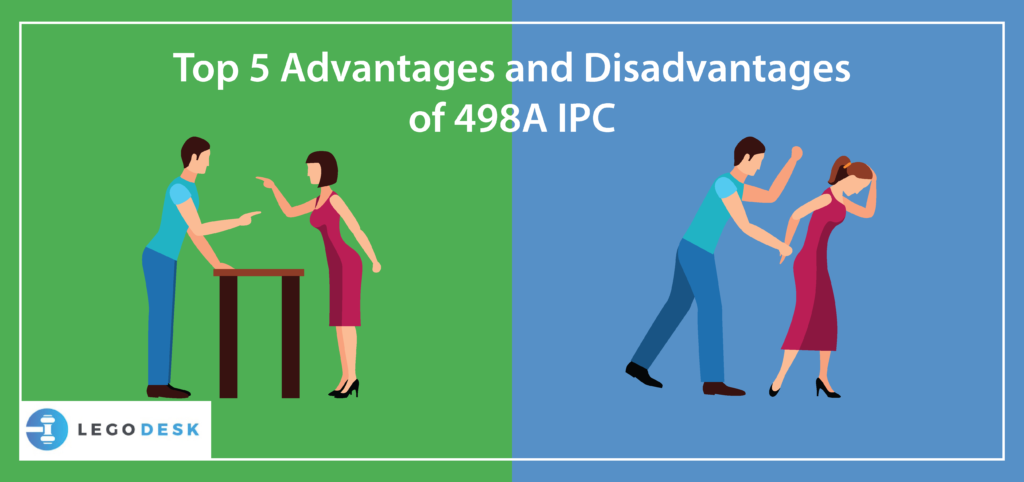 Section 498A of the Indian Penal Code was introduced in the year 1983. This section was added to protect a married woman from subject to cruelty from her husband or her in-laws. The term "cruelty" here refers to any harm caused to the person both mentally or physically. Section 498A IPC protects a woman from harassment related to dowry or any marital issues. According to this section, the accused is subjected to 3 years of punishment or a fine. Though this section was introduced to protect women from exploitation, it has got some disadvantages too, which we shall see in this article.
Read Also – Judgements of Supreme Court on Section 498A Indian Penal Code
What is Section 498A IPC?
Here's the text of the Article 498A IPC as mentioned in the Indian Penal Code:
Husband or relative of husband of a woman subjecting her to cruelty.—Whoever, being the husband or the relative of the husband of a woman, subjects such woman to cruelty shall be pun­ished with imprisonment for a term which may extend to three years and shall also be liable to fine.
Advantages of Section 498A IPC
Prevents the Exploitation of Women:
The exploitation of women has always been a critical issue for years. One of the major advantages of introducing this section is protecting women from getting exploited.  If any woman is being subjected to cruelty as explained in the section, then it would be taken as a punishable offense. And whoever subjects her to cruelty shall be punished for three years or pay a penalty fine.
Read Also – What are the advantages and disadvantages of GST in India
Section 498A seems to have empowered women in Indian. It has encouraged women to come forward and file complaints. Initially, women hesitated to raise voice against the harassment with the fear of not being heard. With the increased number of cases under this section, women do not feel hesitated any more to register their complaints. Women are now voicing against her husband or in-laws rather than staying silent in such gravity situations.
Effectively Controls the Suicide Rates:
Given increased cases of cruelty on women by her husband or her in-laws, 498A was introduced. The number of suicidal cases due to cruelty has decreased greatly after the introduction of 498A IPC. Before the introduction of this section, it was found that about 40% of women's deaths were suicidal cases. Reduction of suicidal cases is one of the main objectives behind introducing this law, which has been carried out effectively.
Read Also – What is Current Account
The Deaths due to Dowry have been Reduced:
If a person has caused dowry death to a woman, then he would be taken in custody or may be punished. Increase in the number of dowry deaths is a serious concern for Indian Law. Therefore, 498A was introduced to reduce the cases of dowry deaths. If a woman is mentally or physically abused for not bringing a dowry with her, she has all the rights to register a complaint and seek justice. This provides them with an option to seek their right to live instead of committing suicide.
Makes the In-Laws More Responsible

:
All the cases registered under this section and the punishment given to them has set an example for others. Husbands and his relatives are now becoming more concerned about their responsibility and non-negligible towards their duties. The section 498A IPC thereby ensures that every woman needs to be treated with respect and care.
Disadvantages of Section 498A IPC
Apart from having so many advantages for the women there, the article 498A IPC has a huge number of shortcomings which need to be addressed to soon. There are several disadvantages of this Act which are making the premise redundant. The top 5 disadvantages of the section 498A IPC are:
Many women use this power as a weapon against their husbands and their relatives. There are many cases under 498A, which involves wrong allegation cases. Many times, the women put false allegations on her husband of being beaten or getting exploited to instil in them a fear. In many cases, the husband is the victim but still ends up getting punished, and his family is left at the mercy of an ill-minded woman.
Lack of Investigation increases Blackmails

:
There is no proper investigation made on the complaints registered by the woman. In most of the cases, the husband is directly taken into custody without even investigating if that allegation is right or not. Therefore, it cannot be guaranteed completely that all the cases registered by the women under 498A are entirely true. This is misused by the privileged women in most of the cases.
From registering a complaint to availing justice, section 498A involves a complicated process. It includes a lot of paperwork to finish the formalities. Moreover, it includes a lot of time and efforts. This discourages many women as they feel uneasy taking their time out, go to the police station, and file complaints. Furthermore, they feel the whole process testing their patience level to get justice, which is a clear violation of the saying Justice Delayed is Justice Denied.
When women resister their case, many times, they are asked for evidence to prove their point. In many cases, women fail to find evidence in to file the case. There have been many cases which are declined due to no evidence presented. Not only women, but it happens in the case of men too. If they want to prove the allegation put on them wrong, they are asked to bring the evidence. And failure to present the evidence may lead to non-consideration of the complaint. This makes the law heavily biased, which is against the fundamental principle of equality as guaranteed by the Constitution of India.
Social Discouragement Enhanced:
In most of the cases, it was found that women gather all their courage to raise voice against the harassment but don't file a case. The reason behind this is the discouragement of her family members, mainly in rural areas. Therefore, the real victims do not get to use the act at all while it is being misused by the privileged ones. The society is yet to accept this and hence shames the women raising their voices. Hence, due to a fear of social boycott, women are discouraged from taking any actions.
Conclusion
Section 498A IPC has helped many women to get justice against the atrocities committed by their in-laws. However, it has got a few negative points too. Although women empowerment is a need of the hour, it is mandatory to make sure that no injustice is done to the men as well. A reformation in the act is required at the earliest to reap the benefits of this act by the last person of the pyramid.