5 Recently Asked Questions About Same-Sex Marriage Laws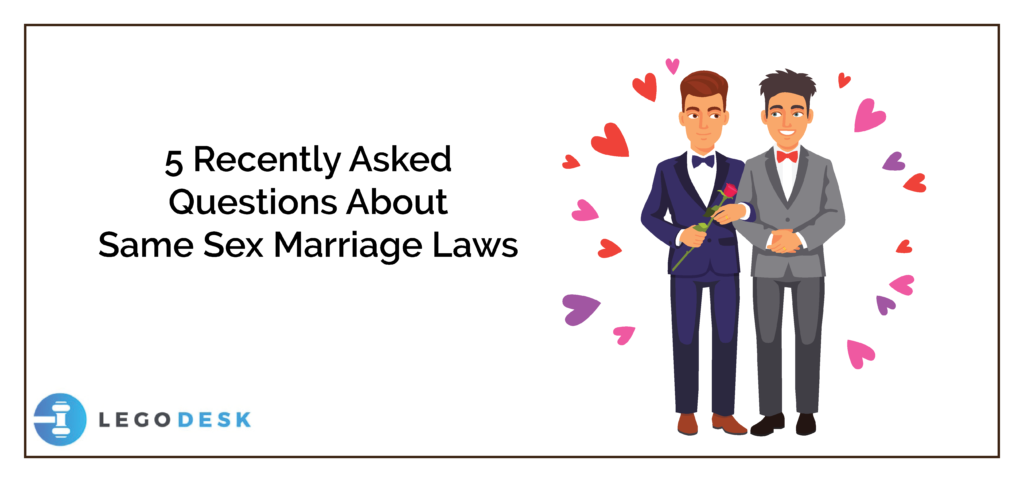 In the past year, same-sex marriage in India has seen a great change. With the Supreme Court's verdict in Navtej Singh Johar case, the same-sex couples have got a right to uphold their relationships and call it 'legal'. But even after the Supreme Court's verdict, the society has failed to accept these couples and continue to look down on them. Many people also consider these couples as the filth of society.
"Even after section 377 gets neutralized, our job is not finished yet. The main task ahead is to mainstream homosexuality in India. That means getting people from the non-LGBT community to support and accept us. Because even when we get rid of the law in India said to be LGBT is a crime, socially anyone who is gay in India is still a criminal."- says Manwendra to the Saturday Paper.
The LGBT community has succeeded to achieve their rights with the Supreme Court standing next to them but there are many questions in the mind of the same-sex couples that need to be answered and bring into the light. Therefore, here are 5 recently asked questions about same-sex marriage laws in India-
Read Also – Court Marriage in India – Rules Documents and Procedure
1. What does same-sex relationship mean?
A same-sex relationship is a relationship between two persons who belong to the same sex. Their relationship may include sexual activity or even romance. It is not merely restricted to sexual orientation. Many people refer to a same-sex relationship as a lesbian- relationship or a gay relationship.
This kind of relationship is not so common in India. People deny accepting such relationships because it is considered as a taboo in our nation. Therefore, the data available does not show the true picture.
2. Is same-sex marriage in India legal?
Earlier it was nowhere stated in any of the statues that same-sex marriage is illegal nonetheless there were certain complications set-out by Section 377 of the Indian Penal Code. This Section has been struck down by the SC in its landmark judgment in 2018.
Although it should be noted that India has no same-sex marriage laws as Personal laws and even the Special Marriage Act talks about the relationship between 'husband' and 'wife'. Even if we take into consideration the Muslim Marriage Act or even the Christian Marriage Act, none of them talks about or even mentions the marriage between parties of the same sex. No hint of same-sex marriage can be derived from these laws. Further after the 2018 judgment of the SC, many same-sex couples approached the marriage registrar but he refused to register their marriage due to a lack of relevant provisions.
Read Also – Latest Judgement by Supreme Court on IPC Section 377
3. How to perform a same-sex marriage?
We know that same-sex relationship is legal but the status of the same-sex marriage is still a complication in India due to lack of relevant provisions under the law. There is no such procedure prescribed which enumerates the procedure in which a same-sex marriage can be performed.
In the aftermath of the SC's 2018 judgment, many same-sex couples approached the marriage registrar but he refused to register their marriage due to lack of relevant provisions. Petitions are pending before the court to seek relief in such cases. Therefore, the wait is mandatory.
4. What is the law under which same-sex marriage be solemnized?
Same-sex couples have got a legal recognition to their relationship but unfortunately, there are no such laws which solemnize the marriage between these couples. Many lawyers and legal practitioners suggest that there should be an amendment to the existing Special Marriage Act to include same-sex marriage. A suggestion to frame a new law for LGBTs was also given.
Currently, it is very difficult for the couples of same-sex to solemnize their marriage in accordance with the law.
Recently, Madras HC recognized a marriage solemnized between a male and a transwoman, both professing Hindu religion, is a valid marriage in terms of Section 5 of the Hindu Marriage Act, 1955, and the Registrar of Marriages is bound to register the same. It is merely stating the obvious. Sometimes to see the obvious, one needs not only physical vision in the eye but also love in the heart.[1]
Read Also – Court Marriage Rules in India
5. Can an LGBT couple adopt children?
LGBT couple is as free to live in today's world as any other ordinary couple. Therefore, they should also be allowed to adopt children as any other ordinary couple is allowed to do. But unfortunately, there is no such provision in any of the existing laws that allow a couple or a single LGBT to adopt or have any parenting right.
Laws should be made flexible and LGBT-friendly. The SC has given their relationship a legal recognition, therefore, all the other rights are tantamount to making their relationship legal should also be legalized.
Conclusion
After SC's landmark judgment of 2018, same-sex couples have got right to declare their relationship in public but still, there are many lacunas that need to be filled. There are many questions that emerge and remain unanswered by the courts. The court needs to take up the issue and fill in the gaps in the rights of the LGBT community and their execution. They are recognized but they are helpless when it comes to continuing their relationship by following legal procedures. The legislation should be alert and frame such laws that guide the LGBT community in cases of marriage, adoption, and parenting.
Read Also – Is Live-in Relationship legal in India?
[1] Arunkumar v. Inspector General of Police (2019)