Reasons Expensive Law Firms are a better options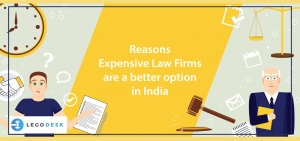 INTRODUCTION
Every aspect of our daily life includes some of the other legal aspects. The legal professionals are empowered by way of their qualifications to deal with the legal issues check upon the compliances. Law firms are a group of individuals coming together to run a legal business.
Expensive law firms are those who charge higher rates for the legal services provided by them. In India, people choose expensive law firms than going to an induvial practitioner to deal with the legal aspects. In this article, why expensive law firms are considered to be the most preferred option will be discussed.
IMPORTANCE OF LAW FIRMS
Every law firm is different in respect of the manner it functions and areas of its expertise, client relations, etc. law firms are well equipped to deal with cases with proper resources aligned. They deal with every aspect of legal professions, and generally, the law firms have a team of experts for each field of law. So, some law firms are far more expensive than others which may be because of various reasons, like the amount of expenditure the firm is incurring, the win-win ratio, which is provided by them, the experience the law firm has, etc.
Read Also – How to Clear a Title on a House?
As everyone starts not being expensive but moderate, but as the business grows, so the law firm grows, and the services provided becomes costlier.
WHY ARE EXPENSIVE LAW FIRMS A BETTER OPTION?
BEST OF BUSINESS STRATEGY
They are expensive for a reason. Tier 1 law firms have a clear demarcation of roles and responsibilities. They have professionals from every aspect like human resources, accounts, compliance, client management, etc. when all the aspects are clearly taken care of, and it suggests a good business strategy. The business strategy in line, helps the deadlines to be met and work to be proper. Formulating some ideas and unique modes of practice gives these expensive law firms a preference over others.
The adopted strategy included timely meetings, discussion of all aspects, preparing for a court hearing, using contacts and experience, making the client understand the position of law, understanding the concern of the client.
Read Also – 5 tips to become the best law firm in India
These expensive law firms have a clear aim, and that is to have happy and satisfied clients. They have a large number of professionals who deal with one particular case, so there is no chance that a deadline will be missed, or a point of law which otherwise should have been discussed is missed.
They not only fight the best or their case, but they take periodical feedbacks from clients which in turn helps to improve lawyer performance. Firms that charge money simply for their services do not afford any opportunity of losing a client. So every client is a priority and is assigned a separate person expert in the area of legal dispute.
Read Also – Law firm management strategies to control cost and resources
BEST OF RESOURCES: TECHNOLOGICALLY ADVANCED
The expensive law firms are very advanced technologically. They have the best of websites providing minute details, and they have responsive chatbots. They have updated the systems; the billable hours are automatically calculated, and there is no chance of fraud. Every person in the firm knows about the case and its status of progress, the experts are aware and anyone having any idea or help or suggestion can offer the same.
They have legal case management software where all the documents and details about the case are stored electronically. These advancements help the lawyer and also the client because they have modern lawyer experience. They know their law firm is updated and can provide services free from hassle.
Read Also – The most important Litigation Strategies a lawyer must learn
BEST OF LAWYERS WORKING IN THE CASE
All the big-shot top-tier law firms hire only the best of professionals who then take up cases on behalf of the law firms. As they charge you higher, the services they offer are also the ones that are best in the legal market. The professionals dealing with your cases have reached there after having a level of experience and qualification for the same.
With 100 law colleges in India, and every year almost a batch of 300 people graduating from each college, the market will reach its peak. So, the competition in being hired by an expensive law firm is quite high. So, to ensure that your case is in the best hands, people often refer to expensive law firms. The guarantee of a person with relevant and extraordinary skills being able to strike a deal as per the conditions of the clients is comparatively higher.
Read Also – 7 Tips To Qualify For Legal Aid
CONCLUSION
When approaching an expensive law, be assured that your case is dealt with by proper professionals. Expensive law firms are more preferred because be it any investment, and people prefer to have a win-win ratio. This win-win ratio is guaranteed by the expensive law firms because of their well-placed strategy and intellectual professionals. The one who can afford the legal services of an expensive law firm prefers going for one so that that yields the profit.