What's new on the Kulbhushan Jadhav ordeal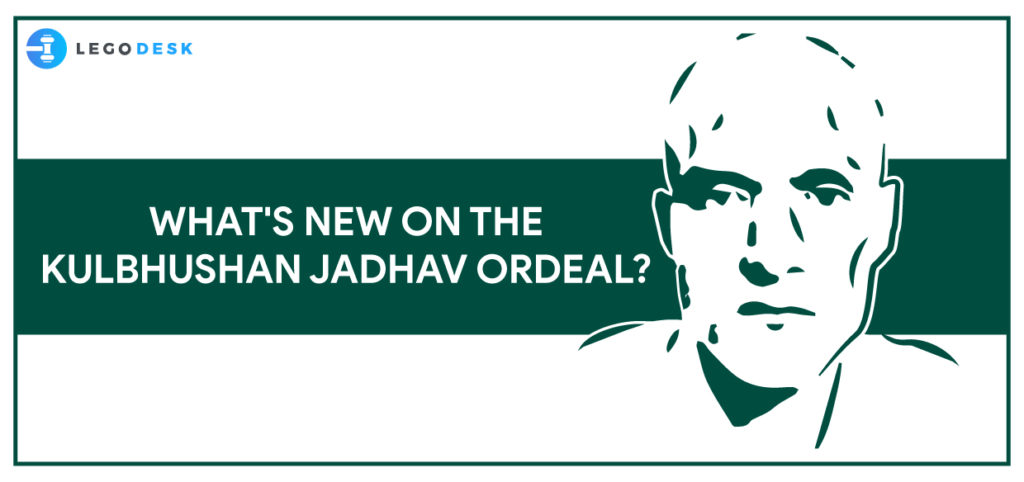 Background Of Kulbhushan Jadhav
Kulbhushan Sudhir Jadhav- the name would ring a bell to any who is up to date with the latest ongoing controversy between Pakistan and India. One side claims that he is a spy and a terrorist while the other argue him to be nothing more than a civilian. That is, a civilian who was kidnapped from Iran, moved to Pakistan and framed for espionage and terrorism connected to problems in Balochistan, a province in Pakistan. Balochistan continues to be under threat of terrorist attack which Pakistan has accused India of having links to.
Since March 2016, he had been in the custody of Pakistani authorities. They suspected that he was a serving commander in the Indian Navy and arrested him during a counter-intelligence operation in Balochistan. The Pakistani authorities also claimed that he had illegally trespassed into Pakistani territory from Iran for this purpose. Furthermore, they claim that he had an Indian passport wherein his name is "Hussein Mubarak Patel." None of these allegations was accepted by India and was instead denied.
To add to a blow to India's side of arguments, Pakistan, after communicating the issue to the High Commissioner of India in Islamabad, released a video in which Mr Jadav appeared to be confessing to his involvement in espionage in Pakistan. It further went on to mention that it was in connection with India's foreign intelligence agency- Research and Analysis Wing, also known as "RAW."
Trial in Pakistan
A trial had commenced before a Field General Court Marshal in Pakistan on the 21st of September, 2016. Mr Jadhav was tried under Section 59 of the Pakistan Army Act of 1952 and Section 3 of the Official Secrets Act of 1923. The former deals with Civil Offences and punishment regarding the same. It was all that was needed to sound the death bells for Mr Jadav's case. The latter deals with offences and penalties related to espionage.
It is also to be noted that he was provided with a lawyer qualified field officer for the purpose of his defence. This was followed by a letter sent to the High Commissioner of India in Islamabad seeking assistance in providing evidence and material for the criminal investigation against Mr Jadav. The trial ended, and on the 10th of April, 2017, Mr Jadav had been sentenced to death as announced by Pakistani authorities.
India steps up at the International Court of Justice
India, after Jadav's sentencing, followed up with an application regarding this case and violation of human rights by Pakistan to the International Court of Justice, the Hague, Nederlands. The Court had accepted the application due to both India and Pakistan being signatories to the Vienna Convention. The Court found that it had jurisdiction to view the case upon Article 1 of the same convention which states that it applies to treaties between States. Pakistan had objected to the application with three objections, namely: abuse of power, abuse of rights, and unlawful conduct by India.
What the ICJ found
The ICJ had rejected all three of Pakistan's contentions against India. Moreover, the court had acknowledged and stated that Pakistan had failed to inform Mr Jadav of his rights. Pakistan failed to do so while arguing that the Convention does not apply to an individual suspected of espionage. The Court had observed that Pakistan also failed to inform India about the arrest and custody of Mr Jadav. The notification regarding the arrest was made after three weeks of the same. This is in contravention to Article 36 Paragraph 1 (b) of the Convention, which mentions the words "without delay." The Court had concluded that Pakistan had breached their obligations by not providing consular access to Mr Jadav, even after India requested for the same.
During the judgment made and with regard to the points mentioned above, the Court had concluded that Pakistan had breached their obligations and also violated rights such as that to a fair trial. Thus, for the furtherance of the same, the Court had judged and declared that Pakistan is under an obligation to provide, by means of its not unqualified choosing, effective review and reconsideration of the sentencing and conviction of Mr Jadav due to the violation of rights as mentioned under Article 36 of the Convention. The votes, on all the contentions, by the judges of the court, were fifteen to one. The dissenting votes were cast by Judge ad hoc Jillani.
The judgment was released on the 17th of July, 2019.
Critical Analysis and Conclusion
With respect to the judgment, purely on a legal point, it is not impossible to agree to Judge ad hoc Jillani's dissenting opinion. There is still no conclusive proof as to the actual identity of Mr Kulbhushan Jadav or Hussein Mubarak Patel- as his passport mentions. It should be noted here that India argues that "it does not accept that in the first instance such a passport was recovered from Jadhav" and this appears true because Pakistan failed to inform India about the arrest and custody of Mr Jadhav. How he was found in Pakistan from Iran was not conclusively answered either, it may be a ploy of the Pakistani Intelligence Agency that Mr Jadhav was kidnapped from Iran's soil and later on taken to Pakistan. The Court dealt more with Pakistan's violation of obligations assigned under the Vienna Convention. Due to this lack of natural justice, the Court was right to find that Pakistan was to reexamine the trial.