Section 147 of the IPC – Rioting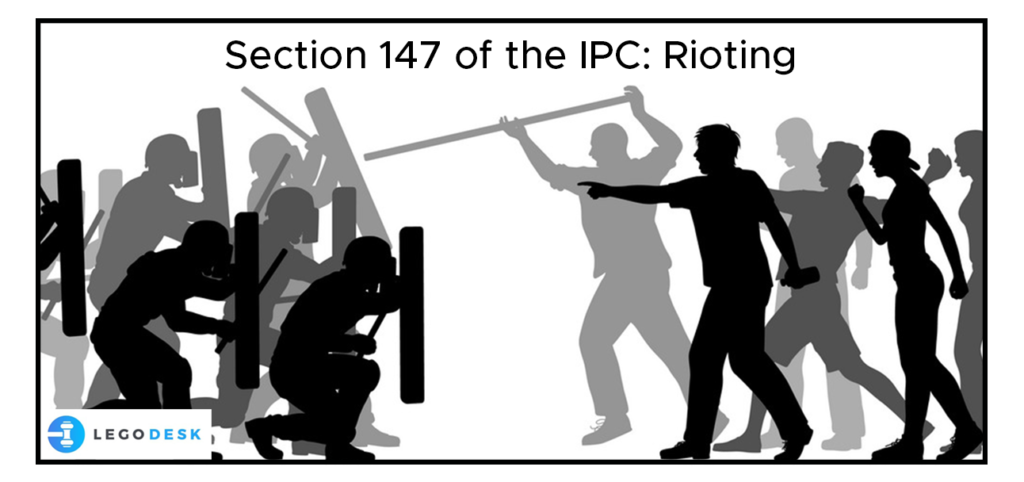 Introduction to Section 147 IPC
Section 147 of the IPC (Indian Penal Code) provides Punishment for rioting. It states that whoever is guilty of rioting, shall be punished with imprisonment of either description for a term which may extend to two years, or with fine, or with both.
What constitutes to rioting has been defined in section 146 of the IPC as whenever force or violence is used by an unlawful assembly, or by any member thereof, in the prosecution of the common object of such assembly, every member of such assembly is guilty of the offence of rioting. Which simply means that when a group of people come together unlawfully and perform anything (in order to achieve a common goal) using force and violence, every member of that group is guilty for committing the offence of rioting and they could be punished with a term extending to two years, or with fine, or with both. Though the word 'force' is defined under section 349 of IPC, violence has not been defined specifically in the Indian Penal Code. But violence is a much wider concept than force because it includes force not only against other people but also against inanimate objects like property.
The offence under section 147 of IPC is cognizable (the police has the authority to arrest the person without a warrant), bailable (bail is a matter of right) and non-compoundable (the Victim and the accused can not reach a compromise to settle the case, a full trial has to be conducted in the court). Accused persons can exclusively be punished under this section even if they could not be convicted for the offence they committed while pursuing the common purpose.
This is the case with simple rioting, but when deadly weapons are used in riots, the punishment varies. Punishment under section 147 relates to only the cases of simple rioting, punishment for rioting with deadly weapons has been separately prescribed under section 148 of the IPC. Section 148 of IPC states that whoever is guilty of rioting, being armed with a deadly weapon or with anything which, used as a weapon of offence, is likely to cause death, shall be punished with imprisonment of either description for a term which may extend to three years, or with fine, or with both.
Merely the use of force by a group of people does not render them liable for rioting. If the common purpose is not illegal, then the use of force by the assembly will not amount to rioting. And if force was being used by the assembly for a lawful purpose but a sudden quarrel broke out without any pre-planned manner and eventually led to violence, it would not amount to rioting. Generally, it happens that people or spectators gather around the place where the rioting is happening. These spectators should not be considered to be the members of the unlawful assembly. However, if someone is found to be marching with the assembly for quite a distance, they would have to prove their innocence under section 106 of the Evidence Act.
England's King Bench of the High Court of Justice defined in the decision of Field v Receiver of Metropolitan Police, [1907]2 KB 859, the 5 elements of rioting to be:
The group should have a minimum of three people
There should be a common purpose
The Inception of that common purpose
The intent to help one another by force against any person who opposes them in the execution of their common purpose
At least one person of reasonable firmness should be alarmed by the display of this force or violence
In Vijay Singh Mankotia v. State of Himachal Pradesh, more than 200 people of a political party were gathered on a public highway for a 'dharna' against the state government. This caused unlawful restraints to others who were supposed to travel on that highway. The Himachal Pradesh High Court observed that it amounted to public nuisance and rioting. A prima facie case was made out against the petitioners for the commission of offences that are punishable under section 147 of the IPC.
Indian Penal Code
The Evidence Act
http://www.duhaime.org/LegalDictionary/R/Riot.aspx