Important subject for becoming Lawyer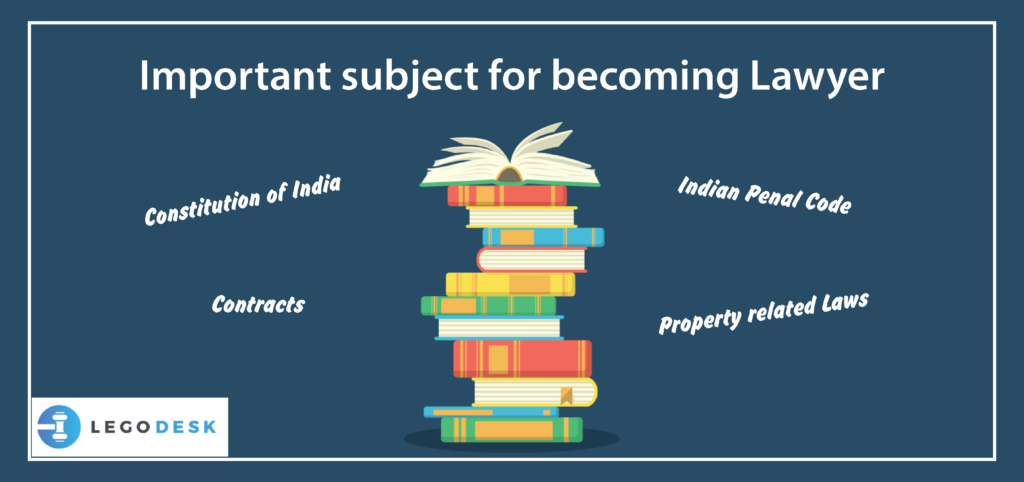 The Law field in today's time is one of the most respected, reputed and always a field of much demanding. Initially this field has certain areas like civil or criminal, but with the growth of globalization, complexities of business companies or organizations and industries have also increased tremendously, and ultimately this becomes the important reason for making of rules and regulation, control and monitoring of the business as well as industries by the government through different number of laws and amendments to the existing laws.
Becoming a lawyer is not an easy task, as we all know. Choosing law as care means we are ready to continue our studies even after graduation. The whole process takes a lot of time, lots of effort, and intelligent choices to begin a career in law. It basically starts by selecting the right classes. Even though you don't need any specific ones to get into the school of law, certain subjects can help your chances and boost up your confidence in the same field. Becoming a lawyer as we discuss above is no cakewalk, but it is a comprehensive education that will ensure a sweet career for an individual.
The present article is all about the list of some important subjects which a lawyer shall be aware of in the lawyer making the process. But before going further, we also need to understand what kind of educational qualification a person can require to enter into the law field: –
Educational Qualification for Law: –
For entering into the law field for a career, one must have to complete his graduation in the field of Law, i.e., LL.B. (Bachelor of Law) from any recognized University. Further, the candidate has also to ensure that the college or university in which he/she wishes to do the course of law is approved by the Bar Council of India (BCI). If not, then the degree of law is not valid to practice as an advocate.
The course of law is a highly dignified and reputed course. The course is also considered as a professional in nature. Professionalism is a separate subject to study while in college. Please do remember that this course, that course of law is not available anywhere in India on a distance learning basis or an online mode of study. And if any Institution is making such kind of claim, then it should be some kind of fraud because LLB is a full-time course - classroom-based . and if these things were there then only approved by Bar Council of India (BCI).
Important Subjects: –
There is generally no specific undergraduate course requires for becoming a lawyer. The mandatory subjects include torts, contracts,
criminal law
,
property laws
, and constitutional law along with evidence law and some procedural law like
Code of civil procedure
for the case civil in nature and
Code of Criminal Procedure
for the case which is criminal in nature. Each and every state's bar exam also gives more weight to these subjects.
1. Constitution of India-
Encompasses constitutional rights in the Indian constitution. Some of the more popular constitutional law topics include civil rights, abortion, commerce, trade rights and the specific roles and power limitations of the branches of the government. The objective of the subject is to make understand the lawyer that the importance of the constitution and make sure that the state may not infringe any individuals' rights.
2. Contracts –
Encompasses of the provision like a fraud, coercion and also make understand that what kind of agreement is a contract as not every agreement is a contract and what type of agreement is not enforceable in a court of law.
3. Property related Laws-
Property related law deals with a person's ownership rights in his or her own personal or real property, though the vast majority of property law revolves around issues dealing with land and real estate. Some of the more popular topics in property law include easements, the rule against perpetuities, landlord and tenant rights, gifts and mineral and water rights.
4. Indian Penal Code-
Indian Penal Code
is a punishment law in India. A very important subject to study in law school if someones want to be specialized in the criminal field. Evidence law always plays a vital role as a true friend of the Penal Code as criminal law is a kind of trial in the court of justice, which must be proved with the support of Evidence law.
Important Procedural Law-
In India, there are two important procedural law exist, COde of Civil procedure and Code of Criminal Procedure. Is also an important subject for a lawyer because all the procedure were defined under this. So basically Procedural law is the collection of rules and regulations that govern how courts of law do their business. All levels of court and all types of courts use procedural law. Procedural Law actually controls how courts hear cases. It also tells what a party must do in order to bring their case before the court.
Lastly, These are some important subjects which an individual needs to become a good lawyer.
As in the law profession, there is certain specialization like Corporate, Criminal, Civil, Cyber, Forensic, taxation, Family, etc. but the above-mentioned subjects are the subjects which you may find everywhere. That is why most of the judicial services exam questions 90 % pattern have relied on those subjects.