Merger of Hindustan Unilever Ltd (HUL) with GlaxoSmithKline (GSK)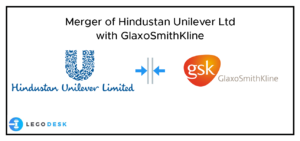 Introduction To Hindustan Unilever Ltd
Hindustan Unilever Ltd (HUL), the Indian unit of Unilever Plc, will merge GlaxoSmithKline Consumer Healthcare with itself in an all-stock deal that will give the nation's biggest pure-play consumer products company access to Horlicks, Boost and Maltova malted beverages brands and in addition distribution rights for a five-year time span over-the-counter and oral care brands, for example, Sensodyne, Eno and Crocin.
The merger esteems GSK Consumer Healthcare at Rs 31,700 crore and its investors will get 4.39 shares of HUL for every one of their shares. After the merger, which is required to be completed in a year, Unilever's holding in HUL will tumble from 67.2% to 61.9%. GSK Plc will turn into the second-biggest investor in the merged entity with a 5.7% stake. It can offload its stake to any investor and Unilever does not have exclusive rights to purchase these shares.
Read Also – 7 Key Points About Consumer Protection Bill 2018
Boost, Viva and Maltova brands will be claimed by Hindustan Unilever.
In any case, the Horlicks brand, which is as of now possessed by GSK Plc, is being gained by parent Unilever and HUL will pay the royalty for its utilization in India.
"This is a very strategic and transformative move for us. Once the merger is complete, we see significant synergies in terms of top line and costs," said Hindustan Unilever chairman Sanjiv Mehta on Monday. "From the lens of Indian consumers, health and wellness is a big need. This (the merger) squarely fits into that space and (it) makes immense sense to get into this category from a strategic point of view."
HUL shares bounced 4.12% to close at Rs 1,825.90 on the BSE. GSK Consumer Healthcare shares rose 3.75% to close at Rs 7,542.85 each, converting into a market of cap Rs 31,721crore.
The merger will fundamentally reinforce HUL's food and refreshments portfolio.
With GSK Consumer Healthcare's yearly offers of Rs 4,200 crore, HUL's incomes for this business will surpass Rs 10,000 crore after the deal is completed, making it one of the biggest food companies in the nation. GSK's brands will likewise observe a three-fold bounce in distribution since HUL comes to over 8.2 million retail outlets in the nation.
Read Also – Food Laws in India
"The potential deal is win-win for both the parties as the acquisition of strong brands in the health food drinks category would enhance the margin of HUL's food business by 900 basis points to 27% from current 18% of sales with sustainable profitable growth. The deal is also positive for shareholders of GSK Consumer in view of better value under the share-swap deal," said Kaustubh Pawaskar, research analyst at BNP Paribas.
Notwithstanding the India leg of the exchange, GSK Plc is likewise moving its 82% stake in GlaxoSmithKline Bangladesh Limited and other related brand rights for GSK's purchaser healthcare nutrition exercises in certain different regions to Unilever, for which it is expected to get cash proceeds worth £566 million, or Rs 4,987 crore.
This could be the last M&A movement under active Unilever CEO Paul Polman. A significant number of Unilever's ongoing acquisitions have concentrated on beauty and personal care products.
In March this year, GlaxoSmithKline Plc chief executive Emma Walmsley had reported a vital review of Horlicks and other purchaser healthcare nutrition items, including that the company was exploring a partial or full sale of its stake in Indian subsidiary GSK Consumer Healthcare by the year-end.
Read Also – HIPAA compliance for companies – What it means
This was activated by GSK hoping to help finance its $13-billion buyout of Novartis' stake in their shopper/consumer healthcare joint endeavor.
A few driving customer goods companies had revealed an interest in the buyer healthcare nutrition business, yet Unilever at long last edged past Nestle in a competitive auction.
GlaxoSmithKline Plc chief strategy officer David Redfern said India remained an essential market for his company.
"The company will continue to invest in growth opportunities for its over-the-counter and oral health brands, which include Crocin, Eno and Sensodyne," he said. "The final amount of net proceeds received will only be determined once the shares in HUL to be received have been monetized and after hedging costs, taxes and other expenses have been settled."
GSK's worldwide shopper nourishment business, which basically contains malt-based refreshments, produced £550 million of every 2017 and generally, 80% of the sales came from India. Horlicks is by a wide margin the market leader in the malt-based drinks segment in the nation with 43% share followed by Mondelez International's Bournvita, which has around 13% share.
Customarily, this has been a solid segment and generations of Indians in urban territories have grown up drinking Horlicks. Yet, development has backed off in the course of recent years in India as buyers progressively move to specialized items made by nutraceuticals companies, for example, Abbott and Danone.
This has provoked some to depict the deal as an 'expensive acquisition' for HUL. The deal size is more than seven times the revenues of GSK Consumer Healthcare and around five times the estimation of the whole malted drinks category. A senior executive of a purchaser goods company that had at first shown interest in Horlicks said the brand had a decent review however it had the 'senior citizen' label attached to it. "It doesn't resonate well with the young. Also, you can become a target for NGOs and activists because it is a sugary drink," said this individual.
Read Also – Food Adulteration Act, 1954
In India, the packaged food and beverages market is vigorously skewed toward biscuits, salty snacks, and aerated drinks and is worth about Rs 75,000 crore in size. Healthier segments, for example, malted refreshments, cornflakes, and oats stay on the edges.
HUL, in any case, is cheery about the merger and development prospects.
"In the medium term, we see that we will grow this business in double digits, and given the synergies on the cost side, there is potential to increase margins between 800 to 1000 basis points at 8% to 10%," said Srinivas Phatak, the chief financial officer at HUL.
Throughout the years, HUL has battled in the packaged foods section, particularly in the low-edge business. The producer of Knorr soup and Lipton tea has been concentrating on core packaged food and drink brands with higher edges and exited tea plantations, oil, fats, and biscuits businesses. It additionally moved out of the bread and bakery business under the Modern brand.
This year, HUL consolidated its food and refreshments business into a single division to expand agility. The combined business — including Knorr soup, Kissan jam, Bru coffee, Lipton tea, and Magnum ice cream— represented deals worth Rs 6,328 crore, or less than a fifth of HUL's overall sales in FY18.
While HUL drives the market in sections, for example, soups, jams, and tea, the size of these categories are significantly smaller than most mass segments in the foods space.
For Unilever, however, food is a core growing business and was the second-biggest category until a year ago. After Unilever merged it with the refreshments portfolio, the consolidated business represents 41% of sales and is headed by previous Hindustan Unilever CEO Nitin Paranjpe.