How Clients Hire Their Lawyers?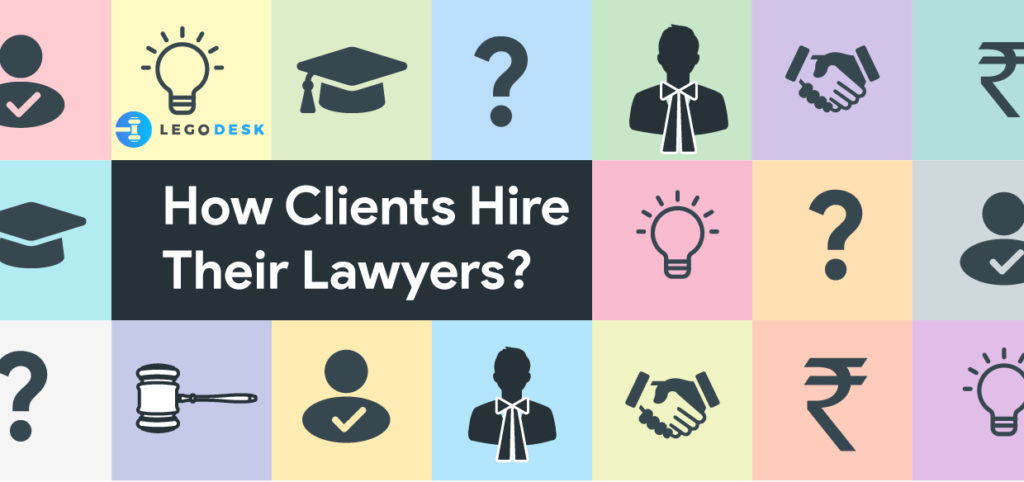 Not every matter which has a certain relation with the legal field requires the use of a lawyer. But, in many situations involving a legal dispute, challenge, or deal, it is required. Everybody may not wish to take the risks of going it alone without consulting any expert in that particular area, who can help you out from your legal issues. In fact, while if we have a good legal representation, it can help us to get out of a number of problematic situations. Each and every person's legal situation is different from many aspects, as there are actual requirement or necessity when we really should hire a lawyer. Failing to work with an advocate in most of the instances may lead to some kind of losses to the clients like broken agreements, lost claims, or even prison time. That is why it was suggested that for any kind of legal remedy, an individual should have to hire a lawyer.
Why we need a Lawyer-
The present article is all about the discussion of what type of qualities a client may see before hiring a legal person as their representative. Before going further here is some list of reasons why an individual needs to hire an advocate compulsorily for any kind of legal dispute.
Firstly, the law is considered as very complicated although the govt. Has implemented many laws regarding every subject, for every wrong done, so understanding our issue in a better way we need to hire a lawyer.
Secondly, sometimes having a legal representative may save your money and time as if we have no idea regarding a legal matter, what can we actually do except wasting our time and money over the unnecessary thing, that is why not having an advocate may cost you more.
An advocate is a master in the process of negotiation and settlement. Along with that, Pleading guilty or admitting fault in the court of justice isn't the only choice, even if there is some evidence pointing directly at you. In this context, the advantage of hiring a lawyer is, they can discuss all your options in detail and can help you to avoid heavy penalties even before a trial begins.
Hiring a lawyer-
So above discussed are some reasons why an individual shall need a lawyer for their cases. Now we return to our actual topic how clients hire a lawyer, what kind of quality or attributes they actually wanted in person who is going to represent his or her in the court of law. There are certain things which a client shall take into consideration before hiring an attorney, for example, he must be aware of the fact with whom he or she is going deal with because one mistake may create difficulty for them at various stages. Also, a client nowadays has done research on factors like fee and costs, the agreement of payment, what type of services they provide, these types things matters a lot for a client before hiring an attorney. Also, a client must be aware of the actual deal which both the parties have consented, and that consent shall be in the form of Consensus ad idem which means the consent forms for the same thing in the same sense.
Most of the legal fraternities were in the opinion that, the way consumers shop for goods, and their services have changed radically over the last few years, it also has some overwhelming effect on legal services parts in the country. The things that clients want from the attorney to whom they are going to hire is basically —sharing of the document, transparency in pricing, digital mode of payment is also one of the growth factors for the clients—although these things are yet to incorporate in various field of legal sector these are considered as the important factor in the legal services area. Though many people find lawyers through an online search (based on the survey which is conducted by some news channel or magazines ), and most clients still find lawyers through a reference from their friends and family, so it's mandatory to maintain the reputation in the service as much as you can. Lastly, along with these, all the factors one most important factor in a number of cases that a lawyer dealt with, also increase attorney chances to attract more clients outside their chambers.
Following are some little list again which clients may also consider before hiring an attorney for themselves-
Qualification– Qualification is the first essential criteria which clients may look upon (but not in detail), as from there they presumed at what level this attorney may be effective for themselves.
Expertise – after qualification, the next step for a client is to see in what area that lawyer is commonly practising whether their practice area or the lawyers' because it is necessary to see that specialization of the attorney in some particular field does fall under their ambit of the client's issues or not.
Ethics and honesty– It also plays a very vital role to play, as all the clients do want to work with someone relatable who would not screw them. And a client testimonial is one of the great ways to show this in addition to the winning record.
Lastly, Trust, as without trust between the partners, there exists nothing so apart from all the factors this thing must exist as this is considered as one of the prominent parts between attorney and client relation.
Conclusion-
As there are many types of situations that may arise in each and everyone's life when there is an urgent requirement for legal help. In our country, finding and hiring a lawyer who you think is perfect to represent you or advice you is considered an art in itself. A Lawyer is a person who plays a very significant role in providing you justice. That is why it is very important for every client to choose and hire the right advocate for themselves. So, the above discussed are some potential qualities that a client must see before hiring a lawyer.