Contracts- Not just Legal Documents but a Human Process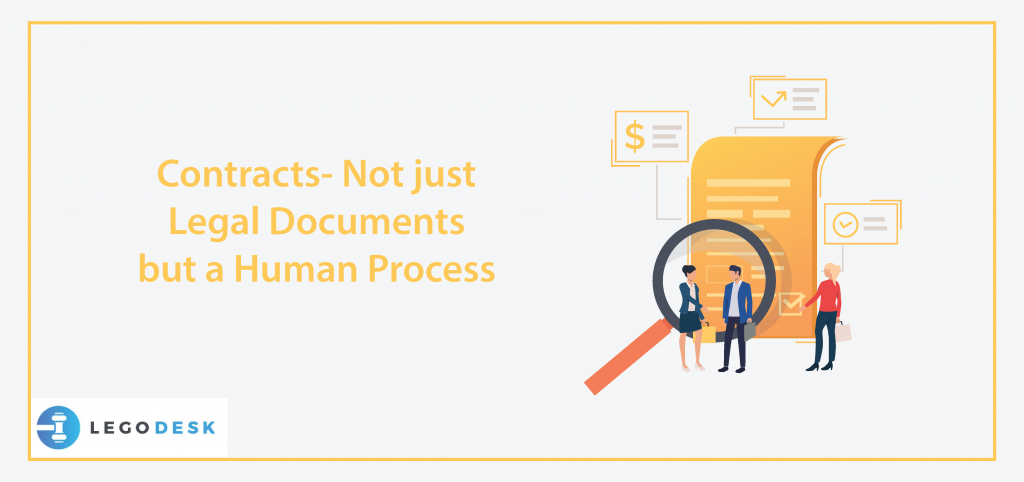 Introduction
One cannot overlook the importance of contracts while examining law at a grass-root level. Contracts and the law surrounding the same exists even in minimal interactions between humans. The study of contract law has provided students of law and lawyers with a multitude of case laws. These case laws have established principles of law regarding contracts which are now also crucial to other subjects of law.
If we think about other areas of law, apart from criminal law, we see the relevance of contracts and whether they are valid, and their execution, becoming a crucial contention in a case. Even in criminal law, it can be observed while examining abetting or conspiracy.
Contract Drafting and Human Touch
Before moving onto further explaining this topic, it becomes important to understand the modern-day meaning of a contract. A contract is globally accepted, by every legal system, to mean a legally enforceable agreement. It is not always required to be a tangible document. It binds parties involved with rights and duties bound by the contract. A contract can only be legally valid if it follows the provisions of the domestic contract legislation.
Now, why is it not always required that it should be a document? If we think about it, a contractual document becomes the main or only evidence, if you have to argue a case. But is it even remotely possible to enter into documented contracts with every purchase you make Sure, we are provided with a ticket or receipt after paying for it on a bus, but not every vegetable vendor or a fish market would hand you a bill for payment? Moreover, this is not legally required either as it becomes a quasi-contract or an implied contract. However, a court can still take cognizance of such a case by assuming the existence of such a contract.
Contract law goes beyond the simple scope of a tangible document. It examines external forces at play which are human in nature. Of course, criminal law looks into the mens rea of the accused along with the action. Similarly, contract law looks into the intention and the end to be achieved by such. Misrepresentation, fraud, undue influence, or other illegal contracting are considered vitiating factors to such contracts where such methods are employed. Having a dominating position to exercise undue influence or misguide a consumer through misrepresentation or committing fraud to cause a party to enter into a contract can be prima facie seen as methods of human manipulation. Such acts are condemned by contract law as they would result in unjust enrichment to one party at the cost of loss to the other. The ability to void such contracts, by means of law exhibit, how free consent is sought to be protected, and how contracts lacking such free consent is seen as illegal by a court of law.
At a first-hand glance, we can understand that the concept of a quasi-contract evolved during the early human civilizations. It was made into such law during the Roman Empire era. The court, under any law, would recognize it as a fictional contract. "Indebitatus assumpsit" becomes the legal principle in play- in order to assume that unjust enrichment is avoided, for the purpose of justice, as if a contract had been entered into.
The human process element in the above-stated principle becomes evident. It shows contracts as a natural outcome of an interaction where a commercial or operational goal is involved. If two people wanted to perform a commercial obligation, which is not of a hefty consideration, they would avoid entering into a documented contract for the purpose of a quick completion. However, if the consideration is of a decent amount and the parties require that liabilities be attached, then it becomes imperative that the contract is documented for the purpose of enabling enforceable legal action.
Hence, it can be seen in every part of a contract that human action becomes necessary. Firstly, it becomes necessary to show that free consent was involved and that there was no human manipulation with illegal intent. Secondly, the liabilities, rights, duties, and execution of the contractual obligations require following through with the human process. The entire completion of performance of their part of the contract lies in action by whichever party. It can be seen from this analysis that a contract exists practically as a human process which exists technically as a documented or fictional agreement.