Setting up a law firm as a first-generation lawyer
Setting up your own law firm could be a fruitful next step in your legal career. However, as a first-generation lawyer, you'll need to learn how to think like a business owner in addition to practicing law. The time it takes for a new lawyer to succeed is shorter than it has ever been, and all lawyers face difficulties transitioning from school to practice. However, first-generation lawyers may face an even more difficult road ahead.
Practicing law has never been an easy task, whether for a first-generation lawyer or someone with a long legal history. As a first-generation lawyer, there are numerous obstacles to overcome in establishing an independent law firm. Some of them are.
Challenges in setting up a law firm
1. You start from the ground up
You have no clients, no office, no money, and no credibility in the courts when you first start out as an independent litigation lawyer. If your family already practices, you can get all of this information before you start.
2. Revenue
Naturally, there would be little or no money when you begin your solo practice. This isn't to say there won't be any money coming in, but the expenses will outweigh the profits. In any business, it takes a few months (or longer) to break even.
3. Work
You do not have control over the work you obtain as a new independent first-generation lawyer. Also, because you'll be looking for clients, anything that comes your way will be a blessing. So, even if you're an expert in cross-border mergers, venture finance, or international humanitarian law, you'll have to deal with simple bail applications from clients.
4. Framework
You'll need a few basic items to work as an independent first-generation lawyer, including an office, a small library, and legal management software subscription, a law clerk, and a few machines like a computer, printer, and photocopier, among other things. To handle bills and files, a systematic procedure must be implemented. All of this costs money, which you have yet to earn as a result of your practice.
5. Advertising
Because you can't advertise as a lawyer in India, you have to rely on your reputation and the word of mouth of others to spread the word that you're a skilled lawyer who people should approach. On paper, this may not appear to be a difficult task, but once you start asking for money in exchange for your services, that 2000-member Facebook friend list begins to appear little.
These difficulties will undoubtedly arise, and they will affect practically everyone who embarks on this journey.
These are issues that everyone faces, and as time passes, each of these issues is resolved on its own. Before you join the independent practice area, you must concentrate on being well prepared. So, to help all the first-generation lawyers, we are discussing some tips to overcome these challenges.
Tips to overcome the challenges of setting up a law firm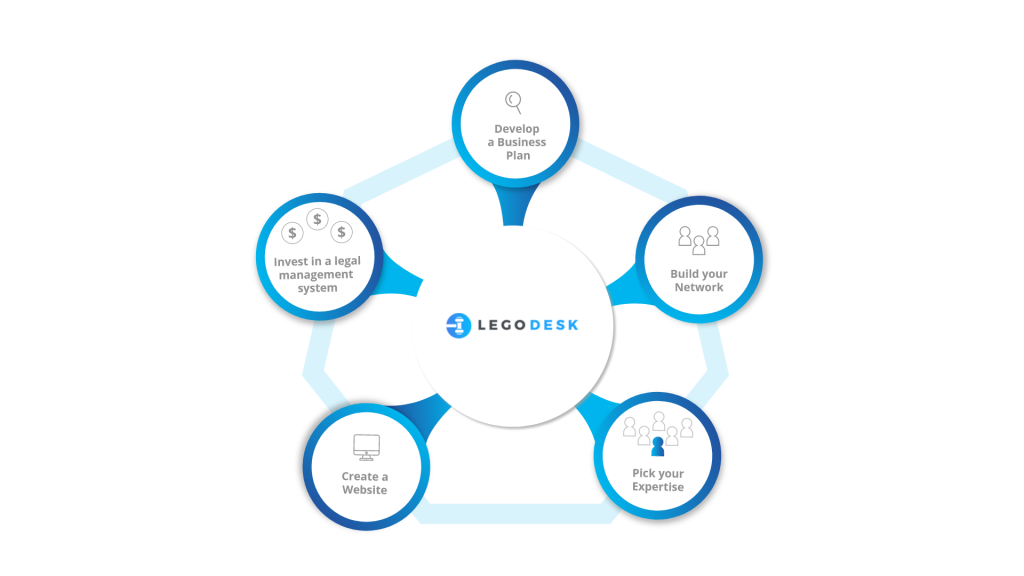 1. Develop a Business Plan
Before launching a law firm, make a detailed business strategy. This includes creating a goal statement, understanding your company's competitive advantages, budgeting, and developing a marketing strategy. This will offer you a clear picture of what your company will look like in the future and allow you to plan accordingly.
2. Build your Network
Get to know and befriend the practicing lawyers in your area. You'll eventually figure out where to get your initial clients because you'll meet them frequently. Many of the competent attorneys will gladly assist you.
3. Pick your Expertise
Do not make the error of accepting any and all cases that come your way. You'll wind up in the middle of nowhere. A better strategy is to choose a niche that you are passionate about. For example, your specialty could be defending criminal cases or divorce cases. You might be more interested in dealing with financial cases. You will avoid being a competition to everyone if you choose your specialization based on your skills. Only a small number of lawyers in your area of specialization will be your competition. You may easily construct a referral network this way.
4. Create a Website
Not all of your potential clients will come to your law firm's physical address. Many of them will look for your firm online initially. As a result, establish a professional website with all of your law firm's details.
Make sure the design of the law firm's website is user-friendly. The color scheme, typefaces, graphics, and other design components will communicate a lot about your company and profession.
5. Invest in a legal management system
This quick tip is the most important and helpful for today's first-generation lawyers. A good legal case management software will help you manage and automate your maximum administrative tasks so that you can completely focus on your legal practice.
However, you can find several options in the market to manage your legal practice and law firm but Legodesk is one name that is emerging right now. Thousands of lawyers throughout the world rely on Legodesk, a cloud-based legal management platform. It gives you an easy-to-use legal management system so you can keep track of all of your case materials in one spot, create and generate custom form templates and documents with only a few touches of your fingers, keep track of your finances and expenses, assign daily tasks to your team, and so much more.
Read Also – Guide to starting a solo practice law firm in India
Conclusion
Setting up a law firm as a first-generation lawyer is difficult, and not everyone who joins succeeds, yet it is the foundation of the legal system. Before you decide to enter, weigh your options and examine all of your assets and responsibilities. This eliminates the chance of having second thoughts. Don't leave any stone unturned once you've made your decision.