3 Strategies To Get More Estate Planning Clients
Estate planning is one of the most competitive niches of the legal profession and legal industry. Some families and clients already have trusted estate planning advisors they recommend to their relatives and friends.
But there's still a lot of business and potential clients for law firms who are still looking to develop their estate planning clientele. Especially during this ongoing pandemic, many people have become more conscious of the need to plan for their estate transfer and distribution just in case something untoward happens. You can check the best estate planning law firm websites and other similar sites to know more about the services.
1. Send Out Shorts
Estate planning is very competitive. Some law firms even had to sign up legal firm marketing consultants to help them attract more clients and new business.
There was a time when holding seminars and speaking at forums related to estate planning was one of the most effective ways to get new clients. They just loved hearing the answers to some of the questions they've always wanted to ask. But you can't do it now with the social distancing protocols set to contain the pandemic.
A possible alternative to forums and seminars would be to hold them online as webinars. It is what several law firms are doing. But you need to entice them in before you can persuade them to log in for something that will take two or three hours of their afternoon.
What you can do is to send out shorts. These are short video clips where you answer one common question or concern. You can pick those which have a bit of twist or nuance. It's like making one video for each one on your list of frequently asked questions.
2. Make The Most Of Your Website
You should make the most of your website. Your website is one of your most powerful platforms for promoting your estate planning services. In this digital world, you should treat your website as if it's your own office on the internet. Your website should look attractive and appear to your visitors where they can trust.
Your website should appear professional but welcoming. When people see your website, they must feel that it's alright to get in touch with you. Put some pictures of you and your lawyers facing the viewer with warm smiles, as if you're just across the table. You can also post about the estate planning checklists they'd need to prepare.
Consider hiring a professional web design and development firm or consultant to build a website that will match your needs as an estate planning law firm. They should convey the branding and messaging that you want to impart.
Consider that majority of internet users nowadays access the web through their mobile phones and other mobile devices. Your website should have a version for those who want to access it from their smartphones or tablets. Since more than half of users surf the net using their smartphones, you should consider directing your website's messaging towards this market segment. Tailor your website functionalities to different devices used by your audiences.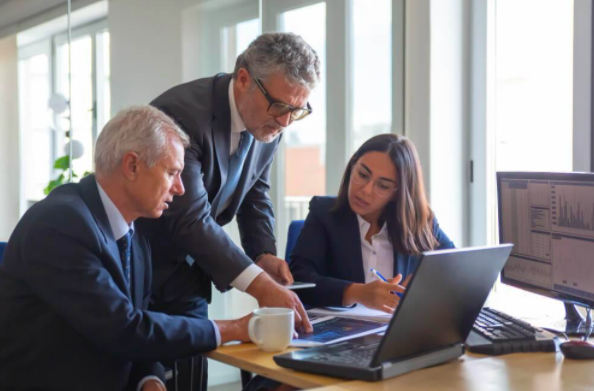 3. Make The Most Of Online Word Of Mouth
Before the rise of the internet, one of the most credible sources of endorsements and referrals in the legal profession and industry was word-of-mouth. Clients hired lawyers and estate planning advisors based on the recommendations of their family, relatives, or closest friends. Most of those who gave good service and delivered the results that their clients expected were referred.
People talk about their problems and concerns with their family, relatives, and close friends. And they'd inevitably be able to compare the services rendered by an estate planning law firm with another law office. It is of particular importance in estate planning concerns because these matters usually followed after an unfortunate episode with the death of a parent or clan patriarch.
In this digital era though, word-of-mouth has taken on a new form and dynamics. With almost everybody online, relatives and friends usually learn of the demise of a person when the family posts statements or announcements on their social media walls. Within a few weeks or months after the funeral and burial, family members would usually crowdsource their search for a recommended estate planning lawyer if they don't have one yet. This is when family relatives and friends send their recommendations and refer law firms.
You can make the most of online word of mouth by documenting the referrals and recommendations that you receive online. If other people refer you or post your law firm's credentials, it would be best practice to ask for permission to get screenshots of such positive comments and recommendations. It would be much better to make the person agree on being featured on your website or social media page as a testimonial or recommendation.
Conclusion
Estate planning can be a very lucrative and rewarding practice. But you have to keep a veritable pool of estate planning clients who'll be willing to pay your professional fees. To attract new clients and develop new business, you might want to consider implementing the various tips and suggestions enumerated in this article.
Michael Saunders often writes about issues and updates involving the legal profession. He is also a financial advisor and insurance broker. When not writing, Mike loves heading to white-sand beaches.