10 Legal Apps Every Lawyer Needs
In recent times the law profession is highly demanding and a large number of lawyers are expected to work remotely from their smartphones, tabs, laptops, or even PCs. In fact, they need these devices for communication, legal research, and a lot of other functions. Consequently, some mobile apps have become mandatory for lawyers if they want to carry out a hassle-free legal practice. For almost all the daily activities like collaborating with clients and colleagues, timekeeping, searching for information, and also for the management of their hectic schedules, mobile applications are their only savior. However, the good news is that there is an app for almost all the activities that lawyers might engage in.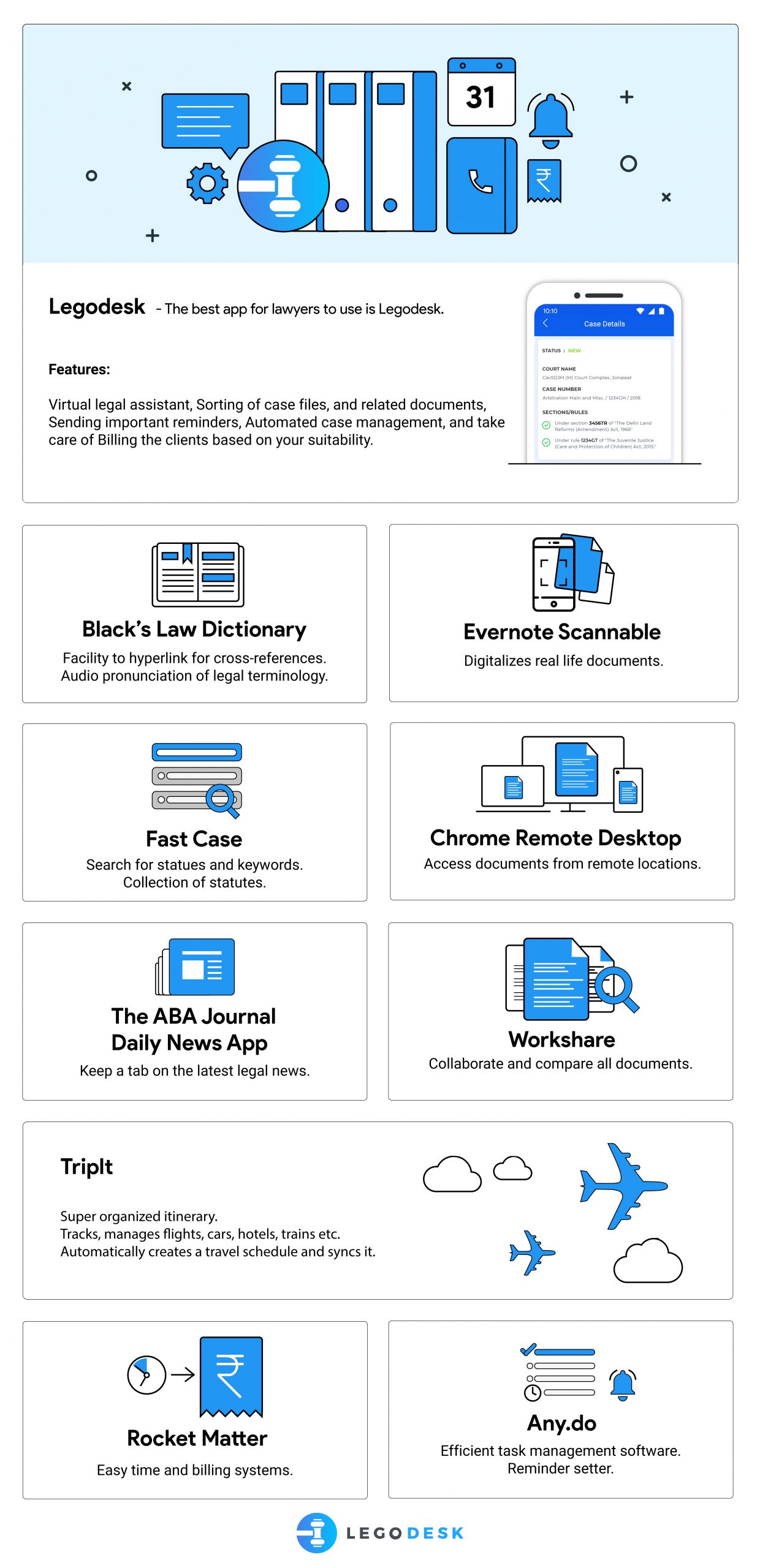 Here are the top 10 Legal Apps for Lawyers
1. Legodesk
One of the best legal apps for lawyers to use is Legodesk. Especially catering to Indian lawyers, this legal app can act as your virtual legal assistant to aid in the sorting of case files, and related documents, sending important reminders, automated case management, and taking care of billing the clients based on your suitability. It is one of the smart legal mobile applications for lawyers that lets them automate their legal practice.
2. Black's Law Dictionary
It offers the most widely cited law dictionary in the world. This mobile application has the facility to hyperlink for cross-references so that you can quickly relate to similar terms. Another advantage of this app is that it offers audio pronunciation of legal terminology.
3. Evernote Scannable
This app is simply superb. You will just have to point your camera at anything that is in writing and the app will capture the image. It also has the feature of automatically cropping it and rotating it and adjusting it accordingly. It can even remove creases from folders. You will be surprised when you see that the image looks so real. This app is really helpful for lawyers because they have access to files whenever they want. They will just have to capture the image in their camera for that.
4. Fast Case
It is an app that makes the American Law Library easily accessible to you. With this app, you will be able to search for statues and keywords with the use of keywords. Besides, you could also scroll through the collection of statutes to go through a particular statute. It becomes helpful for lawyers because they can refer to other cases as well when they are researching a particular case.
5. Chrome Remote Desktop
The ideal situation is uploading documents to Cloud Storage in case you want to access them from a remote location. But sometimes due to a particular reason, it may not be possible for a lawyer to upload a file in a shared location and they might have to access the file from their home or office computer. With the help of this app on a Smartphone, the lawyers will easily have access to such files.
6. The ABA Journal Daily News App
With the help of this app, you will be able to keep a tab on the latest legal news. In fact, you can even share articles through your email or social media network. The app provides you with the option of bookmarking the content so that you can refer to it later on.
7. Workshare
As a lawyer are you hassled and harassed collaborating and comparing documents? Stop worrying and turn to Workshare. It is considered one of the most efficient mobile apps used by lawyers. With the help of this app, a lawyer will be able to collaborate and compare all documents on the mobile device itself. The good thing about this app is that all changes that have been made in the document are synced across all the documents. The result is that lawyers are able to work more efficiently and the review cycle is shortened.
8. Triplt
There is no denying the fact that travel is an integral part of the legal profession. But for a busy lawyer, it might be quite taxing to keep an account of all his travel details. In that case, the app to go for is Triplt. With the help of this app, you can have a super organized itinerary. It tracks and manages flights, cars, hotels, trains, and other aspects of travel with ease. The good thing about this app is that it automatically creates a travel schedule and syncs it with your Google calendar, Outlook calendar, or Apple calendar and the result is that you can share all or part of your travel schedule with your colleagues.
9. Rocket Matter
Have you heard of this app? If not get it soon on your Smartphone. It will make things easy for your law firm. It is one of the most popular time and billing software systems available to small and mid-sized law firms. You can integrate this mobile app into time and billing systems without much effort and the result is ease of business.
10. Any.do
If you are a lawyer you must know the importance of efficient task management software. All your problems will be solved with this particular mobile application. It acts as a reminder setter and the result is that you can carry out your work with ease. With the help of this app, it is very unlikely that a lawyer will miss an appointment, hearing date, or filing of a case. Another feature of Any.do is that you can sync all tasks across devices. This way lawyers can concentrate more on their work instead of keeping a track of to-do lists and documents.
Anyone can design a mobile app, if anything there are multiple videos on how to make an app for beginners. But, it is not an easy task to come up with an app that appeals to one of the most formal professionals in the world- lawyers. However, with all these apps the lives of lawyers have become far easier and they can focus more on their core business instead of putting in time and energy on associated services.
Read more : 10 Best Online Productivity Tools for Lawyers