How to Start a Law Firm: 7 Things to Know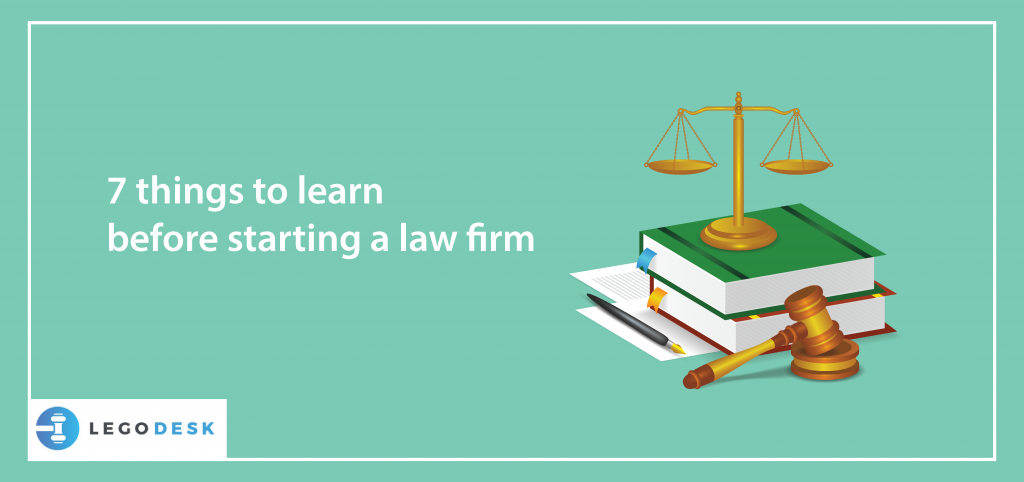 In India, a rough estimate suggests that there are more than 100 law firms of which some leading names are Sharadul Amarchand Mangaldas, Khatian, and co., etc. It is a dream for many to start their own firm and then practice. This step has its own pros and cons. If a fresher in the area decides to start one, majorly he is advised against it because of the new entry in the field. Being confident and having relevant knowledge can create wonders. In this article, some important pointers will be discussed which needs to be highlighted essentially before starting a law.
Don't forget to try our Exclusive case management software for Lawyers
7 Things you must know before starting a law firm
1. Find a good name and mark the online presence
This is only a marketing technique that will help us get clients, which ultimately will result in the growth of the firm. A good catchy name always attracts clients and builds a curiosity to understand the business and its nature.
In the era of technology, where people want to get every information with just a few clicks, it is an intermediary to be present online. Making a website helps to understand the queries of people better. Also, an added advantage for the public at large is to find your areas of expertise, etc., with just a click on your website.
2. Decide the area of expertise
Quantity is not always the deciding factor, but quality certainly is. Building a law firm can only function if we have specialization in areas where the client demands. A law firm cannot deal with all types of cases with just a few people. Experience and knowledge of subject matter are very pertinent to decide how the firm will grow. Having people who are experts in a subject will give an advantage. Initially, a firm starting with 2 partners, may not take up all fields of law because then the quality of services delivered may be doubtful.
Exploring unexplored areas can be an added bonus like sports law has still no law firms in India, but it is a vast field of interest for many people. If you start a law firm dealing with this area, then it will create a monopoly in the market and also attract people as you are providing career opportunities like no one else.
3. Budget your expenses
It is important to understand the financial needs of the new business because there will be a number of expenses than income in the starting. The expenses need to be taken care of very judiciously. Expenses can be highly difficult to manage, but that is where the real difference will arise. Focus on increasing the source of income with less expenditure for the initial days.
There may be a situation of financial crunch within the firm, which has to be supported with backup funds or finding other ways to deal with it.
4. Build your networks: it is not just law but business
Contacts can make you and let you survive the market after helping you establish the business successfully. Yes, a law firm requires people's expertise in law, but it also requires people who understand the business, who can do business.
Strong networking is an added advantage to get clients, get references, and sustain the business. Standing alone makes it tough to balance. Standing together will help you grow. Also remember, not everyone you meet will support you, there will be people aiming your downfall with sweet words, don't fall prey. Do listen to other people's advice but wisely.
Read Also – 8 Tips on Starting Your Own Law Firm
5. Be confident and patient
You might not get 1000 clients at the start, but if you are able to maintain even 10 of the clients you had, you are doing well. And keep patience, this is not a one-day game. If you are a fresher, keep more patience. Because building the network proving your work and getting clients, takes time and loads of hard work. Keeping high in confidence and showing spirits like leadership, accepting failure can help run a successful law business.
Not every day will be a successful day, the most important deal may be canceled, or your firm may lose the biggest case it had to win. But all these are just part of the process to prepare you for the better. Be confident that you are slowly reaching your goal and you can do it.
6. Decide upon option: like an individual? Forms of a law firm?
Who are the partners? What will be the shareholding? What will be the type of law firm? Which person will deal with which area of expertise? All these questions need to be well answered before the registration of the law firm. To avoid any conflict within the leaders, a discussion in these pointers will give clarity as well as negate the possibility of future conflict between the partners. Knowing the form and arrangement of law is important whether one wants to go for a sole proprietorship, limited liability company, or a partnership firm or other options.
7. Mitigate the risk and be prepared for challenges
Being in the law business, there are numerous challenges that come up like budgeting expenses, hiring experts, etc. Mitigating the risk and analyzing it is a smarter solution than believing that nothing will harm us.
Read Also – Challenges for lawyers in a post-COVID world
CONCLUSION
It is very important to understand what we are doing before we do it. These basic guidelines are like a starter kit for a new law firm. Alongside these important personal traits like patience, leadership, management, and subject matter knowledge play a crucial role in building what you are and how will the law firm develops.