Legal Tech Trends 2019-20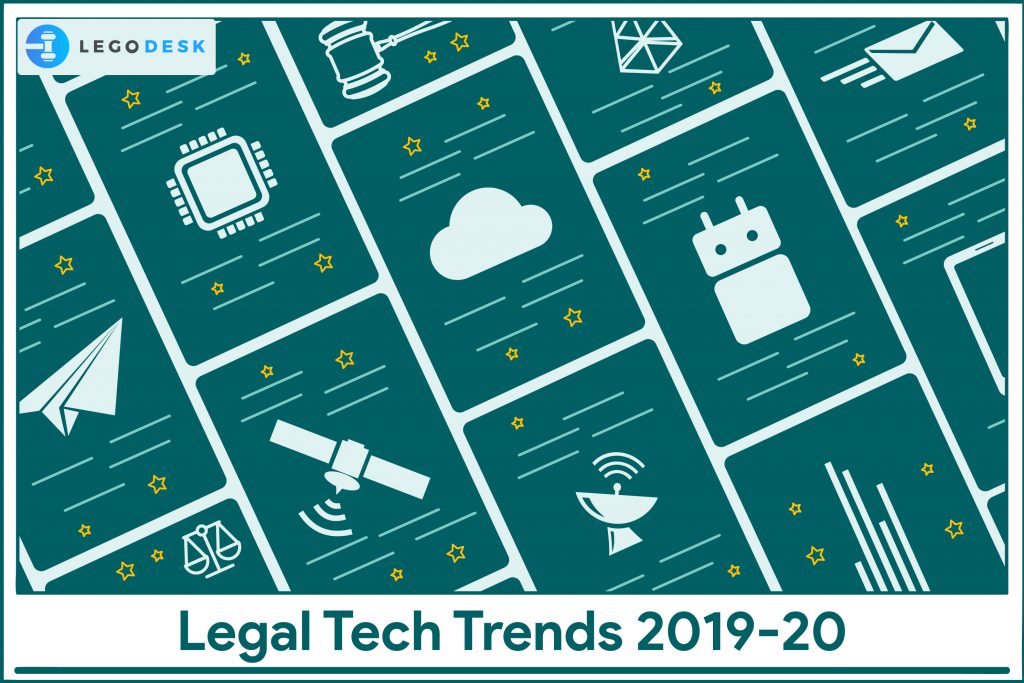 To meet the goals, have a competitive edge, and have uninterrupted growth, being technologically advanced is important. Technology has taken part in all aspects of the work of an individual and is growing each and every day. Such advancements will affect the practice throughout the country and worldwide. Investments in legal tech are increasing, and last year it was a touchdown of $1 billion. To know about the latest trends combining technology and law, follow this article.
Read Also – Lawyers and Cyber-security in 2019-20: How does your firm compare?
Why is it important to be updated?
Because who will want to stay back and see others growing their firms? Technology is continuing to shape the legal industry. Now aspects like data security, cybercrimes, and electronic evidence are an unavoidable facet of the legal sector. To give a rough estimate, nearly 25% growth has been seen in the expenditure of in-house legal departments on Information technologies. The legal department is synthesized with all existing departments and is no longer remaining like an autonomous department. Legal professionals are more than curious to be tech-freak and make the task easy.
Read Also – Impact of (Artificial Intelligence) AI in Arbitration
Every person associated with a legal background should have plans to mitigate crisis management, plans for business continuity, client management, and other aspects. Nobody will like to encounter a situation where they are accused of using sensitive data in an unauthorized way.
Read Also – Future of AI in the Legal Industry
It is important to exploit the technologies and take advantage of them to benefit the firm and build a bulletproof future. There are many legal technologies present in the market, adopting and accepting the latest trend will bring efficiencies.
What are the latest trends?
1. AI and ML (Artificial Intelligence and Machine Learning)
AI is capable of making laborious tasks be completed in a span of seconds. The case management process has been more than simplified by the use of AI and ML. it not only assists in management but in computation which will facilitate the process of decision making leading to the overall growth of the firm and gaining a competitive advantage.
The patent offices worldwide, have decided to make the process of screening of patent AI-enabled. AI tools help the lawyer to research IP portfolios and make a view of the content.
The other areas where this technology can help the legal applicants is by helping them perform due diligence and research — AI-enabled tools to uncover the background information and make the task a lot easier. Review of contracts, finding applicable sections electronically, and helping in the research are some of the newest features.
Drafting certain documents can be tiresome work, where all you need to change is some basic details. Such an automotive process enabled by AI and ML has provided ease here also.
2. Cloud computing technologies
Cloud computing in the simpler language would mean storing data on the internet, rather than the traditional method of storing it in the hard drive. Websites like Dropbox, Google Docs, etc. are some of the existing features but least used. The issues of data breach data theft, etc. can be very well avoided. The old-school thinking that the data is safe only in the organization has seen its demise.
The various benefits which are provided by cloud computing include
Flexibility: The data saved online can be accessed from anywhere at any time it removes the physical constraint, which was otherwise present.
Liberation: Liberation with respect to the bar of operating system like windows, mac, etc. this is not available as the data is free for the access.
Pocket-friendly: The amount spent on an adaptation of such software is nearly zero and can help save a lot of money instead. And then why wait?
Disaster Protected: When we store data physically, the fear of it being corrupt, lost, stolen, or destroyed is high than when stored online. So, such protection is something one should not deny, for their own benefit.
Virtual office
Other than existing physically, it has become extremely important to exist online. Because technology has increased the connectivity to just a few clicks. And when it is so easy, but difficult for clients to access us, then it gives a negative impact and a great disadvantage.
3. Online bots (phone and visual help bots)
After creating a virtual office, it is important to assist and engage the site. People actively look for a solution, pricing structure, a timeline for solving a case online. A visual bot developed with the help of AI and ML can ease up a lot of processes and also engage users. Bots have become a reality, with people now aiming to bring visual bots to solve technical glitches.
4. Billing alternatives
Here also we have AI-enabled tools, which help in automatic billing of the lawyer's billable hours automatically. This also helps bring in sophistication in the pricing. It is soon that words Like price segmentation, price discrimination, etc. will start to flow in the market.
Important to be at par
At the end of the day, everyone wants to be successful in the competition, and thus to be at par with the technological will be the smart call. We need to adopt technological changes to ease up the task and complete the legal formalities and functions efficiently. The magical benefits of law combined technology should not remain untouched.