How Lawyers can stay calm while testifying in court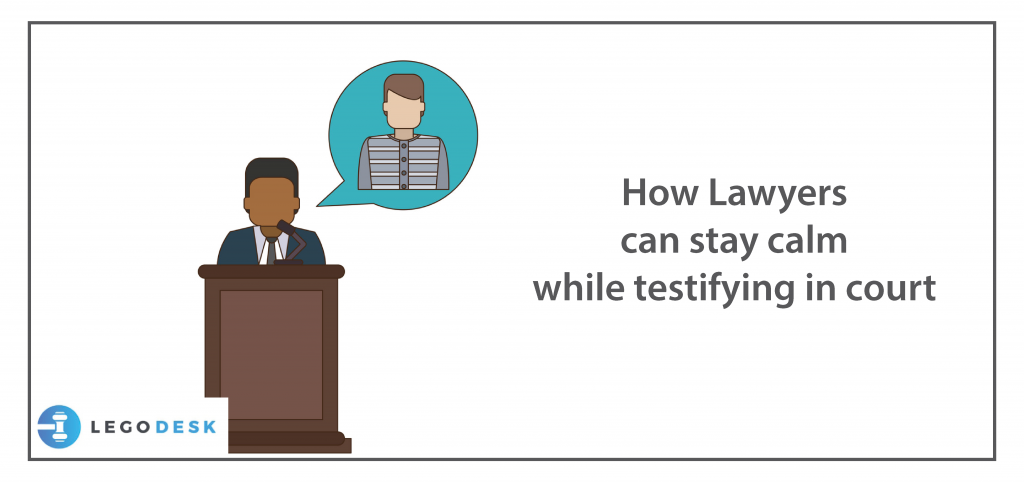 The ability to remain composed while arguing or testifying in court is an underrated skill. It comes from a history and background of observation and practice that students of law build during their academic courses. This skill, however, does not solely come from academics, but most of it comes from co-curricular activities they take part in. In this blog, we will be discussing how to stay calm in courts, so let's begin.
Research
The study of law and academics provide young lawyers with the ability to research for the best arguments they can substantiate in court. This is complemented by strong case laws to back the argument and a rationale to structure it.
A lawyer who stays calm and composed but lacks any strong contention before the court would fail his professional objectives. He/she must study and analyze the law surrounding the case and view all possible routes to proceed. Therefore, it is of top priority that a lawyer studies the case in and out to provide service to the best of his abilities.
Read Also – What do you mean by Legal Research?
Communication
It is impertinent to maintain close communication with the parties you represent. It is also important to know the arguments of your adversary to prepare a counter "Keep your friends close, enemies closer." This maintenance of communication will help you understand your case in its entirety as well as not err with respect to facts or circumstances. If you keep this in mind, you can stay calm in the court.
Comfort
It is important for a lawyer to perceive a court as his own "home ground." It is necessary to be relaxed and well within your comfort zone while presenting your case. A stressed-up mind would not be able to process contentions as fast as a composed mind. It is to be kept in mind- that a lawyer is an assistant to the court to guide it in its path to justice. The well-constructed route of guidance would be more appealing to the court.
Practice
No professional can truly be good at their craft without due practice. Lawyers have become seasoned through participation in multiple moot court competitions, debates, and other discussions. Building a style of speaking and persuasion is an element of their craft that is mastered and perfected through years of working in the industry.
Before testifying in a court, practicing at home or your workplace would greatly assist in becoming more acquainted with the nuances of the contention.
Composure
Keeping your emotions under check while testifying or arguing before a court is an important attribute for a lawyer to develop. It is more appealing for a lawyer to structure his arguments in a logical manner than to disproportionately raise their voice in a manner of outcry to display unwanted emotions.
A lawyer's emotional involvement or attachment to a case he's presenting becomes unusual. It could convey the impression to the judge that the lawyer is attempting to persuade the court by dramatics.
Be Alert
A lawyer who slogs all night to present a case the next day is not uncommon. Entering a courtroom to litigate without adequate sleep, hydration, or food is neither prudent nor professional. To bring your work to fruition, it is important to convert all the long hours of work and brain activity into a well-rested and energized presence in the court. This is necessary so that the lawyer can be alert while the proceedings are going on in court. The lawyer should pay close attention to the judge, the defense, and any testimonies. It is important to be ready to think about the next move.
Professionalism
The key attribute of a lawyer that binds the earlier tips is that of professionalism. It is important to isolate your professional life and work from that of your personal life. Maintaining a positive and professional relationship with clients and the court is important. It will allow the lawyer to remain calm and efficiently handle cases.
These are the main tips a young lawyer can follow while arguing in court. It is critical to follow a professional path and to retain beliefs and ethics in furthering your career. Guidelines such as these will earn lawyer credibility. More clients would expect such performance, and top clients would favor select lawyers who mastered this competence over the rest.