Why are Lawyers and Law Firms not allowed to advertise in India?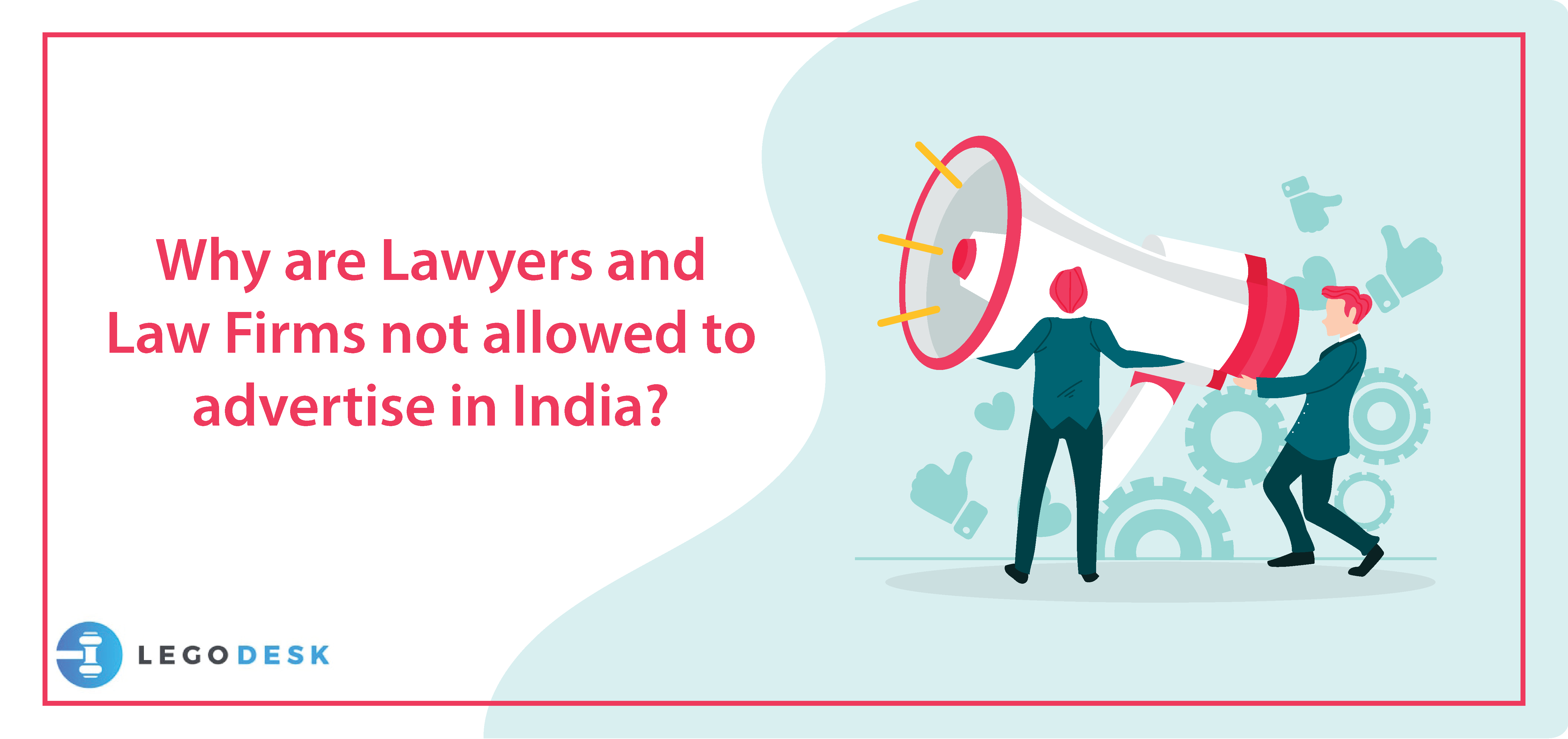 In the era of new and growing businesses where the industry is thriving on cut-throat competition, advertising has become a crucial tool to publicize a company or its product and services. It is a marketing tactic that allows customers and the general public at large to get acquainted with the products in the market and to avail of different kinds of services. Professionals in almost all industries are coming up with innovative advertising strategies to expand their businesses and promote their services to the masses. However, there are some professions in India in which advertising is strictly prohibited. Law is one such profession where lawyers and law firms are not allowed to indulge in advertising practices to promote their services.
Try our all-in-one Legal Practice Management Software Free Sign Up Now!
Advertisements in the Legal Profession
Advertisements in the legal profession are majorly in the form of visiting cards, seminars, felicitation ceremonies, or issuing circular letters, interviews, and personal communications. This violates the standards of etiquette and professional conduct set by the Bar Council of India (BCI), a statutory body that regulates the legal practice in India and exercises disciplinary jurisdiction over the bar. BCI has the power to formulate rules, which are to be followed by all the law professionals. In 2008, BCI formulated Rule 36 per which an advocate is prohibited from advertising or soliciting his work either directly or indirectly, through circulars, advertisements, interviews, touts, and personal communications. Advocates cannot furnish inspiring newspaper comments or produce their photographs in connection with their concerned cases. They are also not allowed to indicate that they are the President or a member of BCI or any other Association through signboards, nameplates, or stationery. The idea of the prohibition of advertising practices in the legal profession has been taken from the Law in the UK, where the legal profession is considered noble, and it is believed that its commercialization will cause dishonor to the profession and will lead to unfair practices.
Read Also – Know About 9 Advertising Laws in India
The legal profession is regarded as one of the noblest and highly respected professions in India. Lawyers are expected to be benevolent and work for the cause of social upheaval, to assist in providing justice to the victims, and provide pro bono services to the poor class. Advertising is commercializing your business or services, and doing the same in a legal profession is considered undignified. It is believed that if advertising is not prohibited, then the lawyers or law firms will be more inclined towards creating an image or a brand and maintaining a clientele rather than focusing on rendering legal services efficiently. The advertisements can be misleading and might lead to unhealthy competition, and its expenditure may result in inappropriate fee hikes and deterioration in the quality of services provided by the lawyers. It is regarded as unprofessional and unethical. The majority of the population in India is illiterate and will fall prey to false advertisements.
Read Also – Strategies for lawyers advertising in India
Another major reason why lawyers and law firms are not allowed to advertise in India is the disparity in the legal fraternity. The big-sized law firms have enough resources and finances for advertising their business, whereas mid-tier or small-sized law firms lack such resources or finances for advertisements. This leads to unfair trade practices and unhealthy competition. Big law firms get an opportunity to exploit the smaller firms and also the people who are enticed by such advertisements.
Cases on the issue
There are cases where the Judiciary has upheld the nobility and dignity of the legal profession, stating that it is not a trade and activities for commercializing the profession are prohibited. In 1967, Madras High Court stated that advertisements cause lawyers to jealously develop and set standards for themselves, which lowers down the honor, dignity, and position of the noble profession. Therefore, it is reprehensible. Furthermore, it is believed that Public service should be the primary aim of lawyers and law firms; however, false advertisements may lead to exploitation of the public at large, thus defeating the purpose. In N. Sharma, Advocate v. the State of Haryana, the Court held that the legal profession is not a trade or a business but a noble profession, and advocates being the officers of the court should strive to secure justice for their clients within legally permissible limits. In the case of Re: (thirteen) Advocates v. Unknown, it was held by the court that if a writer publishes articles in a newspaper and describes himself as an advocate practicing in Courts, he is cheaply endorsing his services.
Read Also – Top 10 Criminals of India – You Don't Know
There are contradicting views on this matter. Some believe that law firms should be allowed to advertise in India because Law is a commercial activity while others believe that it is an important element of public policy and shall not be treated or advertised like any other trade or business. In 2008, Rule 36 of BCI was amended as per which, lawyers or law firms can publish information such as their name, contact information, the name of State Bar Council which they are a member of, qualifications, and areas of expertise. It has to be declared that the above-mentioned information provided on the website is true. Any sort of advertising beyond this is in contravention Rule 36. However, BCI cannot keep a close check on every lawyer and law firm. However, lawyers still advertise their services by giving interviews, distributing pamphlets, or putting up hoardings. Newspapers also publish the names of lawyers along with the cases. Lawyers should always keep in mind that their supreme responsibility is to provide legal aid to the public and not commercialize the legal profession.
Read Also – Cost of Digital vs. Traditional Advertising: How Much Should Law Firms Spend?